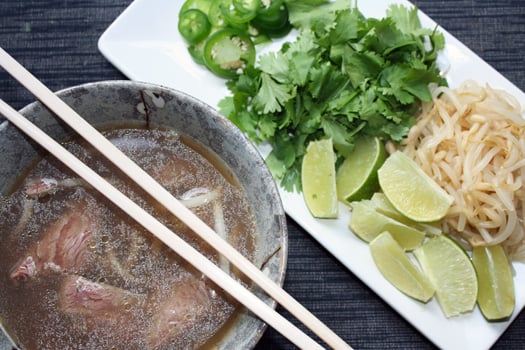 Whenever I watch No Reservations, I get a craving for Pho. Which is funny, because until I made this, I've never really considered myself to be a pho fan. When we used to live in DC, there were a number of great Vietnamese restaurants that we would go to pretty often. Shawn would get pho and I would get some sort of noodle dish. The other night I thought if Anthony Bourdain loves pho so much, maybe I'm missing something. It had been a few years since I tried it, and I knew Shawn would be happy if I made it, so I did. And it was awesome.
It might seem silly to made soup in the summer, but then again it migth seem silly to make souffle in 90-degree heat, so chalk thus one up to me "doing something crazy" theme this week if you want. Anyway, I've heard that eating hot foods when its hot out actually cools you off. I don't know how much I believe that, but it did make a good summer meal and it was light enoug that it didn't make me really full. I hate feeling full when its hot out, so that was good.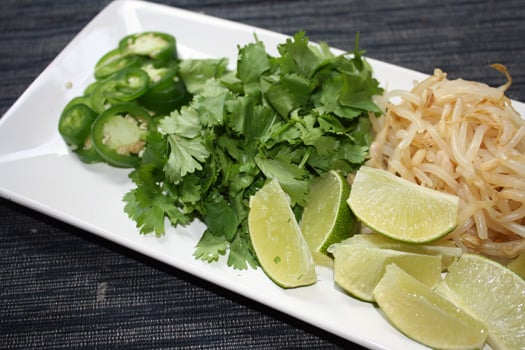 I made the stock in the crockpot so that it could cook all day and get nice and flavorful without having to stand over a hot stove. Since the only other thing in the pho that is cooked are the noodles, this makes the final dish very fast and easy to prepare. It's also fun, because everyone at the table can prepare their own bowl with whatever toppings they want. Don't be nervous about the raw beef – the broth is hot enough and the beef is thin enough that the meat will cook quickly in the bowl. Just let is sit for a minute or two before you eat it.
Pho Bo
3 lbs beef bones (I used about 4 neck bones and 2 marrow bones)
2 onions, cut in half (leave skins on)
3-inch piece of ginger, cut in half lengthwise
2 cinnamon sticks
1 Tbs coriander seeds
1 Tbs fennel seeds
4 star anise pods
1 Tbs cardamom
6 cloves
2 Tbs fish sauce
For serving:
rice noodles, prepared according to package directions
1 lb chuck steak, sliced into paper thin slices*
cilantro
basil
lime wedges
bean sprouts
sliced jalapenos
sriracha
To make the stock:

Put the bones in a large pot and fill with water. Bring to a rolling boil. Boil bones for 15 minutes. Drain and rinse bones.

Meanwhile, broil onions and ginger for 5 minutes or until it begins to char. Toast spices in a frying pan on the stove.

Add bones, onion, ginger, and spices to your crockpot. Fill with water, and cook on low for 8 hours. Strain, discarding the solids and reserving the broth. Return the broth to a boil.

To serve:

Place noodles into the bottom of each bowl. Ladle hot broth on top, then throw in the sliced beef. Let each diner add their choice of the remaining toppings directly to their bowl.

Serves: a lot.

*I shaved the steak by carefully slicing thin pieces off the top, holding the knife parallel to the cutting board. This resulted in small, very thin pieces of meat that cooked quickly when added to a bowl full of hot broth.

**If you make the broth a day ahead and refrigerate it, you can skim off the excess fat. I ate it as is the first night and skimmed the excess, there was a decent amount of fat but not a ton.

****

3 days left to enter my lunchtime giveaway!

****
i am submitting this recipe to Souper Sundays

By