This coffee-rubbed hanger steak recipe is so tender it practically melts in your mouth. Smokey Tomato relish with flavored with vanilla and smoked paprika is a great accompaniment.
Grilling season is finally here! We usually wait until Memorial Day weekend to break out the grill, but I just couldn't wait a second longer. We cleaned off the patio and bought a new tank of propane this weekend.
Every year, I like to kick off the season with a showstopper recipe. This coffee-rubbed hanger steak with smokey vanilla-tomato relish definitely didn't disappoint. (Some past favorites that have seen burned into my memory include citrusy cedar-plank salmon and spiced leg of lamb with chili sauce.)
I partnered with Nielsen-Massey Vanillas to create this hanger steak recipe. When they asked me to come up with one course for a vanilla-themed cookout menu, I immediately knew I wanted to tackle the main entree. I'm just a sucker for punishment like that. After a momentary "what on earth was I thinking" freakout, it didn't take long at all before I had a full page of savory vanilla recipe ideas, from ribs to seafood kebabs.
I kept coming back to the idea of this tomato relish, and ultimately decided to serve it with a super savory, melt-in-your-mouth hanger steak.
The relish is flavored with musky vanilla bean paste and smoked paprika – I was inspired by Spanish flavors. I like using canned tomatoes in recipes like this since the quality is more consistent, especially when tomatoes aren't in season. I used fire-roasted tomatoes for an extra layer of smokey flavor, then added a pint of fresh tomatoes, minced shallot, and apple cider vinegar for a brighter flavor. The result is a thick, jammy sauce that's delicious on steak, swordfish, or even spooned over crostini as a simple appetizer.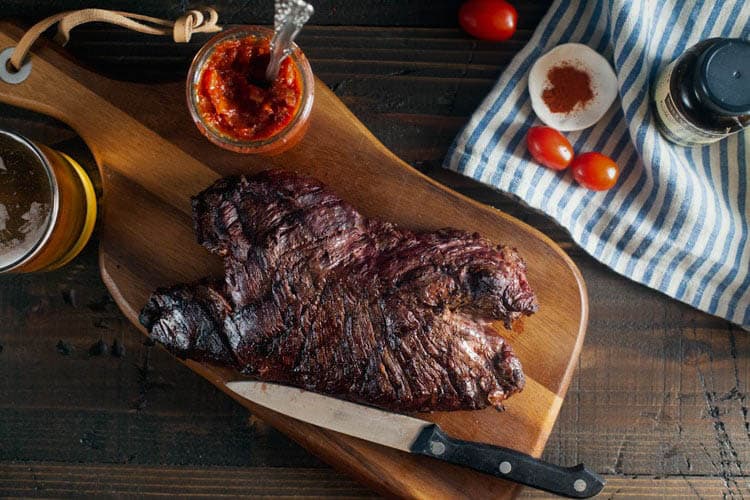 How to make hanger steak
For the steak, I made a rub with kosher salt, Nielsen-Massey coffee extract, and cumin, then grilled it to a perfect medium-rare.
I've made similar rubs in the past using finely ground coffee beans, but I saw the jar of coffee extract in my cabinet when I was pulling down the vanilla and figured I'd give it a try. I usually use it in baked goods, but loved the way it worked in this savory recipe. It gave the steak just the right amount of rich coffee flavor without any bitterness. I suspect that it also helped get that gorgeous char on the outside of the steak (Seriously, check that out! It was even more beautiful in person.)
Slice the steak against the grain for maximum tenderness. Looking at the whole steak above, that means you'd want to slice the steak the long way – but you can cut it in half cross-wise for more manageable pieces.
Serve it on its own with corn on the cob and a simple green salad, or pile it into corn tortillas.
For more recipes featuring Nielsen-Massey Vanillas, try: Winter Salad with Roast Pears and Vanilla Vinaigrette //Tropical Fruit Salad with Vanilla and Lime // Chocolate Cannoli Sandwich Cookies
I created this recipe for my client, Nielsen-Massey Vanilla. Thank you for supporting the brands that keep me inspired in the kitchen and help make running this blog possible.