Uh, so I'm a little embarrassed. The whole point of this post was supposed to be to let you know about a photo contest that
Superior Farms
was hosting. In fact, that was the whole reason I made this dinner. The problem is, I lost track of time; the contest closed on Monday. Oops!
It was worth it though – you should run to the store and buy some lamb tonight so you can make this meal the very next chance that you get. It's absolutely divine, we kept moaning about how great it was as we ate. We sat at the table for at least a half hour after we had finished our plates, picking at the lamb that was left on the platter – we just couldn't bring ourselves to pack it away!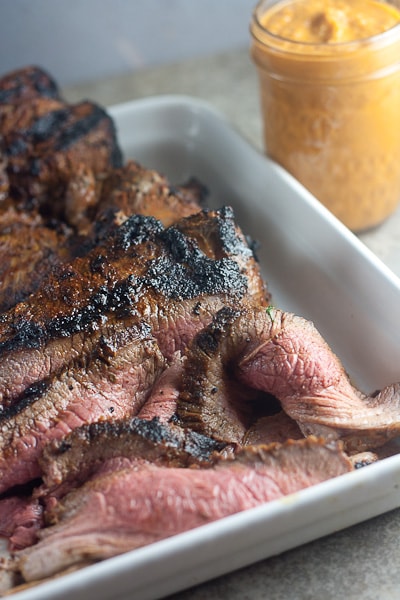 The lamb is generously seasoned with fragrant spices that form a crust around the perfectly rare interior. The sauce, which took all of twenty minutes to make, was fiery hot (on a scale if 1-10, I'd give it a solid 8.) but also perfectly balanced and complex. Its also my new favorite condiment. Because of the heat, a little goes a long way and we had a ton left over. It's perfect with the lamb, but it's also delicious on hot dogs. I can't wait to try it on turkey burgers too – I think it will give new life to what can typically be a bland item.
I served the lamb and sauce with blanched asparagus and wild rice and, frankly, it was the best meal I've had in a very long time – either at home or at a restaurant. It's the kind of dinner that reminds me why I love to cook. I'll definitely be making it again.
The next day, I served slices of the leftover lamb wrapped in warm naan bread with crispy romaine dressed with fresh lemon juice,sliced red onion, and more of the sauce. Super easy, absolutely delicious.

Superior Farms provided me with the lamb I used to make this recipe and information about their photo contest. All opinions are my own.