One of the weirdest things about being a food blogger is that a simple cold can leave you totally out of commission. I'm on week two of a terrible one and well, it's kind of impossible to test recipes when you can't actually taste anything. Now that I'm finally starting to feel a little better, I'm craving soup, pasta, and other comfort foods like this mac and cheese, which has been making a regular appearance on our dinner table all winter.
I saw this one pot technique, where you boil the macaroni in milk instead of water, on White on Rice Couple ages ago. I didn't try it right away, but it had been tugging at the back of my mind for a while. Then, over the fall, I came across this apple sauce mac and cheese from Adventures in Cooking and I knew it was finally time to give it a try.
The pasta releases starch into the milk as it cooks, resulting in the richest, creamiest mac and cheese I've ever eaten. It's a little insane how creamy it is. Apple butter might sound like a weird addition – and I'll admit that it is – but it works. (Just like cheddar melted over a piece of apple pie is an unexpectedly delicious treat.)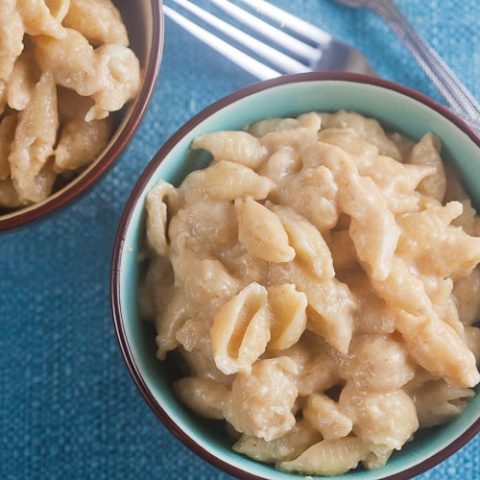 One Pan Apple Butter Mac and Cheese
Serve this mac and cheese with a field green salad dressed with a citrusy grapefruit vinaigrette and lots of freshly cracked black pepper to balance out the richness. I used white cheddar, so my mac and cheese is very pale in color. If you use an orange cheese, your's will be darker. Either way, it's delicious and the perfect comfort food.
Print
Pin
Rate
Ingredients
2

cups

miniature shell shaped pasta

I used Barilla FiberPlus

2

cups

skim milk

¼

teaspoon

garlic powder

1

cup

shredded sharp cheddar cheese

¼

cup

apple butter

Salt and pepper
Instructions
Combine the uncooked pasta, milk, and garlic powder in a 5-quart pan. Bring to a simmer, then reduce heat to low. Cook, stirring frequently, until the milk had absorbed and the pasta is soft – 15-20 minutes. Stir in the cheese and apple butter. Remove from heat and let sit, covered, for 5 minutes. Stir again and season with salt and pepper before serving.
Nutrition Facts

One Pan Apple Butter Mac and Cheese

Amount Per Serving

Calories 369

Calories from Fat 95

% Daily Value*

Fat 10.5g16%

Protein 18.3g37%

* Percent Daily Values are based on a 2000 calorie diet.

By