These tender scones, bursting with bright lemon and pockets of candied ginger, are perfect for brunch!
Happy Galantine's Day!
Yup, that's right… Galentine's Day. Today's all about the celebrating female friendships. In the words of Leslie Knope from Parks and Recreation (arguably one of the funniest characters on TV these days):
Every February 13th my lady friends and I leave our husbands and our boyfriends at home and we just come and kick it breakfast style. Ladies celebrating ladies. It's like Lillith Fair, minus the angst. Plus frittatas.
Sounds pretty good to me! Unfortunately, about 96.5% of my best female friends are people who I met through blogging, so an in-person get-together wasn't really in the cards. But Courtney organized a great online celebration with some of my favorite people. I've been looking forward to it for weeks!
Since no brunch is complete without scones (well, scones and cantaloupe) that's what I decided to bring to the party.
I tend to get a little burned out on chocolate this time of year, so instead of making something traditional I went with something that I wanted. If you know me, you know that lemon and ginger are definitely the way into my heart. These light, tender scones have tones of both, with lemon zest and juice in the batter, pockets of chewy, spicy candied ginger and a drizzle of lemon glaze on top.
What did everyone else bring? Well, in a massive oversight no one actually made frittata. But we do have a ton of awesome treats and enough cocktails to keep the party going all day!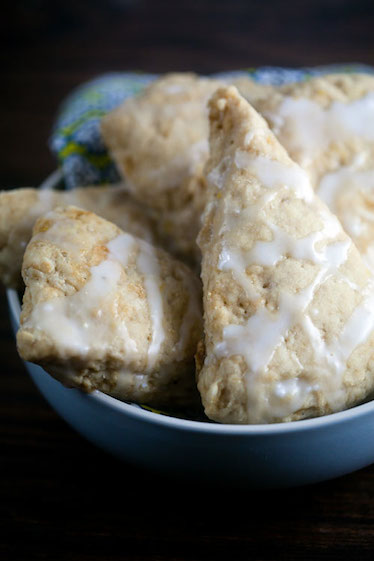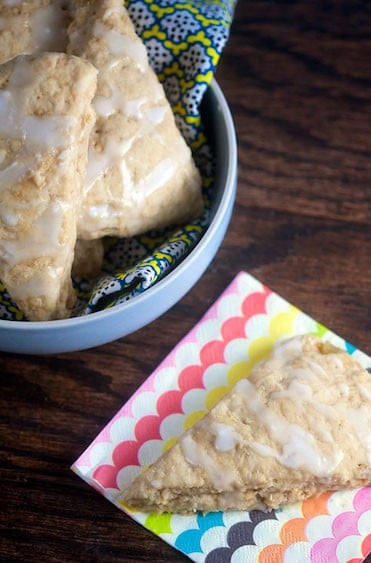 "There has never been a sadness that can't be cured by breakfast food." -Ron Swanson
Galentine's Day Drinks
Blood Orange Bourbon Fizz with Fried Sage from Lauren of Climbing Grier Mountain
Chocolate Dipped Strawberry Martini from Shanna of Pineapple and Coconut
Ladies' Night Rum Punch from Lindsay of The Live In Kitchen
Galentine's Day Brunch
Sweet Potato Cornmeal Waffles with Bourbon Cream and Pecan Butter from Susan of Girl in the Little Red Kitchen
Chocolate Dipped Donuts from Angie of Big Bear's Wife
Beet, Blood Orange, and Chèvre Salad from Lori of Foxes Love Lemons
Galentine's Day Desserts
Piña Colada Cupcakes from Courtney of Neighborfood
Strawberry Chocolate Dessert Bars from Marly of Namely Marly
Banana Peanut Butter Cupcakes with Peanut Butter Chocolate Frosting from Nancy of Gotta Get Baked
One Layer Fudge Cake from Liz of That Skinny Chick Can Bake
Double Strawberry Angel Food Cake with Whipped Vanilla Creme Fraiche from Cynthia of Two Red Bowls
Dark Chocolate Pistachio Ice Cream with Candied Bacon Bits from Steph of Girl Versus Dough
Fruity Dessert Pizza from Morgan of Peaches Please
Secret-Ingredient Chocolate Pecan Bites (Gluten Free!) from Karen of The Food Charlatan
DIY Cheesecake Parfait Bar from Heather of Heather's Dish