Easy pulled jerk chicken sandwiches topped with citrus slaw and a fun cocktail to show off your team spirit!
I've had a lot of fun cooking with rum and incorporating it into our celebration over the past few months, from rum glazed carrots and spiced cranberry sangria for Thanksgiving to rum buns and spiked gingerbread hot chocolate for Christmas to these pulled jerk chicken sandwiches and amazing color changing drinks to celebrate "the Big Game."
This set of recipes is definitely my favorite. First of all, it's "football food" which I'm always a huge fan of. The jerk chicken sandwiches are ridiculously easy to make (make the chicken in the crockpot!) and are seriously good.
Spiced rum and jerk seasoning are a match made in heaven! (If you love jerk seasoning, you'll also ant to check out my jerk burger recipe!)
That was the easy part. When it came to creating a drink, I have to admit that I was pretty stumped. Rum definitely isn't the first thing I think of when I think of football, and I was having a hard time getting inspired. I reached out to one of my friends to help brainstorm and it just so happened that he was sitting at a table full of bartenders at that very moment. It didn't take long to come up with these, which are by far the most fun drinks I've ever made: you can change the color depending on which team you're rooting for.
The "Mile High Crush" is orange for Denver fans. If you're cheering for Seattle, add a splash of blue curaçao to turn the whole thing into an electric green "Emerald City Crush." Me? I'll base my choice on whichever team is ahead. Um, what?!
As if that wasn't awesome enough, they taste like orange creamsicles.
I never could have come up with that on my own (even if I knew the appropriate team colors, which I didn't), so a huge shout and and thank you to "the Virginia crew" for all of your help. You guys are the best!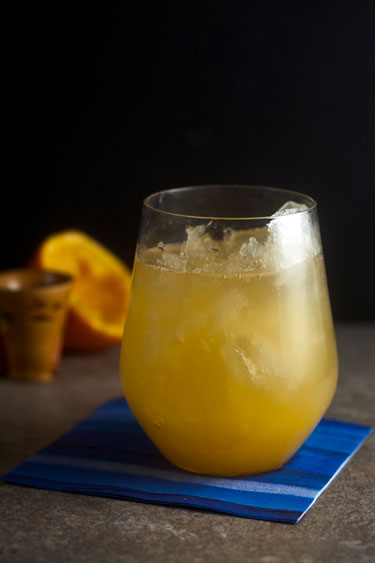 [mv_create key="213″ title="Mile High Crush/ Emerald City Crush
Crockpot Pulled Jerk Chicken with Rum + Citrus Slaw" thumbnail="https://www.healthy-delicious.com/wp-content/uploads/2018/11/Choose-your-own-drink.gif" type="recipe"]
(This post is sponsored by Captain Morgan. I received product and ingredient reimbursement. All opinions are my own. Please drink responsibly.)