Gingerbread smoothies are a great way to satisfy your sweet tooth. They're low in fat, high in fiber, protein, and calcium, and a good source of vitamin C and iron.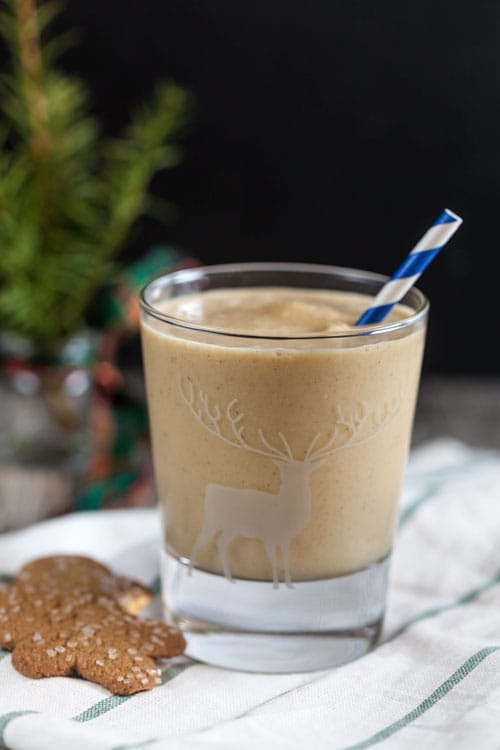 Christmas was almost two weeks ago and we're already well into the new year, but I'm not quite ready to say good-bye to that magical time of year when eating cookies for breakfast is socially acceptable.
Unfortunately I need to get a handle on this sweet tooth that I've developed before it gets completely out of control, so I took matters into my own hands and created a healthy gingerbread smoothie with all of the spicy sweet flavor of my favorite cookies. It was love at first sip and I've been drinking them all week. They're completely crave-able and are just as delicious for breakfast as they are for dessert. (I'd whip up another batch right now, if I wasn't all out of bananas.)
These gingerbread smoothies are made with lots of molasses, which gives them a complex flavor, and plenty of fresh ginger for a spicy kick. Banana and Greek yogurt make them nice and thick, and there's just enough ice to give them a milkshake-like texture without making them too icy cold. If you must, you can add a hand full of baby spinach, but I think these gingerbread smoothies are pretty perfect just the way they are.
For more gingerbread recipes, try: Gingerbread Hot Chocolate // Gingerbread Creme Brûlée // Double Ginger Apple Gingerbread // Chocolate Gingerbread Crumb Cake // Caramel Gingerbread Thumbprint Cookies