This tender spice cake studded with apples and crystallized ginger is perfect on it's own or layered with lemon yogurt, parfait-style.
I really, really wish there was a way to transport smell over the internet because this apple gingerbread cake smells DIVINE. Standing over it and inhaling deeply is almost as good as actually eating it.
This apple gingerbread is like everything good about fall, all baked up in to a gorgeous cake. Sautéed apples add extra moisture and crystalized ginger adds extra zing. The cake is tender, with a crumb that practically melts in your mouth, and it's full of rich, earthy spices and the perfect touch of sweetness. It tasted like something that might have come out of your grandmother's kitchen.
Topped with tangy lemon yogurt, either spooned on like whipped cream or layered like a parfait, it's positively ethereal. I know what you're thinking: cake with yogurt? Trust me, it works. The idea popped into my head when I was brainstorming "perfect paring" ideas for Liberté Méditerranée and I'm so glad I went for it. It might not be conventional, but it's a great alternative to whipped cream or creme anglaise –just be sure to stir the yogurt well since it's "fruit on the bottom" style and you'll miss out on all the lemony goodness if you just spoon it off the top.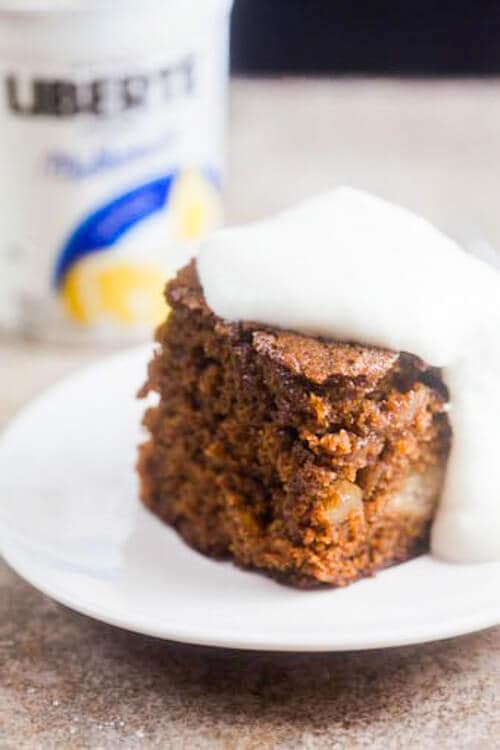 Disclosure: This post was brought to you in partnership with Liberté; I was compensated for developing this recipe. Thank you for helping support the brands that keep me inspired in the kitchen.