This sweet cherry-vanilla power smoothie is loaded with black sweet cherries, spinach, chia seeds, and coconut milk. Made in under 5 minutes, it's the perfect way to start your day!

Oh friends, today is your lucky day – not only because I have a delicious smoothie recipe to share with you, but because I also get to give one of you a Vitamix blender! How fun is that?! I've been using my Vitamix constantly ever since I got it back in January. It didn't take long at all for it to replace my food processor as my favorite kitchen gadget.
Earlier this Spring, Vitamix came out with the S30 – a new, personal-sized blender. In addition to a regular blender pitcher, it comes with a portable 20-ounce container that's perfect for smoothies and blended juices. Just load up your favorite fruits and vegetables, screw on the blade, flip + blend, then replace the blade with a lid and you're ready to start your day. My current favorites are this cherry-vanilla powder smoothie – loaded with black cherries, spinach, chia seeds, and coconut milk – and a green juice made with cucumber, kale, green apples, ginger, and lemon.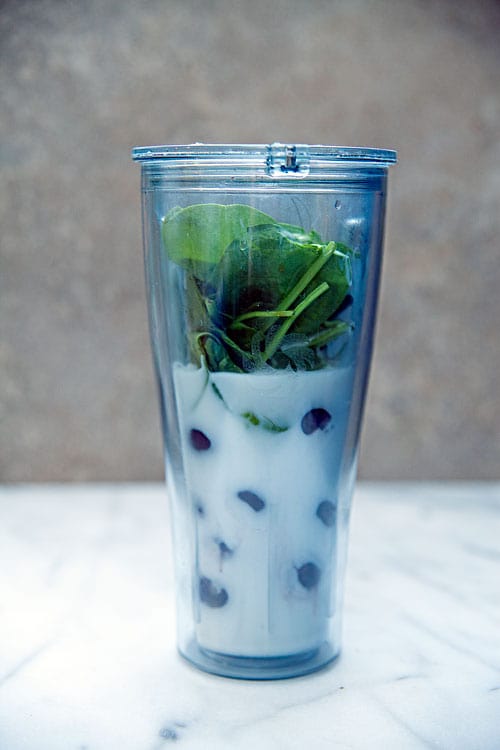 In addition to drinks, the 20 ounce container is perfect for grinding oats into flour for raspberry-oatmeal pancakes, chopping nuts, and making salad dressings and marinades. I find myself reaching for it just about every day.
The traditional pitcher is 40-ounces (about 2/3 the size of a full-size blender) and is perfect for sauces, soups, and margaritas for two.
Unlike my other blender, the S30 is tiny. It hardly takes up any space at all, which is definitely a plus in my kitchen, where counter space is at a premium. It's also short enough that it fits under the cabinet (and light enough that, if I wanted to, I could keep it in the cabinet). Despite it's small size, it still has a ton of power, which is pretty impressive. I love that I can add lots of greens to my smoothies without having to worry about being left with a gritty texture.
While the S30 is great, I have noticed a few differences form the full-sized machine. The first is that you can't use a tamper with the travel container, which makes frozen drinks a little tricky sometimes. The cherries in this recipe are small enough that they blend without much difficulty, but I have had some trouble when I've tried adding ice cubes. It's nothing that can't be solved by giving the container a good shake though. (You can also use the 40-ounce pitcher for thicker frozen drinks, since the tamper does work with that one.)
This blender also doesn't have the ability to makes soup or hot chocolate like the full-sized model – you'll have to heat those sorts of things up in a pot (the old-fashioned way ;)). That's one of my favorite features of my bigger blender, so I was a little disappointed that this one can't do that.
Ingredients
1

cup

frozen black sweet cherries

½

cup

packed baby spinach

½

teaspoon

chia seeds

½

teaspoon

vanilla

¾

cup

unsweetened coconut milk

from a carton
Instructions
Add the ingredients, in the order shown, to a single-serve blender container (if using a traditional blender, add the ingredients in the reverse order; the cherries should be furthest away from the blades.)

Blend on low for a second or two, or until it starts to "catch" then increase the sweet to level 10/high. Blend 10-15 seconds, or until smooth.
Nutrition Facts

Cherry-Vanilla Power Smoothie

Amount Per Serving

Calories 195

Calories from Fat 36

% Daily Value*

Fat 4g6%

Protein 2g4%

* Percent Daily Values are based on a 2000 calorie diet.

Disclosure: Vitamix provided me with a Vitamix S30. They also provided a second one for the giveaway (now over). All opinions are my own.

By