This smoked tomato and bacon vinaigrette is delicious on salads or as a marinade. It's full of flavor, but each 2 Tablespoon serving clocks in at just 70 calories!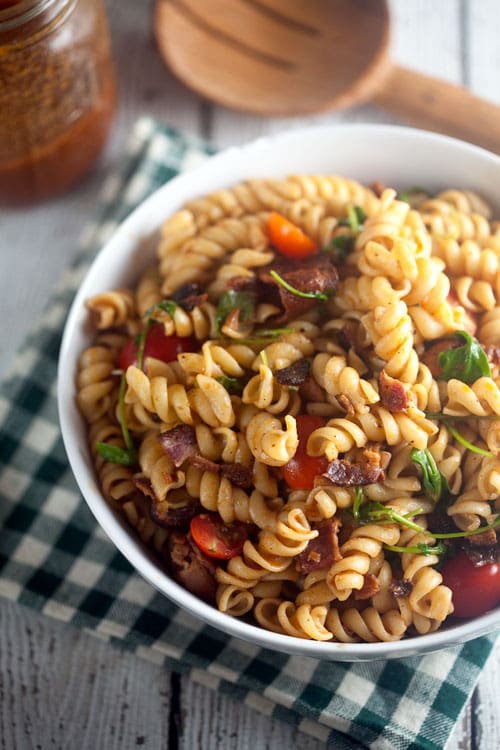 Two weeks ago, I spent a long weekend in Miami attending a blogging conference and spending some much-needed time at the beach. I had been in a bit of a creative rut for the past month or so, and spending time exploring new cuisines with some of my foodie friends was just what the doctor ordered. I'm back – with pages and pages of new recipe ideas.
If there was a theme to my time there, it was definitely pork. From cuban sandwiches at a roadside shack in Key Biscane to slow roasted pork leg at Havana 1957 in Miami Beach to Southern-style barbecue (and an outrageous smoked and pulled pork sandwich) with my contacts from Jones Dairy Farm at a restaurant with a very appropriate name: Swine.
This smoked tomato and bacon vinaigrette was inspired in part by that lunch and in part by a smoked tomato jam that was served at the conference itself. Of all of the ideas that I came home with, this was the one that I was the most excited about. I got to work straight-away and was rewarded with an amazingly versatile dressing that I'll definitely be eating all summer long.
The base of the dressing is made from tomatoes that get charred on a hot grill and then pureed with balsamic vinegar for sweetness and red wine vinegar for tartness and mixed with crumbled bacon and crispy fried shallots and garlic. A little bit of smoked paprika is a nice touch to enhance the smoky flavor of the dressing.
It's delicious as a marinade for grilled chicken, drizzled over fresh tomatoes and burrata, or in the BLT pasta salad pictured above. (To make the salad, combine 1 cup smoked tomato and bacon vinaigrette with 1 box of high fiber pasta, 2 cups of arugula, 6 slices of crumbled bacon, and 1/2 pint of grape tomatoes. Serve chilled.)
Disclosure: I was paid to create this recipe for Jones Dairy Farm but all opinions are my own. My little brothers were not paid for anything. In fact, I don't even want to share my bacon with them. Thank you for supporting the brands that keep me inspired in the kitchen!