Cranberry juice and spiced rum give sangria a festive twist for the holidays; rum glazed carrots are a great addition to any meal!
I hope you all had a great Thanksgiving! Mine was pretty perfect – I got plenty of time to catch up with my family on Thursday, then relaxed for the rest of the weekend. We went to see Catching Fire, I finally got Shawn to watch Pitch Perfect, and we spent an afternoon wandering around Stockbridge, Massachusetts and drinking hot chocolate from the cutest little shop. Sunday, I cooked up a storm. There's no rest for the weary and we're already in full-on holiday mode here in the Healthy. Delicious. kitchen!
One of the things that I love so much about this time of year is that pretty much everywhere you look, there's an opportunity to help people. I try to do my part all year, but it's especially easy around the holidays. For example, Captain Morgan will donate $1 to WhyHunger for every holiday recipe you submit through your social media account using the #CaptainsTable hashtag. Easy, right?! You don't even need to be a blogger to participate!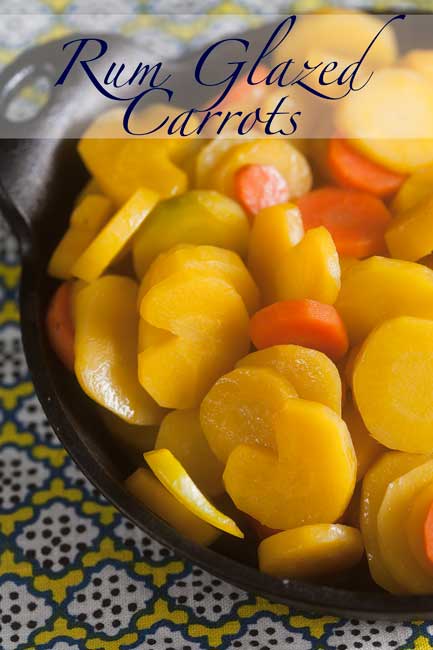 For the next three months, I'll be one of fifteen bloggers participating in the #CaptainsTable challenge by creating six recipes (three foods and three drinks) incorporating Captain Morgan rum. Of course, it wouldn't be much of a challenge without a little friendly competition! Chef Hugh Acheson will pick his favorite set of recipes for each holiday (Thanksgiving, Christmas, and Super Bowl) and the overall winner will be invited to attend a Captains Table event. Pretty cool, although I'm honestly more excited about creating some fun new rum recipes and helping promote their partnership with WhyHunger than anything else.
For my first set of recipes I created a holiday-inspired sangria and some rum glazed carrots that are a super easy side dish. The sangria is perfect for holiday parties – spiced rum, cranberry juice, and ginger ale give it a festive feel and keep it from seeming too summer-y. Rum glazed carrots will be right at home on your holiday table – or your weeknight table. They're super easy to make, with a simple glaze made from butter, brown sugar, and rum, but they taste (and smell!) heavenly! The rum adds just a hint of something special. (I used yellow carrots from my farmshare and cut some into heart shapes because…well, why not?)

Spiced Cranberry Sangria Rum Glazed Carrots
Ingredients
2 cups "no sugar added" cranberry juice
1 cup ginger ale
1/2 cup Captain Morgan original spiced rum
1/2 cup red wine
1 lime, cut into rounds
1/2 orange, cut into rounds
1/2 apple, thinly sliced
6 large carrots, peeled and cut into coins
1 cup water
1 tablespoon butter
1 tablespoon brown sugar
1 tablespoon Captain Morgan original spiced rum
Instructions
Combine all ingredients. Chill well and serve over ice.
As a participant in the #CaptainsTable challenge, I received three bottles of rum and a gift card to cover the cost of ingredients. All opinions are my own. Please drink responsibly.

By