Last week, it rained and rained and rained. It was grey and gross and completely terrible. It rained so much that my poor roof couldn't take it anymore; I woke up one morning to find a big chunk of my ceiling on the floor. It was literally raining in my kitchen. Awesome.
Comfort food was totally a necessity. And what says comfort more than pot pie stuffed full of rich, spicy curry?
If you're looking for a quick weeknight meal, the curry filling is delicious over rice. I made it extra thick, so it would hold up when I sliced into my pie, and it's heavily spiced but not spicy. Baked inside of a buttery pie crust, it's absolutely delicious. Rich, cozy, and perfect for the fifth consecutive day of rain.
It's full of pantry staples, so I didn't even have to go out in the rain to buy ingredients. Score!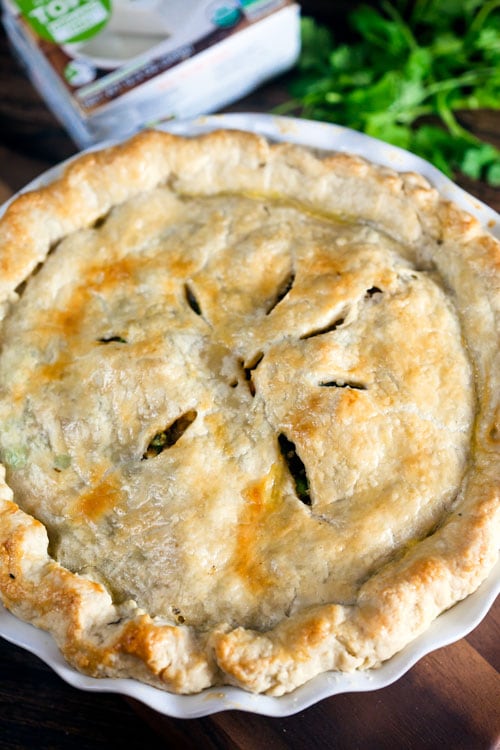 The filling is really simple. It's basically onion, potato, carrots, peas, and just about every spice under the sun. Instead of chicken, I used tofu and I loved the way it came out!
It was my first time using Mori-Nu tofu, and I really liked it. It's made inside an airtight, shelf stable package so it doesn't require refrigeration (it's the tofu I mentioned recently when I did my pantry makeover). It keeps for a year, so it's definitely handy to have around! Since it's never pressed or drained, it's technically all silken tofu – even though it comes in different varieties. I used the organic firm tofu, and the texture was amazing! It's custardy and not spongey at all. It reminded me a lot of the texture of fresh mozzarella. It also did a great job at soaking up the flavors in the curry sauce.


Follow Mori-Nu on Facebook, twitter, and Pinterest to learn more!
This is a sponsored conversation written by me on behalf of Mori-nu. The opinions and text are all mine.