Golabki, or Polish stuffed cabbage rolls, feature mildly spiced meat rolled into cabbage and baked in a mild tomato sauce. Most recipes call for adding rice to the filling, but I love the nutty flavor and chewy texture of barley. I also use a combination of beef and pork for extra flavor.
I'm calling it now: Eastern European food is going to gain popularity in 2015.
I know it doesn't appear on any of the major food trend prediction lists, but whatever. Think about it: Asian food is getting tired and it's time to move on to a new continent. Home cooks are getting more and more used to things like pickling, brining, and fermenting. It's about time for comfort food to make a comeback. Plus, I've been craving mushroom strogonoff and pierogi and golabki like a mad-woman.
Stuffed cabbage definitely isn't something I grew up eating. I don't remember my Mom making it… well, ever. And the first time I heard the word "golabki" was after Shawn and I started dating, when we went to a bazar at the Polish church down the street from his house. I'd be honest: I thought they concept sounded totally gross (I'm pretty sure I watched him eat them while I enjoyed a funnel cake.)
Now, I love them and I can't believe I missed out for all those years! Golabki are basically just meatballs that are wrapped in cabbage leaves and baked in a very mild tomato sauce. They aren't strong or super cabbagey at all, they're really mild and balanced. Stuffed cabbage rolls are just the kind of comfort food that I crave this time to year.
They do take a while to make (I like to thinking of making them as a good excuse to spend a Sunday afternoon at home) but they freeze really well, so I like to make a big batch. This recipe makes 12 servings, which will last us all year.
If you run out of cabbage and have extra filling – or if you're just feeling a little lazy – you can also make stuffed cabbage meatballs! Instead of rolling the filling into cabbage leaves, shred the cabbage and mix it right into the filling. They're every bit as delicious as the rolls!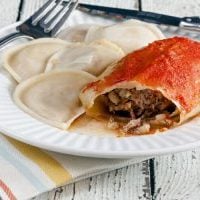 Stuffed Cabbage Rolls (Golabki)
Savoy cabbage, with it's looser structure and softer leaves, is much easier to work with than green cabbage, but either will taste great. Alternative method: To make stuffed cabbage meatballs, follow the directions as described below, but shred the cabbage and mix it into the meat and barley mixture instead of stuffing each leaf. Roll into 2-inch meatballs and bake in the sauce for 30 minutes, or until cooked through.
Print
Pin
Save
Saved!
Ingredients
1

head savoy or green cabbage

1 ½

cups

water

½

cup

barley

1

tablespoon

butter

1

onion

chopped

1

celery rib

minced

1

parsnip

shredded

2

carrots

shredded

1

pound

lean ground beef

½

pound

ground pork

1

teaspoon

nutmeg

1

can

28 ounces whole peeled plum tomatoes

2

tablespoons

apple cider vinegar
Instructions
Using a sharp knife, remove the core from the cabbage. Bring a large pot of salted water to a boil; boil the whole cabbage for 10 minutes. Carefully remove the cabbage from the pot and pat dry. Let cool.

Add 1 1/2 cup water and the barley to a saucepan. Bring to a boil, then reduce to a simmer, Cover and cook 30 minutes, or until the water is absorbed and the barley is tender.

In a large skillet, melt the butter. Add the onion; cook 1-2 minutes, or until softened. Add the celery, parsnip and carrot; sauté 5 minutes, or until softened. Remove the vegetables from the heat. Stir in the beef, pork, and coked barley. Season with nutmeg and salt.

Heat the oven to 350ºF.

Carefully remove the leaves from the cabbage (you'll need 24 whole leaves). Spoon 2 tablespoons of filling onto each cabbage leaf; fold the top and bottom of the leaf around the filling, then roll it to completely surround the filling (like rolling a burrito.) Place seam-side down in a casserole pan.

In a food processor or blender, puree the tomatoes and vinegar. Pour the sauce over the cabbage rolls.

Bake for 1 hour.
Notes
1 serving = 2 cabbage rolls
Nutrition Facts
Stuffed Cabbage Rolls (Golabki)
Amount Per Serving
Calories 200
Calories from Fat 39
% Daily Value*
Fat 4.3g7%
Cholesterol 5mg2%
Protein 19.9g40%
* Percent Daily Values are based on a 2000 calorie diet.