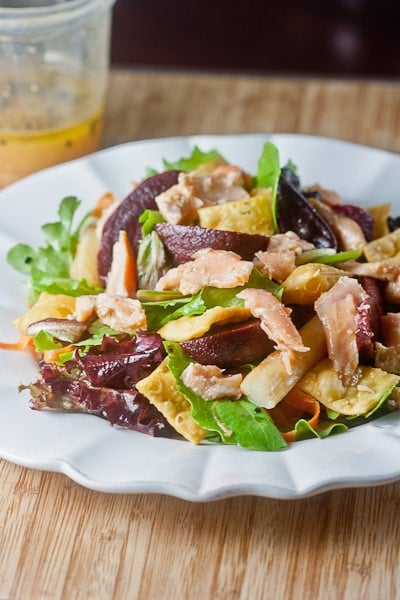 I've been really into miso lately. Until about a month ago, I had never had it in anything other than miso soup, which I've always found to be kind of plain and boring. Miso paste, on the other hand, is a different beast altogether. It's flavor is difficult to describe, but if you're familiar with the term "umami" this is it. It's very rich and complex, a little salty, and almost nutty. It might sound silly, but the flavor feels very full and round in your mouth. If you haven't tried it, you really should! It's a great way to elevate a few simple ingredients and transform them into a spectacular dish.
Stir some into your mashed potatoes. They'll be the best mashed potatoes you've ever eaten. Or give this salad a try. It relies on just a few simple ingredients – salmon, asparagus, beets, oranges, and a few other items I unearthed while cleaning out the fridge – but the silky miso vinaigrette makes it rich and luxurious.
Miso Roasted Salmon Salad
Yields 2 entree salads
Prep Time: 20 minutes; Total Time: 20 minutes
Miso roasted salmon goes great with just about any vegetables that you have waiting to be used up. Try adding thinly sliced cucumber or sugar snap peas for a light and fresh flavor or roasted beets for earthiness. Wonton chips or chow mein noodles add the perfect crunch.
Ingredients
2 Tablespoons White Miso
1/4 cup Sake
2 Oranges, juiced (about 1/2 cup)
2 Tablespoons Soy Sauce
1 Tablespoon Honey
1 Tablespoon grated Fresh Ginger
2 teaspoonsSesame Oil
2 Tablespoons Rice Wine Vinegar
1 teaspoon Black Sesame Seeds
1 6-ounce Salmon Filet
1/2 pound White Asparagus, cut into 1-inch pieces
2 cups Spring Mix, or other lettuce blend
2 Carrots, shredded
2 Roasted Beets, cut into eighths
Wonton Chips or Chow Mein Noodles
Preparation
Heat oven to 400F. In a small bowl, whisk together the miso, sake, orange juice, honey, and ginger. Place salmon and asparagus in a small baking dish. Pour 1/3 cup of the miso mixture over the top. Bake for 10 minutes, or until the fish is just cooked through. Use the side of a fork to gently shred the salmon into large flakes.
Whisk the sesame oil, rice wine vinegar, and sesame seeds into the reserved miso mixture. Season to taste with additional rice wine vinegar or soy sauce as needed.
Combine the lettuce, asparagus, carrot, and beets in a large salad bowl. Toss with the dressing. Top with salmon flakes and wonton chips.
Approx. 480 calories, 17.5 grams fat, 46.5 gram carbohydrates, 8.5 grams fiber, 28.1 grams protein