Crispy quesadillas stuffed with shrimp, avocado, and hummus are a great way to celebrate National Hummus Day. Since they're made with kitchen staples, you can also easily whip them up anytime for an "unofficial meal." (This post was sponsored by Sabra. Thank you for supporting the brands that keep me inspired in the kitchen!)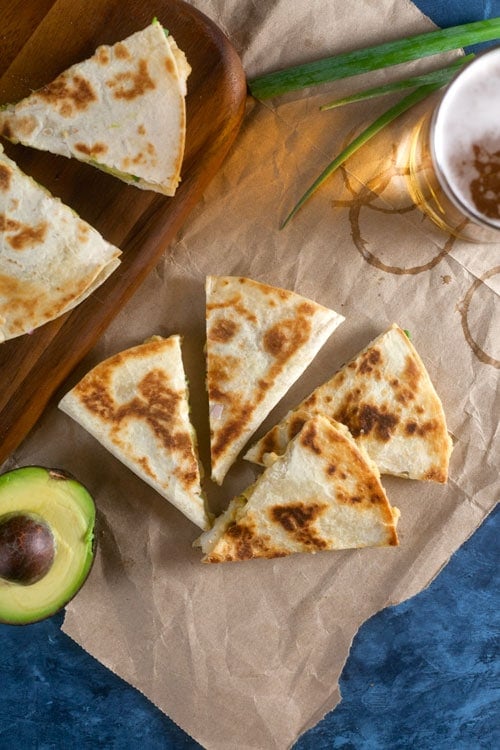 Today is one of my favorite food holidays – National Hummus Day!
I eat hummus with pita chips (or beer-rye crackers!) all the time, but a whole day devoted to hummus deserves something more adventurous. Last year's spicy chipotle hummus pasta was a huge hit, so I was really feeling the pressure to come up with something creative. These delicious shrimp, avocado, and hummus quesadillas definitely fit the bill!
They're crispy, creamy, salty, spicy – and perfect with a cold glass of beer. They're also simple to make (it's almost a stretch to call this a recipe) and work equally well as a snack or a light meal. It's the kind of recipe you'll find yourself making over and over again.
Head over to Sabra.com for a coupon (available today only, so get it while it's hot!) and celebrate with these quesadillas tonight!
Calling these "quesadillas" isn't exactly accurate since there isn't any cheese in them, but Sabra's classic hummus gives them a similar creaminess. They're a great alternative for people who can't eat dairy, but they're also a huge hit with people who can.
A drizzle of toasted sesame oil takes the flavor of these hummus quesadillas completely over the top. It helps bring out the sesame flavor of the tahini (sesame paste) that's in the hummus, while also giving them a subtle and unexpected Asian twist.