This is one of those super simple dinners that started out as a vague idea and ended up as a complete masterpiece.
I went to the store knowing only that I wanted to make something with pasta and canned pumpkin. I picked up a few basic ingredients like broth and arugula and a few new-to-me items like grana padano, a hard, nutty cheese that's a little milder than parmisiano reggiano, and perciatelli, a delightfully squishy pasta that's like bucatini's thinner cousin, and started playing. The result was a quick (20 minutes, most of which is spent waiting for water to boil) dinner that's perfect as a satisfying dinner for one, a romantic dinner for two, or a crowd pleaser for an impromptu dinner party.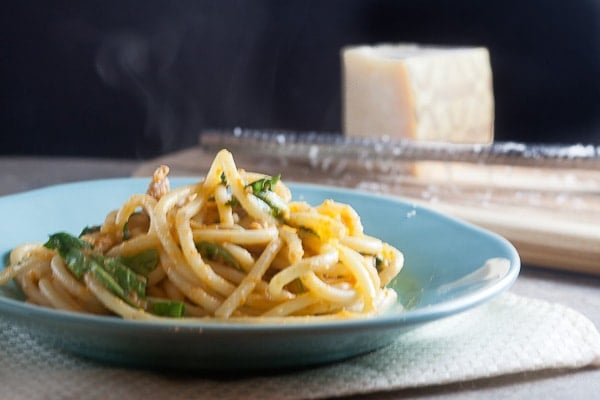 This pasta is perfect on a cold night. It's blanketed with a rich (yet light!) cream sauce that has a subtly sweet pumpkin flavor that's balanced out with peppery arugula. The sausage was last minute addition, but a very welcome one that made a small portion seem more like a meal. You can leave it out if you'd like, but I definitely recommend keeping it in.
As with most simple dishes, the individual ingredients in this really stand out so use the best quality that you can afford. Even just a few cents more for high quality pasta and a sausage or two from the butcher case instead of the freezer will make a world of difference in the final result. No parmesan from a can, ok?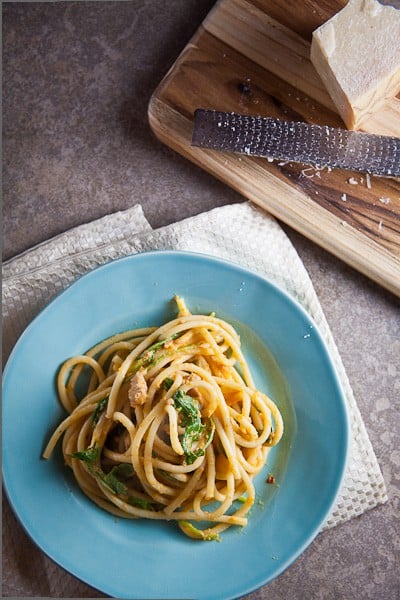 Ingredients
4

ounces

Perciatelli

Bucatini, or Spaghetti

4

ounces

Sweet Italian Saugage

crumbled

2

cups

low sodium Chicken Broth

1

can Pumpkin Puree

¼

cup

Fat Free Half and Half

2

ounces

Grana Padano or Parmigiano Reggiano

grated

¼

teaspoon

Crushed Red Pepper

2

cups

Arugula

Black Pepper
Instructions
Bring a large pot of water to a boil. Salt well, then add pasta. Cook 7 minutes, or as directed by the package. Drain.

Cook the sausage in a large, deep-sided saute pan over medium-high heat until just browned, about 3 minutes. Add the broth and pumpkin. Whisk to combine, then bring to a simmer. Let cook 5 minutes. Stir in the half and half and 1 ounce cheese. Season to taste with crushed red pepper. Remove from heat and add the cooked pasta and arugula. Stir until arugula is wilted, about 1 minute.

Divide pasta between four plates. Top each portion with remaining cheese and black pepper.