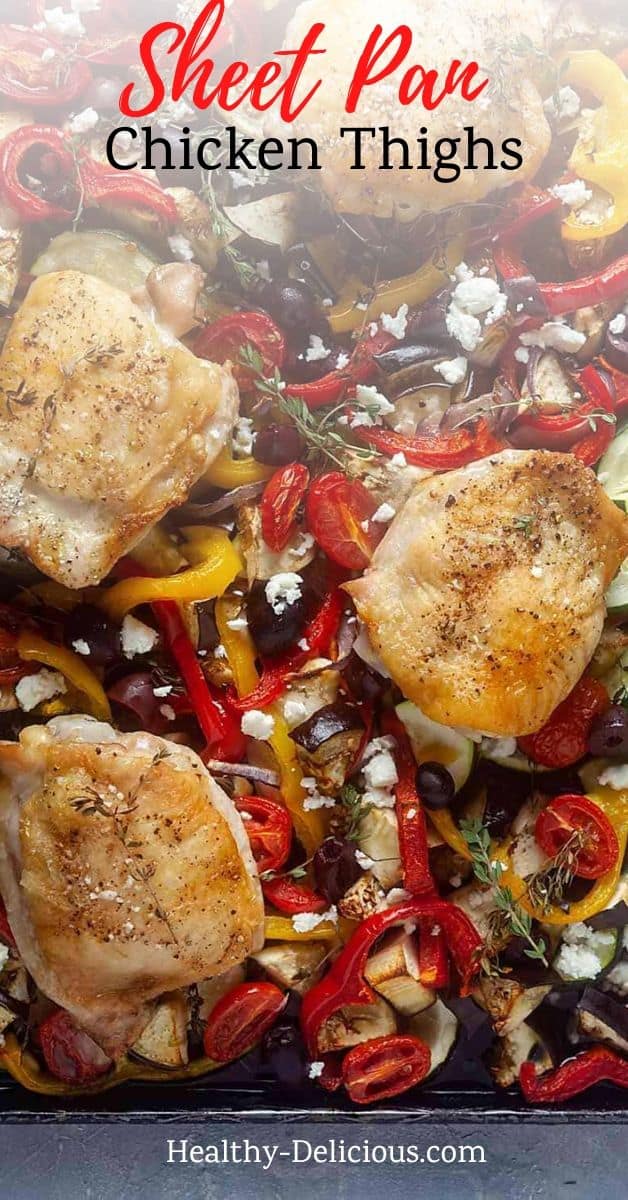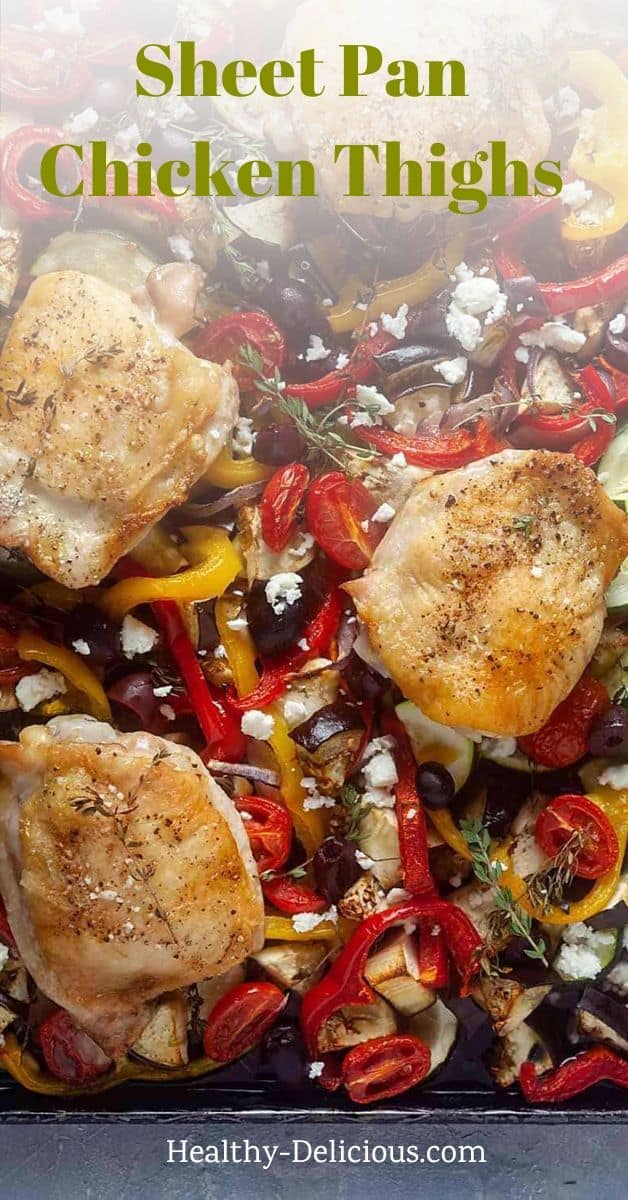 Crispy chicken thighs baked over a bed of Greek-inspired veggies and finished with tangy kalamata olives and salty feta is one of my favorite sheet pan meals. You'll love how easily this delicious low carb dinner comes together!
Sheet pan chicken thighs with roast vegetables are one of my go-to weeknight dinners. Sheet pan meals are super hands-off, which means they don't take much energy to throw together after a long day. Plus it's so easy to play around with different combinations of vegetables and seasonings to create an infinite number of flavors!

These Mediterranian chicken thighs are loosely based on my crispy chicken thigh recipe, but swapping out wintery root vegetables in favor of squash and bell peppers turns it into a completely new meal. This low carb chicken recipe has so much flavor – I know you're going to love it as much as I do!
Prepping the Vegetables
The key to any good sheet pan meal is to start with the vegetables. For this recipe, I used a base of eggplant, zucchini, bell peppers, red onion and grape tomatoes. It was inspired in part by ratatouille and in part by what I happened to have in my fridge.
You can definitely play with the vegetables here. Use all eggplant or all zucchini if you prefer. Or use a yellow onion instead of a red one if that's what you have on hand. This definitely isn't the kind of recipe that you need to follow to a tee.
One the veggies are sliced, mix them with a little olive oil and season them with salt and pepper. I went easy on the salt since I knew I'd be adding olives and feta later, but a little bit added at this stage helps maximize their flavor.
Don't skimp on the vegetables. Lots of veggies on the baking sheet mean you don't need to make any other side dishes to go with this chicken thigh sheet pan dinner.
Crispy Chicken Thighs
Once the vegetables are all in place, add your chicken thighs right on top. The juices will run down into the vegetables as the thighs cook, making them even more delicious.
For the best crispy skin, pat the chicken dry with paper towels. Flavorwise, I keep the chicken itself pretty simple: all you really need is some salt and pepper.
I also added some fresh oregano over everything to really highlight that Greek flavor-profile that I was shooting for.
Now it's ready to put your chicken thigh dinner into the oven! Putting the chicken in the upper third of your oven will help it crisp up even more.
It will take about a half-hour to cook the chicken through. I like to use a meat thermometer to pull them out at the perfect time – that way you now they're cooked through but they won't overcook and dry out. This is the thermometer I have (affiliate link). It's affordable and works really well. It even has a magnet on the back so you can keep it right on the side of the fridge.
If the skin isn't quite browned to your liking, you can broil it for 3-4 minutes to really crisp it up.
Once the chicken is cooked through, pull it out of the oven and stir in the olive and feta. I love the bright, tangy flavor that these final ingredients add to these sheet pan chicken thighs. They lift the flavors up and make everything seem so much lighter and brighter.
FAQs
Can I use boneless chicken breasts instead of thighs?
Chicken breasts or boneless skinless chicken thighs definitely work for this recipe if you prefer them. You just won't get that delicious crispy roast chicken skin! Boneless chicken will cook a little faster, so start checking it after 20 minutes.
Can I make this recipe dairy free?
Yup. If you leave out the feta this is still super delicious. I definitely recommend a squeeze of lemon juice if you go this route.
Is this recipe good for meal prep?
Absolutely! It's so perfect for meal prep and it makes a great lunch since it's on the lighter side. Chicken on the bone takes a while to heat up and can dry out in the microwave, so I suggest cutting the chicken into smaller pieces before you pack up your meals.
Ingredients
1

eggplant

cut into 1-inch chunks

1

zucchini

cut into 1-inch chunks

1

red onion

thinly sliced

2

red

yellow, or orange bell pepper, thinly sliced

1

cup

grape tomatoes

halved

2

Tablespoons

olive oil

6

bone-in chicken thighs

1

Tablespoon

fresh thyme

¼

cup

kalamata olives

¼

cup

crumbled feta
Instructions
Heat your oven to 400ºF.

Combine the eggplant, zucchini, onion, pepper, and tomatoes on a sheet pan. Drizzle with olive oil; stir to coat.

Arrange the chicken thighs skin-side up on top of the vegetables. Season generously with salt and pepper. Scatter the thyme over everything.

Roast on the top rack of your oven for 30-40 minutes, until the chicken reaches an internal temperature of 165 degrees and the skin is crisp.

Remove from the oven and let rest for 5 minutes. Stir in the olives and feta.
Nutrition Facts
Mediterranean Chicken Thighs
Amount Per Serving (1 /6 recipe)
Calories 402
Calories from Fat 225
% Daily Value*
Fat 25g38%
Cholesterol 172mg57%
Sodium 322mg14%
Carbohydrates 14g5%
Protein 33g66%
* Percent Daily Values are based on a 2000 calorie diet.