Pesto and zucchini noodles are a low carb match made in heaven. This simple dinner recipe is topped with baked shrimp and roast tomatoes.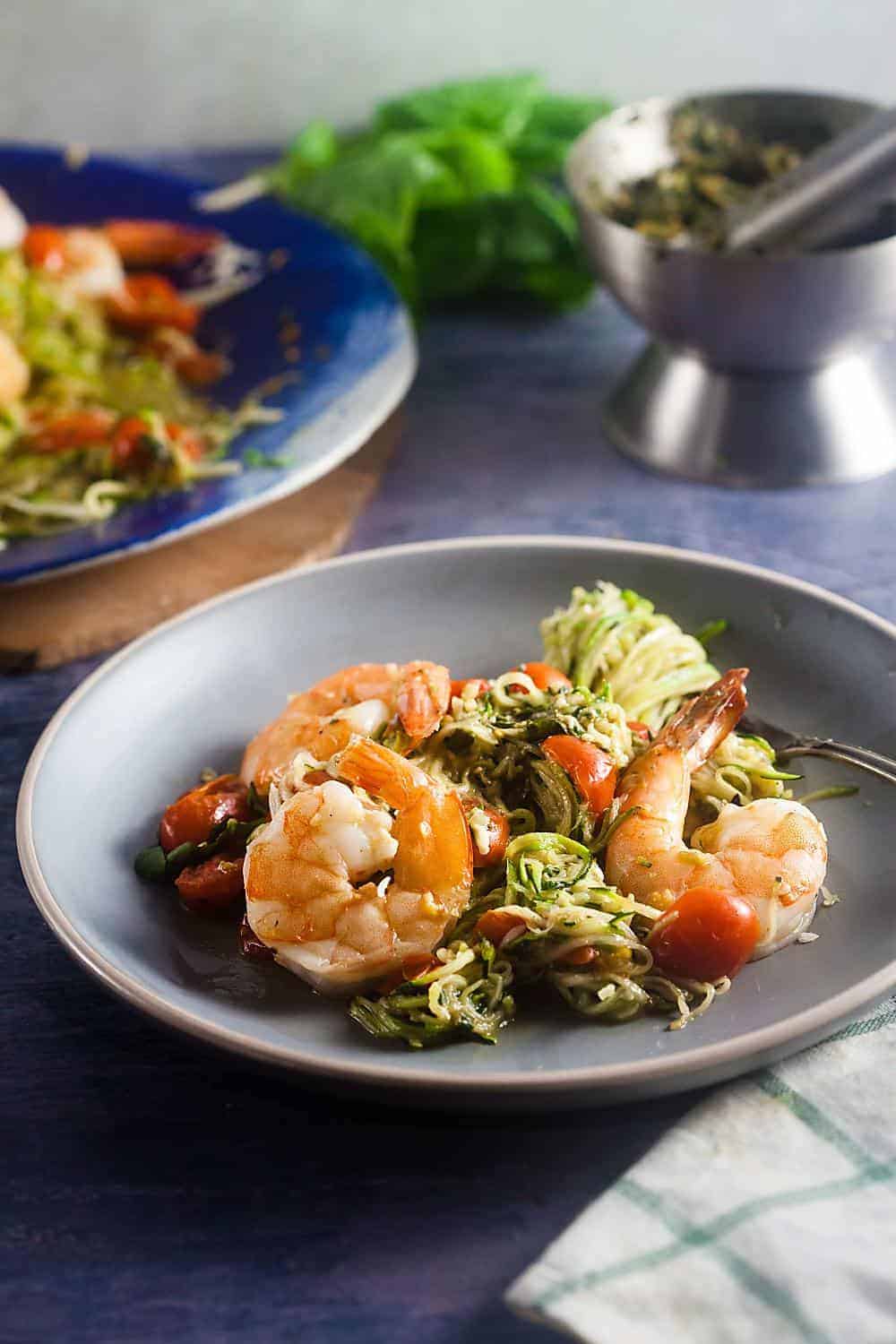 Since Shawn started eating fewer carbs this past spring, it seems like zucchini and cauliflower have taken over our kitchen. It's honestly really impressive how many things those two vegetables can stand in for!
One of my favorite way to eat zucchini is cut into long, noodle-like strands called zucchini noodles, or zoodles. (If you're British and call zucchini courgette, you'd call this courgetti with is super fun to say!)
It's easy to find pre-cut zucchini noodles at the grocery store since low carb diets are so popular right now. I buy those when I'm looking for something quick, but I usually prefer to cut it myself using a spiralizer. That way I can use a smaller setting for more of an angel hair like thickness. Thinner zoodles are more tender without being soggy, and we love eating them raw or just warmed through.
When I'm just looking to get something on the table fast, I make zucchini noodles with red sauce and sausage or meatballs. But when I have more time, I love getting creative and using them in recipes like Pepper Jack Smothered Chicken with Southwest Zoodles or Sauteed Zucchini Noodles with Fresh Herbs + Hazelnuts.
These pesto zucchini noodles with baked shrimp fall somewhere in between. They're really simple and easy to make – especially if you use store-bought pesto – but they have an elegant, special occasion feeling to them.
How to make homemade pesto for pesto zucchini noodles
Homemade pesto really takes these zoodles over the top. I use the pesto recipe that Samin Nosrat shared in Salt, Fat, Acid, Heat and it's really worth the effort.
Samin's recipe is different than other pesto recipes I've made. She has you start by grinding pine nuts into a ut butter-like paste. This paste emulsifies the pesto and gives it a super creamy texture and more consistent flavor. It's a great extra step!
Next, you add tons of fresh basil, salt, and parmesan cheese and drizzle in your best olive oil. If you feel like being extra, you can mash it all together using a mortar and pestle. There's something really soothing about doing it that way. But if you don't have one, or if you're feeling impatient, a food processor works just as well.
You can also make a delicious nut free pesto if you have a nut allergy.
Or, you know, just buy some pesto at the grocery store. No judgment. For the best flavor, look for tubs of fresh refrigerated pesto sold in the produce section.
How to make Baked Shrimp
To keep this recipe on the simpler side, I roasted the shrimp and tomatoes instead of cooking them on the stovetop.
The gentle heat of the oven cooks the shrimp perfectly every time and they don't get overcooked or rubbery. At the same time, the tomatoes cook down and get a jammy texture and concentrated tomato flavor, without drying out. They're amazing combined with that delicious homemade pesto!
If you're using frozen shrimp, just be sure to defrost them before placing them on the baking sheet. Otherwise, they can get waterlogged and soggy. You'll also want to be sure to peel and devein the shrimp if you didn't buy them cleaned.
Pesto Zucchini Noodles with Baked Shrimp
Pesto and zucchini noodles are a low carb match made in heaven. This simple dinner recipe is topped with baked shrimp and roast tomatoes.
Print
Pin
Save
Saved!
Ingredients
1

pound

defrosted raw shrimp

large

2

cups

cherry tomatoes

halved

2

zucchini

spiralized

1/16

cup

pine nuts

1

garlic clove

smashed

¼

cups

basil

1/12

cup

shredded Parmesan cheese

1/12

cup

olive oil

Additional Parmesan cheese and basil for garnishing

if desired
Instructions
Heat your oven to 400F.

Arrange the shrimp and tomatoes in a single layer on a baking sheet. Season generously with salt and pepper. Bake for 10 minutes, or until the shrimp are cooked through and the tomatoes are slightly shriveled, but not dry.

Add the zucchini to the pan and bake another 2-3 minutes, until the zucchini is just warmed through.

Use a mortar and pestle to pound and grind the pine nuts to a smooth paste. Add the garlic and pound until fully incorporated. You can also do this in a food processor if you prefer.

Add the basil and a pinch of salt. Continue grinding until the basil breaks down completely, working in batches if needed. Stir in the parmesan and oil.

Add 1/4 cup of the pesto to the sheet pan and stir everything together (you will have 3/4 cup of pesto left; save it for another use)

Divide between four plates. Serve immediately.
Notes
Maximize your time by making the pesto while the oven heats up!
Nutrition Facts
Pesto Zucchini Noodles with Baked Shrimp
Amount Per Serving (1 g)
Calories 165
Calories from Fat 72
% Daily Value*
Fat 8g12%
Cholesterol 145mg48%
Carbohydrates 6g2%
Protein 18g36%
* Percent Daily Values are based on a 2000 calorie diet.