Giant homemade vegetarian meatballs, flattened and served  on a toasted garlic bread bun with marinara and mozzarella. What more can you ask for?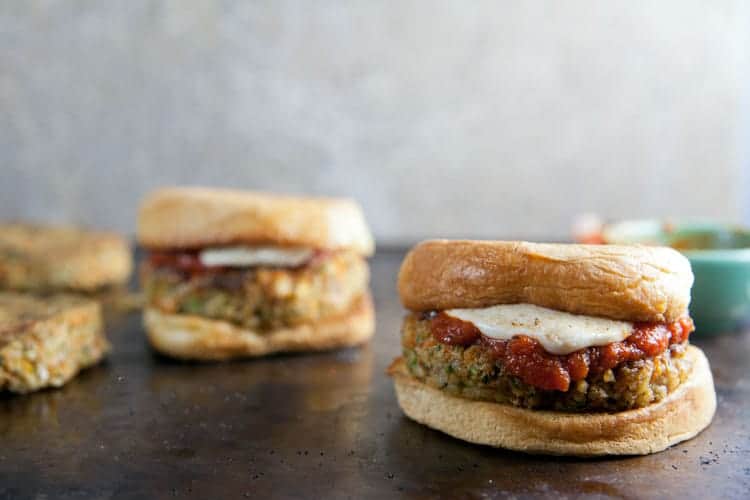 I know I just posted an awesome turkey burger recipe the other day, what what can  say? I'm on a roll. (*groan*)
Not too long ago, Shawn and I went for dinner at a place with a pretty extensive burger list and the meatball burger caught my eye. It totally wasn't something that I would normally order, but for some reason I just couldn't resist. I enjoyed every last bite, laughing the whole time that it was such a guy sort of thing to order.
So, what's a meatball burger? It's a giant meatball that gets smashed into a patty. It's served on garlic bread, smothered in sauce and cheese. It's a like a meatball parmesan sub, but smaller and with more meatball and less sauce.
They're awesome.  I also knew they'd be perfect for this week's Sunday Supper, which has a "man food" theme. Making them at home posed a few problems though: First, I usually add egg to my meatballs, and I'm not a fan of well-done burgers. Serving a medium well burger with egg in it was definitely not an option. Second, I just started a 21 day plant-based challenge and meat definitely isn't part of the program. (I had hoped to make these before I started the challenge, but due to problem #1 that didn't happen.)
Both problems were solved when I decided to swap out the traditional meatball patty for a vegetarian version. The vegetarian option might be a little less stereotypically "man food" but they definitely still got two thumbs up from Shawn.
Meatball Style Veggie Burgers
These are some of the most delicious – and easiest to make – homemade veggie burgers I've tried. Seasoned as they are here, they definitely have a meatball vibe to them but you can easily swap out the Italian seasoning and parsley for other flavors if you want to make a more traditional burger to use with other toppings. For other veggie burger options, be sure to check out my Ultimate Veggie Burgers and Smokey Chipotle, Lentil, and Cauliflower Burgers.
Ingredients
1 carrot, finely chopped
1 small onion, finely chopped
3 cloves garlic
3/4 cup chopped crimini mushrooms
1 cup cooked wild rice
1/2 cup walnuts
1/3 cup fresh parsley
1 Tablespoon Italian seasoning
1/2 teaspoon cayenne pepper
salt and pepper to taste
1/4 cup all purpose flour
1 tablespoon butter
4 hamburger rolls, split
1 teaspoon [b]garlic powder
[/b]1/2 cup marinara sauce, warmed
2 ounces mozzarella cheese
Directions
Heat the oven to 350ºF.
In a large saucepan, sauté the onion, carrots, and garlic for 3-4 minutes or until they start to soften.Add mushrooms and garlic and cook for 5 minutes. Let cool slightly.
Add the cooked vegetables, rice, walnuts, parsley, and seasonings to a food processor. Process until a crumbly mixture forms, 20-30 seconds, scraping down the sides as needed. Adjust the seasoning to taste.
Form the mixture into 4 large balls. Roll the balls in flour until they're lightly coated, then flatten them into patties (about 1/2 inch to 1/4 inch thick).
Melt the butter in your sauté pan. One by one, place the cut sides of the rolls into the melted butter to coat them. Place on a baking sheet, buttered side up. Season with garlic powder. Bake 5 minutes, or until lightly toasted. Place the mozzarella on the top half of the rolls; cook 3-4 minutes or until the cheese starts to melt.
In the same pan, cook the veggie burgers for 5 minutes on each side.
To serve, place a veggie burger on a "bottom" roll. Cover with 2 tablespoons warmed marinara. Top with a "top" roll, cheese side down.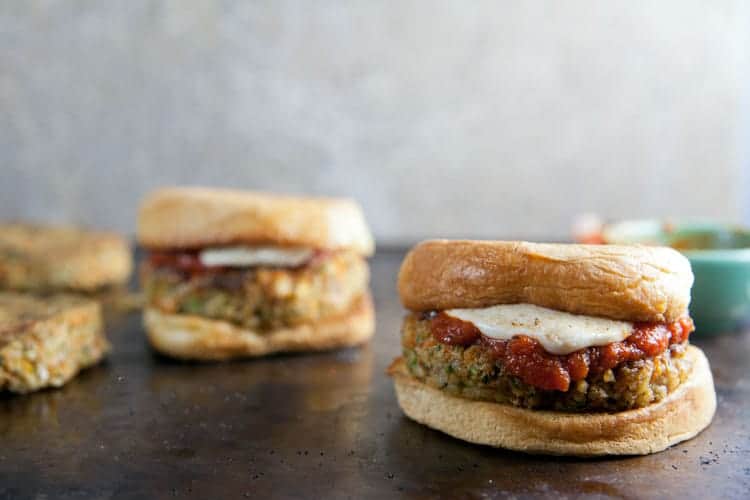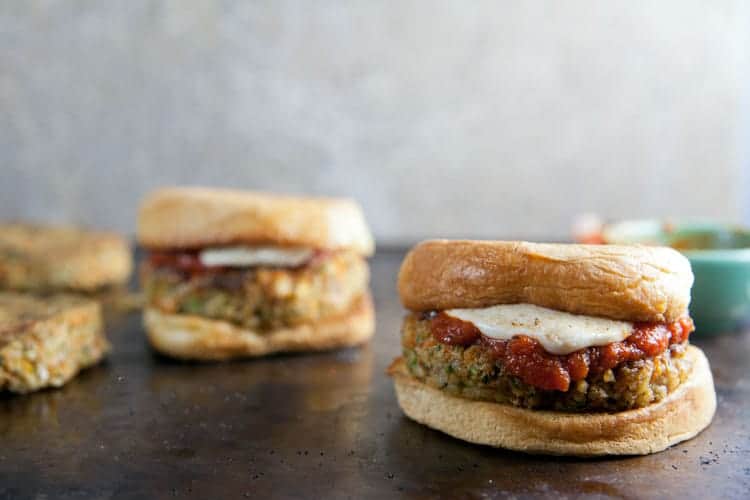 Loading nutrition data...

MAKING ONE OF MY RECIPES? 
Share a photo on
my Facebook page
or tag
@HealthyDelish
on Instagram. Nothing makes me happier than seeing people enjoy my recipes! And don't forget to
sign up for email updates
so you'll never miss a new recipe.
I am not a certified nutritionist.  Nutrition information calculated using myfitnesspal is provided as a courtesy, but will vary depending on the specific brands of ingredients you use. Information provided on this site is not a substitute for professional advice by certified health professionals; please consult with your doctor regarding specific health needs.