Have you ever wondered how to make Brussels sprouts irresistibly crispy and delicious without using a ton of oil? The answer is air frying! I'll show you how you how to air fry Brussels sprouts to perfection in just 10 minutes — they're a great easy side dish for any night of the week!
---
Super fast: These crispy sprouts are ready in just 10 minutes!
Nutritional Powerhouse: These little green superstars are packed with vitamins and minerals. Plus, they're low in calories and carbs, making them great for just about any diet.
Adaptable: It's so easy to jazz this base recipe up with sauces or seasonings to take them to the next level. I'll share some of my favorites!
The Ultimate Guide to Perfectly Crispy Air Fryer Brussels Sprouts
Brimming with crispness and flavor, these Air Fryer Brussels Sprouts are about to revolutionize the way you think about this underrated veggie!
Fall has always been one of my favorite seasons for food, and this year is no exception. I've been loving all of the mouthwatering creations from amazing local chefs. One thing I can't help but notice is that Brussels sprouts seem to be having a moment — they're everywhere! But these aren't just any sprouts, these have been reinvented, reimagined, and turned into utterly delectable dishes that I just can't get enough of. From simple side dish preparations at the steakhouse to salads loaded with all sorts of goodies, they seem impossible to ignore.
The one thing that has united all of my favorite versions has been the cooking method. Whether they're drizzled with peanut sauce or coasted in parmesan, all of the best Brussels sprouts recipes are roasted until the centers are tender but the outer leaves are crisp and charred. It's by far my new favorite way to enjoy this delicious vegetable!
​They're also SO EASY to make at home. I've found that using an air fryer is the best way to achieve perfectly tender Brussels sprouts that have all of the delicious crispy bits that we're all craving. Plus they're ready in just 10 minutes!
Ingredients You'll Need
Ingredients You'll Need
Fresh Brussels Sprouts. These are the star of the show, loaded with vitamins and fiber. Look for firm, fresh sprouts with compact heads, and avoid any with yellowing leaves.
Olive Oil. A drizzle of olive oil helps the sprouts get perfectly crispy in the air fryer. Try different flavored oils for a twist, or use avocado oil or any other oil with a high smoke-point if you prefer.
Kosher Salt. A pinch of this flaky salt brings out all the natural flavors of the Brussels Sprouts and helps counteract some of their bitterness.
You'll also need a basket-style air fryer. Ninja and Cosori are both popular brans that are highly recommended!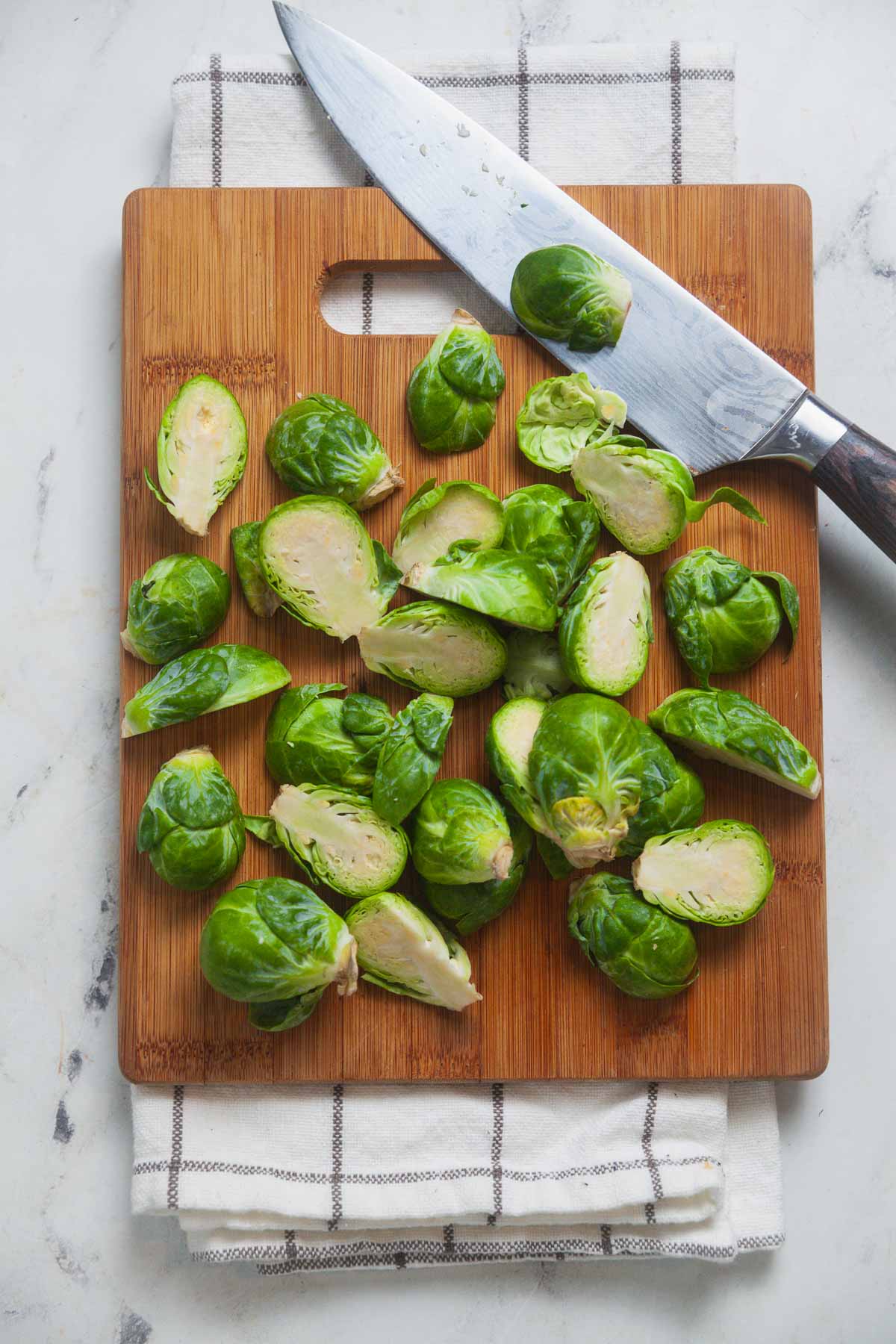 Preparing Your Brussels Sprouts
Choosing the Right Brussels Sprouts
To encourage even cooking, look for Brussels sprouts that are uniform in size. Check the sprouts for any discoloration, wilting, or signs of pests or damage, and trim or discard any that have issues. Your choice of Brussels sprouts will significantly influence the final taste and texture, so select with care!
Cleaning and Trimming
Fresh Brussels sprouts can benefit from a little TLC before you cook them.
Start by rinsing the sprouts under cold water to remove any dirt or dust. You can also soak them in a bowl of cold water for a few minutes to ensure thorough cleaning.
After a good rinse, drain the sprouts and pat them dry with a towel.
Use a paring knife to cut off the stem and tough bottom core, especially if's dry or yellowed.
Gently peel off any yellowed or damaged outer leaves
Cut the sprouts into halves or thirds, aiming for pieces that are uniform in size so they cook evenly. Slice the sprouts vertically through the stem — this will help them hold together as they cook!
Seasoning Ideas for Air Fried Brussels Sprouts
Having mastered the air frying basics, you can now experiment with different seasonings for your Brussels sprouts! While the classic olive oil and salt combination is always a winner, why not try some more adventurous options like garlic powder and Parmesan or a sweet and tangy balsamic glaze? There are so many possibilities, and mixing things up is a great way to prevent yourself from getting tired of them.
Here are some of my favorite seasoning, sauce, and dip ideas:
Classic Olive Oil and Salt
Garlic and Parmesan
Balsamic Glaze
Peanut Sauce
Lemon Aioli
Cajun Seasoning
Sriracha, Lime, Juice, and Maple Syrup
Buffalo Wing Sauce
Soy Sauce and Sesame Seeds
Honey Mustard
Commonly asked questions
How to store Leftovers
Leftovers will keep well in an airtight container in the fridge for about 3 days. Note that they will smell stronger after they've been in a sealed container, so prepare yourself before you take the lid off! The strong cabbage smell will go away once the lid has been off for a few minutes.
Can I reheat the leftover Brussels Sprouts?
Yes, pop them in the air fryer at 350°F for a few minutes to re-crisp them.
How do I adjust the cook time for smaller or larger sprouts?
Keep an eye on them while cooking, and adjust the time accordingly. I start checking my sprouts after about 8 minutes of cooking. Exceptionally large Brussels sprouts can take a few extra minutes to cook.
Can I add other seasonings or spices?
Yes, you can add your favorite spice blends along with the oil and salt. If you're using a sauce, add it 2 minutes before the sprouts are done (if you want it caramelized) or drizzle it over the cooked sprouts.
Can I double the recipe?
For sure! Just make sure not to overcrowd the air fryer basket for even cooking. You might need to make them in batches.
Can I add bacon?
Oh, yes! Dice it up and add it to the air fryer basket after 5 minutes. I also love doing this with pancetta or prosciutto!
Can I make these in the regular oven?
Yes, but it will take longer. Arrange the prepared sprouts on a baking sheet in a single layer and roast at 425ºF for about 15 minutes. Be sure to factor in your oven's preheat time, too!
Why did my brussel sprouts burn?
Make sure you use a high-smoke point oil like olive oil (not extra-virgin) or avocado oil and coat the sprouts well before cooking. Shake the basket well halfway through the cooking process to redistribute the sprouts, since the ones closer to the top will crisp more quickly.
Why won't my brussels sprouts get crispy?
If you overcrowd the air fryer basket, your sprouts will steam instead of crisp. They don't have to be in a single layer, but make sure you leave plenty of room for the hot air to circulate!
Can I use frozen Brussels sprouts in the air fryer?
Yes, but the won't get as crispy.
What should I eat these with?
My absolute favorite fall meal at the moment is a delicious roasted Brussels sprouts salad with a gooey grilled cheese. But you can't go wrong with serving these are a side to steak, roast beef, chicken, or even pasta and sauce!
More delicious vegetable recipes
How to Air Fry Brussels Sprouts
Crispy Brussels sprouts are a family favorite, and they're so easy to make in your air fryer! Want even more flavor? Finish your cooked sprouts with a splash of balsamic glaze or lemon juice for an extra zesty kick.
Print
Pin
Save
Saved!
Ingredients
1

pound

Brussels sprouts

trimmed

1

tablespoons

olive oil

½

teaspoon

kosher salt
Instructions
Cut the sprouts into thirds, cutting through the stem end so they hold together.

In a large bowl, combine the sprouts, oil, and salt. Mix well so the sprouts are thoroughly coated with oil.

Transfer the sprouts to your air fryer basket, being careful not to overcrowd it.

Air fry at 400ºF for 5 minutes. Shake the basket vigorously to redistribute the Brussels sprouts, then cook an additional 5 minutes, or until cooked to your liking.
Nutrition Facts
How to Air Fry Brussels Sprouts
Amount Per Serving (1 serving)
Calories 53
Calories from Fat 27
% Daily Value*
Fat 3g5%
Sodium 213mg9%
Potassium 294mg8%
Carbohydrates 7g2%
Protein 3g6%
Vitamin A 570IU11%
Vitamin C 64mg78%
Calcium 32mg3%
Iron 1mg6%
* Percent Daily Values are based on a 2000 calorie diet.