Utica greens are the perfect side dish for anyone looking to add more vegetables to their plate. This recipe comes together in just 15 minutes and is great cold weather alternative to a side salad with pasta or steak.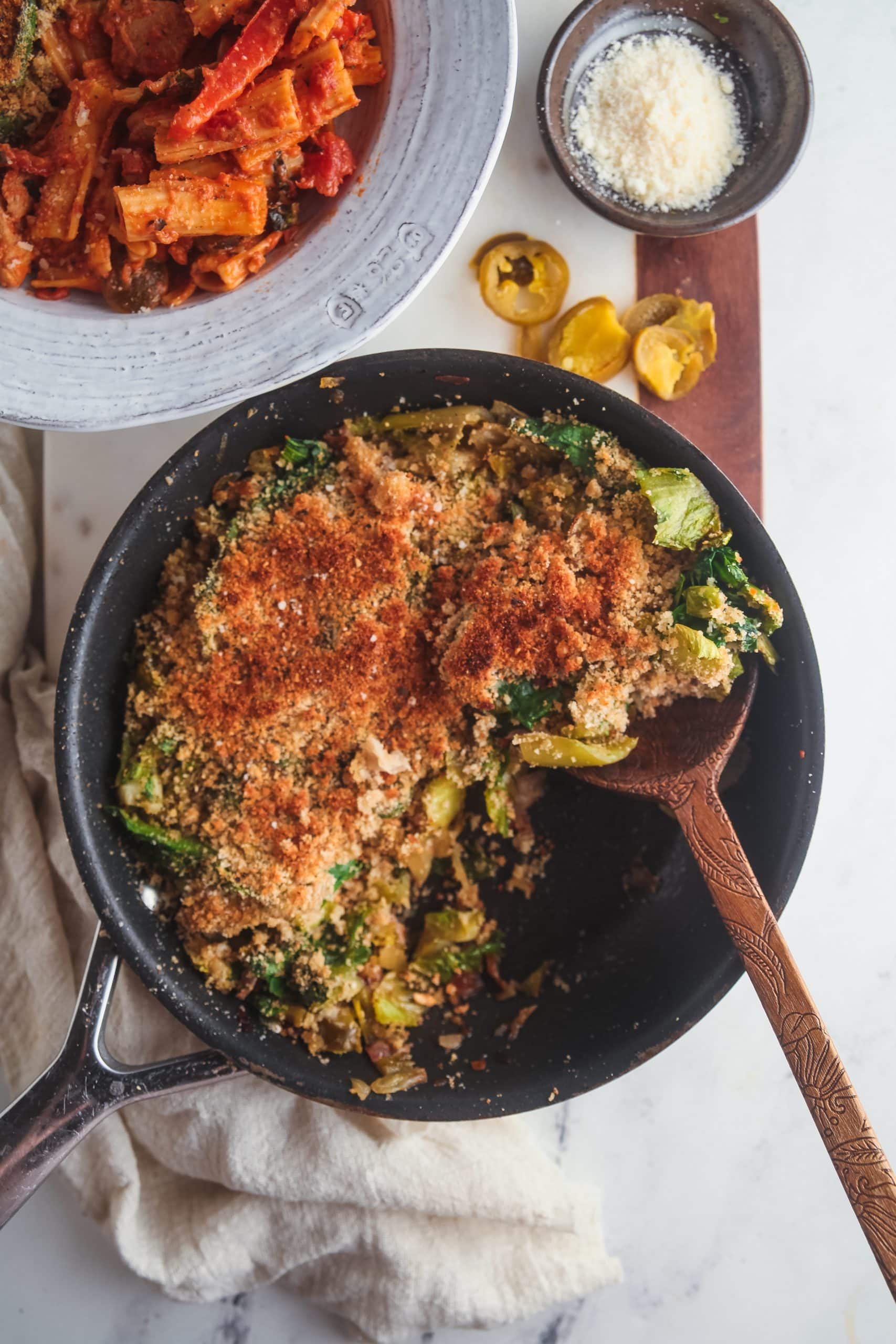 The Tastiest Greens You'll Ever Make
What do you think of when you think about classic New York food?
If you're like most people, I'm guessing you immediately went to pizza and bagels, or maybe the bags of roasted chestnuts that they sell on the corner during the holiday season.
Those things are all delicious, but there's so much more to classic New York cuisine than what you'd find in New York City!
Today, I'm sharing my Utica Greens recipe. It's a warm and delicious side dish made with sautéed escarole and cherry peppers and it's one of my absolute favorite ways to get my greens in.
---
Easy and affordable. This is a classic comfort food recipe that's a staple of home cooks.
Great for cold weather. Let's face it, Upstate NY gets cold in the winter! These greens are warm and cozy, with a touch of spice to warm you up.
Adaptable to fit into a gluten-free or vegetarian lifestyle.
What are Utica Greens?
Utica greens are a dish made from sautéed escarole that's flavored with prosciutto or pancetta and hot cherry peppers and broiled under a blanket of bread crumbs and romano cheese.
Based on traditional Sicilian recipes, Utica greens have been a staple in Italian-American kitchens for a very long time, with immigrants cooking them with kitchen scraps and garden-grown vegetables.
They rose in popularity when Chef Joe Morelle perfected his "Greens Morelle" recipe at the Chesterfield restaurant in Utica, located in New York's Mohawk Valley, in the 1980s. Along with chicken riggies and tomato pie, they've been an Upstate NY favorite ever since!
Ingredients You'll Need
Escarole. Utica greens are traditionally made with escarole, a bitter, leafy green vegetable that looks a lot like romaine lettuce. Variations can be made with chard or kale.
Prosciutto or Pancetta. A little bit of salty cured ham gives these greens a great flavor and a meaty bite.
Pickled Cherry Peppers. Pickled hot peppers are key to giving Utica greens their classic flavor. You can adjust the amount up or down depending on if you want your greens to be super spicy or not, but don't skip them. As written, my recipe has a medium heat level, so it has a little bit of kick but shouldn't set your mouth on fire.
Breadcrumbs. You want fine breadcrumbs for this recipe, so opt for unseasoned, Italian-style breadcrumbs as opposed to panko.
Grated Pecorino-Romano Cheese. You can also use Parmesan cheese.
Olive Oil. Many recipes call for extra-virgin olive oil. but I'm not sure why since it has such a low smoke point. Regular olive oil or avocado oil is perfect for this recipe.
Garlic and Onions.
Dried Oregano, Salt and Pepper.
Pro Tip
You'll notice that my recipe calls for blanching the escarole before sautéing it. This reduces some of the bitterness, resulting in a milder flavor. It only takes a minute to do, and is well worth the effort! If you're planning to serve your Utica greens with pasta, you can blanch the escarole right in the boiling pasta water.
Variations
To make gluten-free Utica greens, you can use gluten-free breadcrumbs, or leave them out entirely and just bake them under a cheese topping.
For vegetarian greens, leave out the proscuitto and be sure to use a vegetarian cheese (Trader Joe's has a great vegetarian parmesan, and Whole Foods 365 Parmesan is made with vegetable rennet)
If you can't find escarole, Swiss chard makes a nice substitute.
How to make them
Rinse the escarole well. It grows in sandy soil and you'll want to be sure to wash all of that grit away.
Mix the breadcrumbs, cheese, seasonings, and olive oil. It should resemble wet sand.
Blanch the escarole to remove bitterness.
Sauté the onions and garlic in olive oil, then add the proscutitto and cook it until it's crisp. Stir in the chopped greens and top with breadcrumbs.
Broil for a few minutes to crisp the breadcrumb topping.

Commonly asked questions
How to store Leftovers
Utica greens are best served immediately, but you can store leftovers in the fridge for up for 5 days. Just keep in mind that the topping will lose it's crispness.
The best way to reheat a single serving is in a hot pan with a little olive oil.
If you're reheating the whole pan, pop them into the oven at 350ºF for 15 minutes, or until warmed through, and then broil them for a minute or two to re-crisp the topping.
Can I freeze it?
Unfortunately, this recipe does not freeze well.
How do you make greens less bitter?
Blanching greens removes their bitterness!
What should I serve Utica greens with?
These are such a delicious and versatile side dish!
I love serving them with pizza or pasta, the same way I would serve a salad.
They're also wonderful on the side of steak (this is one of my go-to orders at Delmonico's Steakhouse) or even something like chicken parmesan.
More favorite recipes from Upstate New York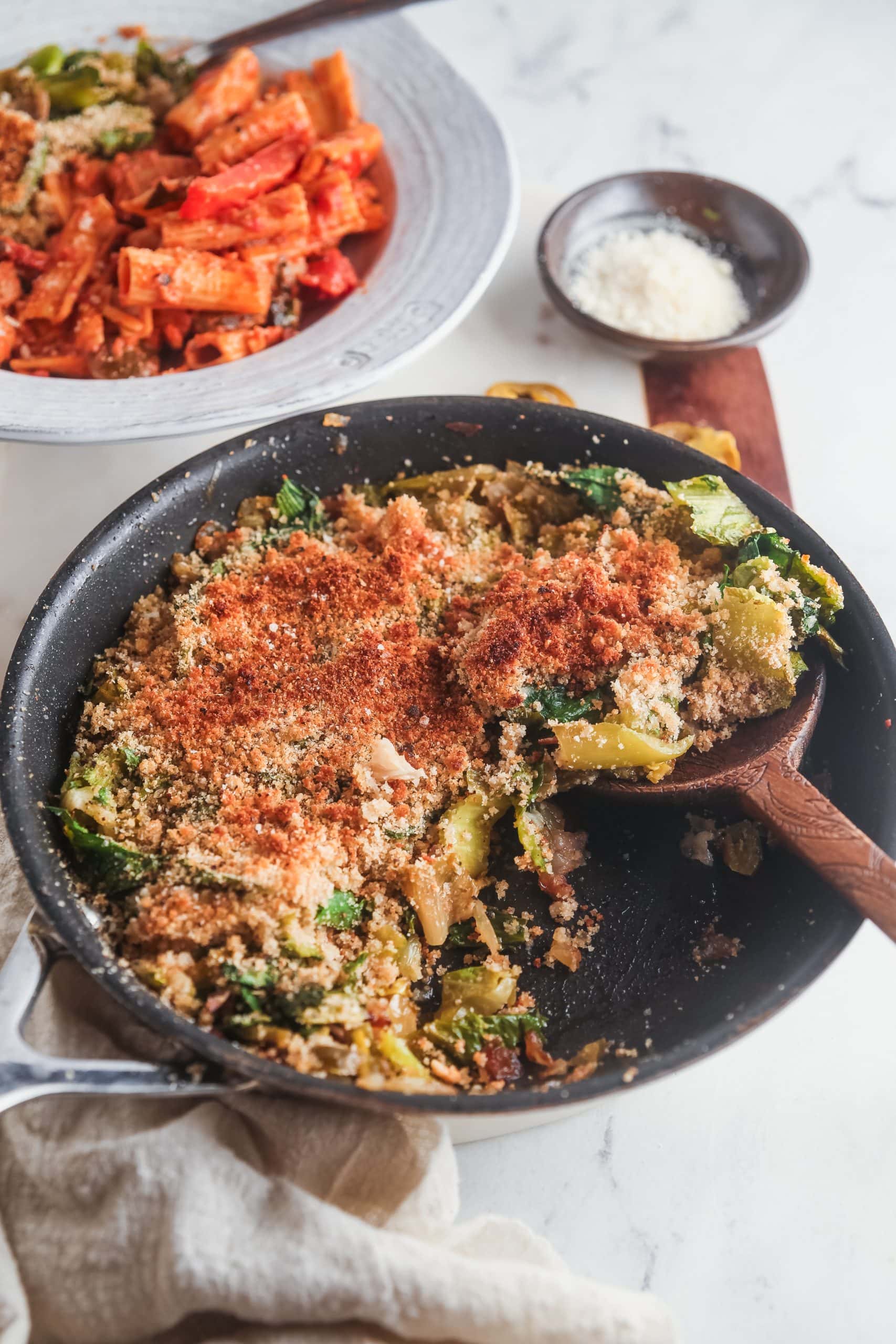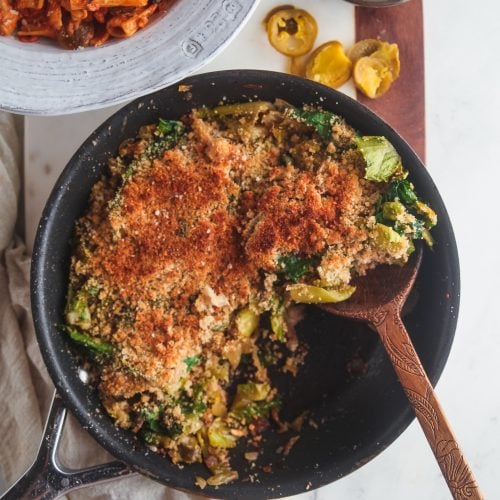 Utica Greens Recipe
If you've ever been to Upstate New York, you know Utica greens. If you haven't, well…you're missing out!
This spicy, hearty dish is a staple of the upstate diet—and it's one of my favorite things to cook (and eat) during the colder months. They make for a great side dish but you can also enjoy them on their own as a light meal.
Print
Pin
Save
Saved!
Ingredients
½

cup

plain breadcrumbs

¼

cup

Pecorino-Romano cheese

freshly grated or Parmesan

½

teaspoon

oregano

½

teaspoon

freshly ground pepper

1

teaspoon

sea salt

2

tablespoons

olive oil

divided

1

head

escarole

3

cloves

garlic

minced

1

small

onion

chopped

¼

cup

hot pickled cherry peppers

chopped

2

ounces

prosciutto or pancetta

diced
Instructions
Bring a large pot of water to a boil

In a small bowl, combine the bread crumbs, cheese, oregano, salt, and pepper. Mix in 1 tablespoon of olive oil; the mixture should resemble wet sand. Set aside.

Wash the escarole well; rinse thoroughly.

Add the whole head of escarole to the boiling water and cook for 1-2 minutes, or until bright green and tender. Remove and rinse under cool water.

In a medium, broiler-safe pan, heat the remaining tablespoon of oil over medium-high heat. Add the prosciutto, peppers, onion and garlic and cook for 4-5 minutes, or until the prosciutto is crisp and the onions are softened.

Stir in the chopped greens and half of the bread crumb mixture. Scatter the remaining bread crumbs in an even layer over the top.

Broil the Utica greens under high heat for 3-4 minutes, or until crisp and golden brown.
Nutrition Facts
Utica Greens Recipe
Amount Per Serving (1 serving)
Calories 234
Calories from Fat 135
% Daily Value*
Fat 15g23%
Cholesterol 16mg5%
Sodium 1057mg46%
Potassium 451mg13%
Carbohydrates 18g6%
Protein 7g14%
Vitamin A 2474IU49%
Vitamin C 9mg11%
Calcium 163mg16%
Iron 2mg11%
* Percent Daily Values are based on a 2000 calorie diet.