Apple Cheesecake Empanadas are a delicious twist on hand pies. They feature homemade apple pie filling and sweetened cream cheese stuffed into tender-crisp empanada dough. These hand-held treats are baked instead of fried to help save calories.

Today I'm sharing another recipe featuring Ruby Frost apples. Since they're grown in New York, I thought it would be fun to make a recipe that highlights my home state – and what says "New York" more than cheesecake? (If you love apples, be sure to check out my roast sausages with apples and parsnips and my breakfast risotto with apples and raisins, too!)
I considered making an apple pie cheesecake, but decided to make apple cheesecake empanadas instead. We could pretend that decision had something to do with celebrating New York diversity but, honestly, it was because I've had a package of empanada dough in my freezer for a while and I've been looking for an excuse to use it.
How to make apple empanadas
Apple empanadas are surprisingly easy to make!
Start by making a quick batch of easy apple pie filling. Caramelize some sugar and apple pie spices in a hot pan. Then add diced apples and cook them until they're soft. Ruby Frost apples have a firm texture so they retain their shape even after they cook down. This means the apple pie filling is nice and chunky with big pieces of tart apples.
Instead of adding more sugar to sweeten the cream cheese, mix in some of the sticky liquid from the apples. Resist any urge you might have to taste the cream cheese filling or you might end up taking so many tastes that you don't have enough left for the empanadas.
I used frozen empanada dough. If you want to make your own, I bet this version made with sweet potatoes would be incredible! Whichever you choose, make sure to seal the edges tightly by pressing down on them with the tines of a fork – you don't want that delicious filling to ooze out.
Once they're tightly sealed, brush the empanadas with a little milk and sprinkle them with cinnamon and sugar. Bake them until they're puffed and golden brown. Make sure to let them cool slightly before digging in – the filling gets really hot and molten and will firm back up when the empanadas cool.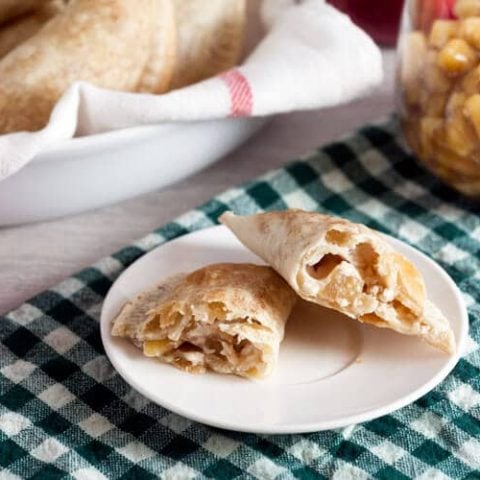 Ingredients
¼

cup

brown sugar

¼

sugar

2

tablespoons

cornstarch

½

teaspoon

vanilla

½

teaspoon

cinnamon

¼

teaspoon

nutmeg

1

pinch

salt

1

cup

water

4

Ruby Frost apples

peeled and cut into a 1/4" dice

8

ounces

cream cheese

softened

1

package

10 discs frozen empanada dough, defrosted

2

tablespoons

milk

cinnamon-sugar for dusting

optional
Instructions
In a medium saucepan set over medium-high heat, combine the sugars, cornstarch, vanilla, cinnamon, nutmeg, and salt. Stir in the water and bring to a simmer. Simmer, stirring constantly, for 2-3 minutes, or until the mixture is thick and lava-like. Stir in the apples and cook 8-10 minutes, or until softened. Let cool completely.

Pour off about 1/4 cup of the liquid from the apples and stir it into the cream cheese.

Heat the oven to 350ºF and line a baking sheet with parchment paper or a silpat.

Use a rolling pin to gently stretch each disc of empanada dough slightly, then spoon 1 tablespoon of cream cheese and 1 heaping tablespoon of apples onto the center of each disc. Bring the edges together over the dough and use the tines of a fork to seal (press firmly). Arrange on the baking sheet. Brush each empanada with milk and sprinkle with cinnamon-sugar, if desired.

Bake 20-25 minutes, or until the empanadas are puffed and golden brown.

Serve hot or at room temperature.
Nutrition Facts
Baked Apple Cheesecake Empanadas
Amount Per Serving
Calories 309
Calories from Fat 99
% Daily Value*
Fat 11g17%
Protein 5g10%
* Percent Daily Values are based on a 2000 calorie diet.
This post was sponsored by the New York Apple Growers Association. I've had a ton of fun creating recipe featuring their new Ruby Frost apples this month.