Do you ever have one of those days where by the time you get home from work you're so tired of thinking that the idea of cooking dinner seems like a form od cruel and unusual punishment? (Please tell me it isn't just me!) I've had a lot of those lately, which is why there was a full week between the time I bought the ingredients to make this farro risotto with roasted mushrooms to the time that I actually made it.
Of course, once I did make it, I regretted waiting so long. The recipe is so simple and requires almost no thought at all. And those roast mushrooms… have you ever had roast mushrooms? They might just be the things that dreams are made of. The flavor gets concentrated in the oven, making them super earthy and woodsy. They add so much flavor to the risotto that you hardly need to add anything else at all! (Of course there isn't much that can't be improved by topping it with a poached egg!)
Farro is a whole grain that I've seen around a lot lately. It has a chewy texture that reminds me a little of barley, although the flavor is much milder. Because it's so delicate, this risotto is surprisingly light and not too wintery at all – I actually thought it was perfect for a rainy spring day. It also paired perfectly with some dry prosecco. The only downside is that it can be a little tricky to find at the supermarket. After coming home empty-handed a few times, I eventually found some at Trader Joe's. Then, the next week, I noticed it hidden away on the bottom shelf in the natural foods aisle of the Shop Rite around the corner from my house. If you can't find it, definitely ask someone!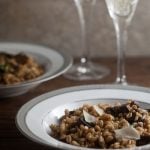 Farro Risotto with Roast Mushrooms
Pre-cooked farro (I like "10 minute farro" from Trader Joe's) makes this a simple dish to pull together on a weeknight. Look for in the rice, bulk grain, or natural aisle of the grocery store. If you can't find pre-cooked farro, the regular version will work - it will just take 10-20 minutes longer to cook.
Print
Pin
Rate
Ingredients
For the Roast Mushrooms:
8

ounces

crimini mushrooms

sliced

2

cloves

garlic

minced

2

springs fresh thyme

½

teaspoon

chopped dried rosemary

1

Tablespoon

olive oil

sea salt and cracked black pepper
For the Risotto:
2 ½

cups

vegetable stock

1

teaspoon

olive oil

1

cup

pre-cooked farro

1

onion

chopped

1

clove

garlic

minced

sea salt and cracked black pepper

crushed red pepper

2

Tablespoons

chopped fresh parsley

4

eggs

Parmesan cheese
Instructions
Heat the oven to 350*F. Add the mushrooms, garlic, thyme, and rosemary to a small baking dish. Drizzle with olive oil and season with salt and pepper. Roast for 30 minutes.

Meanwhile, bring the vegetable stock to a simmer in a small saucepan.

Heat 1 teaspoon olive oil in a large sautee pan. Add the farro, onion, and garlic. Cook 5 minutes, or until the onion begins to soften.

Add 1/2 cup of warmed stock to the farro. Cook over medium heat, stirring constantly, until almost all of the liquid is absorbed. Continue adding stock 1/4 cup at a time, until the farro is soft and creamy. (The entire process will take about 30 minutes.)

Stir in the roast mushrooms, along with any liquid that has accumulated in the bottom of the baking pan. Season with salt and pepper; stir in the parsley.

Poach the eggs according to your desired level of doneness.

To serve, divide the risotto between 4 dishes. Top each serving with a poached egg.
Nutrition Facts
Farro Risotto with Roast Mushrooms
Amount Per Serving
Calories 244
Calories from Fat 90
% Daily Value*
Fat 10g15%
Protein 12g24%
* Percent Daily Values are based on a 2000 calorie diet.
Hungry for more? Check out these comforting mushroom recipes:

By