Tender-crisp broccoli cooked in spicy chili sauce and tossed with crunchy almonds, rice noodles, and sesame sticks can be on the table in under 20 minutes! This easy side dish goes with pretty much anything, from grilled flank steak or baked chicken thighs.
As I mentioned the other day when I shared my recipe for sweet potato and quinoa patties, we don't eat broccoli very often. Once in a while though, I get in the mood to make something a little different and end up throwing a bunch into our grocery cart.
Shawn and I have very differing opinions when it comes to broccoli: he likes it cooked until it's super soft, while I prefer it to have a little snap to it. A year or two ago, I finally came up with a cooking method that makes us both happy! The trick is to steam the broccoli for a few minutes before sautéing it. Steaming the broccoli brings out is flavor and makes it crisp-tender. Finishing it off in a sauté pan lets you add flavor (in the form of sauce or seasoning) and brown the broccoli a little without making it too mushy. If I feel like being nice, I'll even take my portion out of the pan after about 2 minutes, then cook his a little longer to make it softer.
For this simple side dish, I sautéd the broccoli in a spicy sauce inspired by Korean seasoning sauce (yangnyeomjang) and then tossed it with Marzetti® Asian Sesame Salad Accents®, which contains a mixture of almond slivers, rice noodles, and sesame sticks. The salad accents give the dish lots of flavor and texture and really help transform the dish from a boring plate of broccoli to a show stopping side that we can get excited about.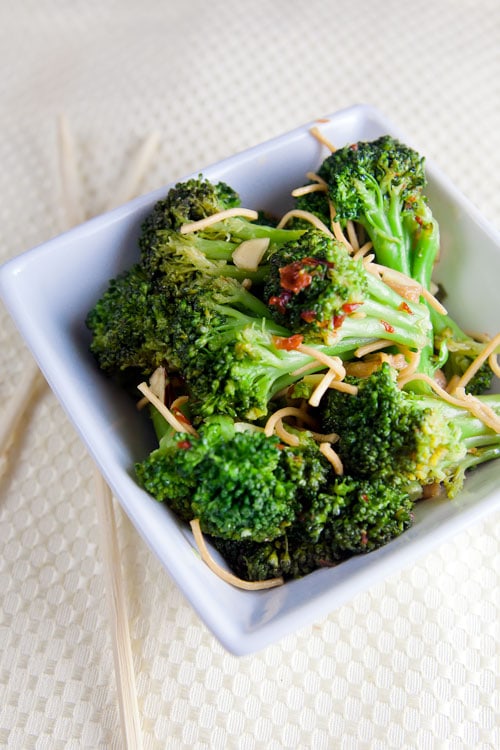 Ingredients
2

tablespoon

ponzu sauce

1

tablespoon

sesame oil

2

teaspoons

chili-garlic sauce

1

teaspoon

apple cider vinegar

½

teaspoon

honey

1

scallion

white and green parts sliced

1

bunch fresh broccoli florets

about 3 cups

½

cup

Marzetti Asian Sesame Salad Accents
Instructions
In a medium bowl, whisk together the first six ingredients. Set aside.

Bring a pot of water fitted with a steamer insert to a boil. Add the broccoli and cook for 5 minutes or until crisp-tender. Immediately run cold water over the broccoli to stop the cooking process.

Add the broccoli and half of the sauce to a sauté pan set over high heat. Cook, stirring frequently, for 2-4 minutes or until the sauce is reduced and the broccoli is cooked to your liking. Remove from heat and stir in remaining sauce and Marzetti salad accents.
Nutrition Facts

Spicy Broccoli Sauté

Amount Per Serving

Calories 101

Calories from Fat 52

% Daily Value*

Fat 5.8g9%

Protein 2.7g5%

* Percent Daily Values are based on a 2000 calorie diet.

Disclosure: I have been invited to participate in a Marzetti® ambassador program. This post is sponsored by Marzetti and product has been provided by them. The opinions and ideas expressed here are my own. Thank you for helping support the brands that keep me inspired in the kitchen.

By