Rich mushroom gravy and baked fries make a lightened up (and vegetarian!) version of poutine for a perfect winter snack.
I've been post (and eating!) so many delicious Mexican-inspired recipes lately that I figured I'd switch things up and feature our neighbors to the north for a change.
OK, that's a total lie, but it makes a good story, right? The truth is that I saw poutine on a menu a few weeks and got an instant craving that hasn't gone away. That happens a lot – there's just something irresistible about the combination of salty fries, squeaky cheese curds, and warm gravy. The thing is, I can never order them because, well, meat based gravy kind of grosses me out. It always has. (And, yes,I know I'm missing out!)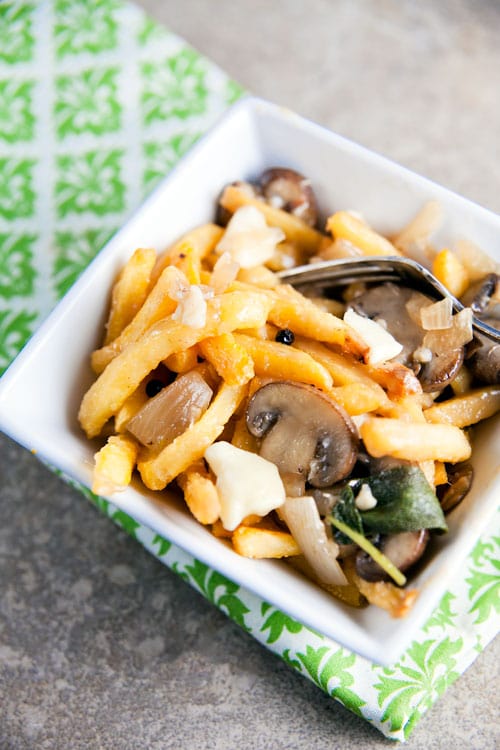 To satisfy my poutine craving, I came up with this mushroom gravy that's rich, delicious, and just about perfect poured over oven fries. It comes together really easily with simple ingredients like sautéed onions, mushrooms, peppercorns, fresh sage and a pat of butter whisked in a the end to smooth the gravy out and give it tons of body. The vegetables and spices get strained out to make a traditional, smooth gravy but I like to add a few of them back onto my fries for good measure. (You could also serve the cooked mushrooms on a burger or stuffed into a grilled cheese sandwich.Whatever you do, just don't let them go to waste – they have a ton of flavor!)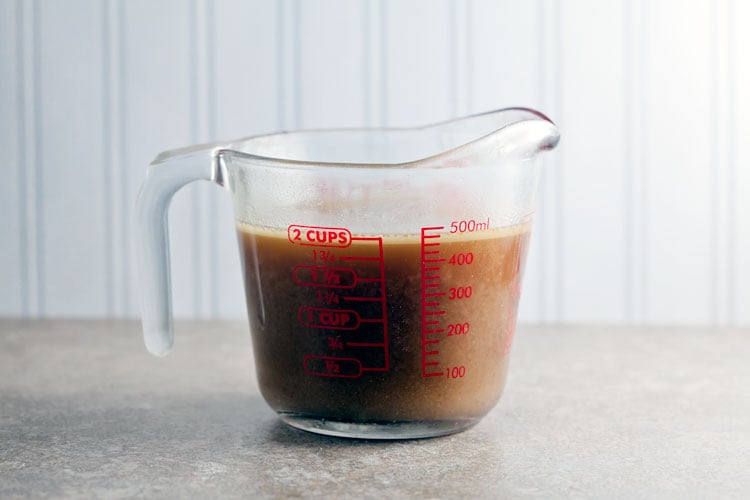 Poutine with Mushroom Gravy
Ingredients
24 ounces frozen shoe sting fries
1 tablespoon olive oil
1 small onion, chopped
8 ounces sliced crimini mushrooms
1 garlic clove, minced
1 teaspoon whole black peppercorns
1/4 cup white wine
3 cups vegetable stock
10 fresh sage leaves (about 1 branch)
1/4 cup Gold Medal all purpose flour
1/4 cup warm water
1 tablespoon butter
8 ounces cheese curds
Instructions
Bake the fries according to the directions on the package.
While the fries cook, prepare the gravy: Heat the oil in a large, deep-sided saute pan. Add the onions and cook 5 minutes, or until they begin to brown. Add the mushrooms and cook for 3 minutes, or until they soften. Add the garlic and peppercorns; cook 1 minute.
Deglaze the pan with white wine, scraping up any browned bits that are stuck to the bottom of the pan. Add the vegetable stock and sage. Simmer over low heat for 10 minutes.
Whisk together the flour and water in a small dish. Whisk the flour mixture into the gravy. Simmer another 5 minutes. Strain the gravy through a mesh strainer to separate out the solids.Return the gravy to the pan and whisk in the butter.
Add the fries to a bowl or serving dish. Toss with cheese curds. Pour gravy over top. If desired, top with some of the mushrooms and onions that were strained from the gravy.
Nutrition Information

Amount Per Serving

Calories

370

Total Fat

18.1g

Fiber

3.9g

Protein

10.2g

By