There's nothing like a thick, hearty gravy made with pan drippings from roasted chicken or turkey.
But sometimes you're using a cooking method like an air fryer or Instant Pot that doesn't leave as many drippings behind, or you just want some gravy for your mashed potatoes and you don't want to go through the process of roasting a whole bird.
Or maybe you just want some extra gravy to pass around the holiday dinner table because you can never seem to make enough.
That's where this recipe comes in! Its rich flavor will satisfy all your cravings for the real deal.
This homemade chicken gravy is incredibly easy to make and stores well–add it to your Thanksgiving and Christmas menu preparations or opt to use it for quick and simple midweek family meals.
Love this recipe? Be sure to give my vegetarian gravy recipe a try, too!
---
No Drippings Required– Since this recipe requires no drippings, you can make it any time. It's perfect when you want gravy for your mashed potatoes, but don't want to roast a chicken.
Versatile – Swap out the chicken broth or turkey broth and you'll have a delicious turkey gravy that's perfect for Thanksgiving!
Rich, Classic Flavor – Fresh sage, onion, and plenty of black pepper make this gravy anything but boring. You'll love it's classic, homemade flavor.
The perfect make-ahead gravy
Since this homemade chicken gravy is made without drippings, it means that you can make your gravy without having to first wait for your meat to cook. That means there's no last-minute rush to make gravy before serving your meal. Plus it's ideal for accompanying air-fried, deep-fried, or pressure-cooked meat or leftovers.
Trust me–the lack of pan meat drippings in no way makes this homemade chicken gravy recipe any less delicious. The seasonings and aromatics added to the gravy provide rich flavors, leaving you totally satisfied!
That said, if you do have drippings you can add them at the end to make this homemade gravy extra rich. Whisk them in a little at a time until you achieve the texture and flavor you're looking for.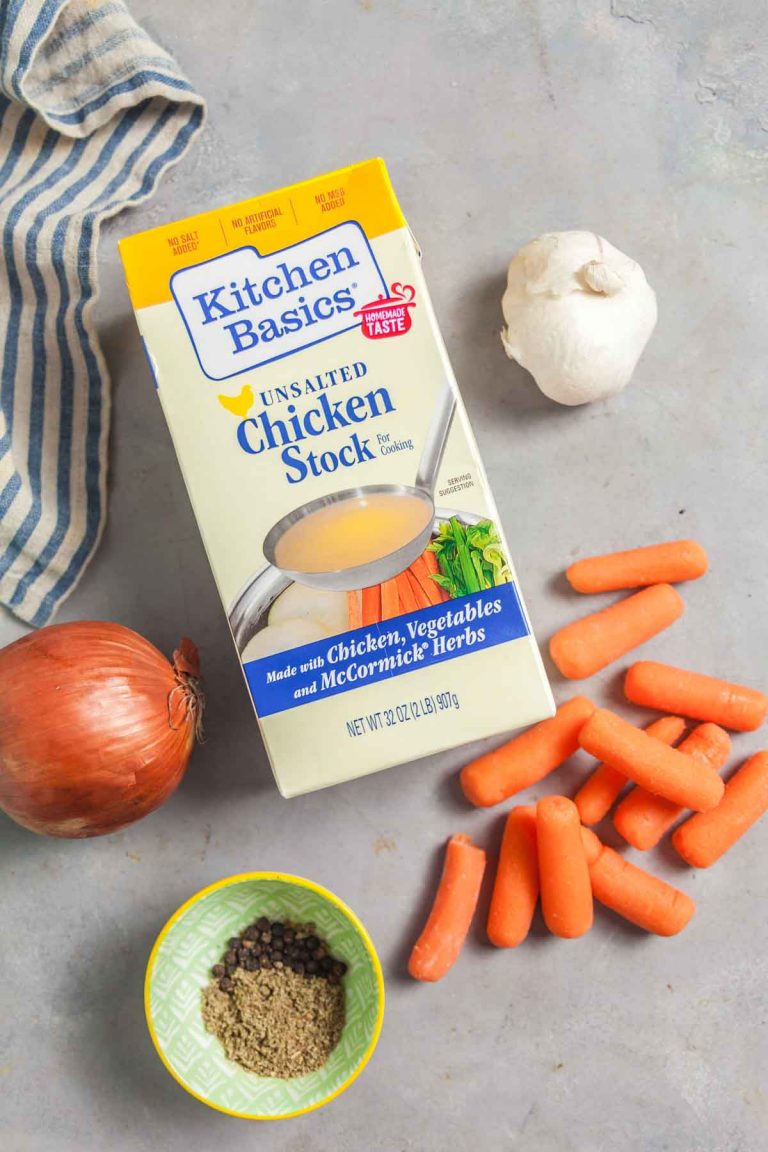 Ingredients needed for no-drippings gravy
This easy chicken gravy only takes a few simple ingredients to make. It barely takes any more effort than opening a jar of premade gravy, but the flavor doesn't even begin to compare.
And I bet you already have everything you need to make it!
Chicken Broth or Stock. Chicken broth or stock makes a flavorful base for this gravy that mimics that flavor you'd get from using drippings. You can use either store-bought or homemade. And if you want, you can evern use turkey stock to go with your holiday meal! If using storebought stock (which is what I usually do!) grab a low-sodium or unsalted version. That way you can adjust your seasoning to taste.
Garlic, Onions and Carrots. These amp up the flavor of the stock and give your gravy a subtly sweetness.
Wine or Water. I deglaze my pan with a little white wine. I love how the acidity cuts through the richness of the gravy. Any wine will do, so go ahead and use whatever you have open (or use this as an excuse to pop a bottle!) If you avoid alcohol, you can use water for this step.
Poultry Seasoning. This is the secret to the best homemade gravy! A generous amoutn of poultry seasoning gives this gravy that just roasted flavor, even when using store bought chicken stock. I use Penzey's seasoning.
Whole black peppercorns. Whole peppercorns give this gravy a bold, peppery flavor without too much added heat.
Flour. To thicken the gravy and give it a luxurious, velvetty texture.
How to make easy chicken gravy (or turkey gravy!)
To make this delicious homemade gravy recipe, start by sweating your onions to soften them. Add the garlic and seasonings.
Next, whisk in the flour and cook it until it's no longer white. Deglaze your pan with wine or water. Add the remaining ingredients and simmer the gravy until it's thick and flavorful.
Finally, strain out the solids. You'll be left with about 1 1/2 cups of amazing chicken gravy that has so much flavor!
Pro Tip: To prevent lumps from forming, whisk the stock continuously into the cooked flour as it is poured in.
CAN I MAKE THIS CHICKEN GRAVY AHEAD OF TIME?
Absolutely! This homemade chicken gravy can be made up to 3 days before serving. Store it in an airtight container or jar in the refrigerator.u003cbru003e u003cbru003eIt's totally normal for your gravy to thicken while chilling in storage. To thin it back out, simply add it to a small saucepan and pour in a little more chicken stock or water while heating slowly until smooth and heated through. u003cbru003e
CAN I FREEZE THIS GRAVY?
Yes, you can. Flour-based gravies keep well in the freezer for a couple of months. You could freeze your homemade chicken gravy in an airtight container, ice cube tray, or Ziploc bag. u003cbru003e u003cbru003eThaw overnight in the refrigerator or at room temperature and reheat in a saucepan with some additional liquid (chicken stock or water) for a smooth consistency.
What if my gravy is too thin?
If your gravy is too thin and watery, let it simmer longer. This will evaporate some of the liquid out of it, making it thicker and concentrating the flavors more. u003cbru003eu003cbru003eIf you're in a rush, you can also mix together 1 tablespoon cornstarch and 2 tablespoons of water. Whisk this mixture into 1/2 cup of the gravy, then return it to the pot and simmer. Note that simmering is required to activate the thickening properties of the cornstarch.
What if my gravy is too thick?
You can thin a thick gravy back out by whisking in additional broth or water.
Homemade Chicken Gravy
This homemade chicken gravy without drippings is savory and rich–perfect over biscuits, mashed potatoes or French fries! It also goes great with my air fryer rotisserie chicken for that classic chicken dinner experience without the effort.
Print
Pin
Save
Saved!
Ingredients
1

tablespoon

olive oil

1

small onion

chopped

1

garlic clove

minced

1

teaspoon

poultry seasoning

¼

teaspoon

freshly cracked black pepper

¼

cup

all purpose flour

¼

cup

white wine or water

½

cup

carrots

2

cups

low sodium chicken stock
Instructions
Heat the oil in a pot or deep-sided saute pan. Add the onions and cook for 5 minutes, or until they begin to soften. Stir in the garlic and poultry seasoning; cook for 1 minute.

Add the flour; cook, stirring constantly, 1 minute, until no white remains.

Deglaze the pan with white wine (or water), scraping up any browned bits that are stuck to the bottom of the pan. Add the carrots and broth. Simmer over low heat for 10 minutes, until thickened.

Strain the gravy through a mesh strainer to separate out the solids. Serve hot.
Nutrition Facts
Homemade Chicken Gravy
Amount Per Serving (1 /4 cup)
Calories 63
Calories from Fat 18
% Daily Value*
Fat 2g3%
Sodium 195mg8%
Carbohydrates 7g2%
Protein 2g4%
* Percent Daily Values are based on a 2000 calorie diet.