These simple roast Brussels sprouts have loads of flavor thanks to nutty Italian Asiago cheese and crispy Speck Alto Adige. They'll be a welcome addition to your holiday menu this winter!
I created this recipe for my client, Uncommon Flavors of Europe.
Are you ready to meet your new favorite Brussels sprouts recipe? Good – if you're anything like me you're looking at it right now. You know I love easy recipes, and this one is just about as easy as it gets. Brussels sprouts and Speck roast together on one pan, then get tossed with shredded Asiago cheese and balsamic vinegar just before serving. Easy peasy.
There's still time before Thanksgiving, so you should probably go ahead and work these Brussels sprouts into your dinner plans.
This recipe is so simple, with just 5 ingredients, and the temptation to overcomplicate it by adding cream, breadcrumbs, or nuts is real. Resist that urge – the beauty of this recipe is in its simplicity. The ingredients all play a starring role, and they complement each other perfectly. Less is definitely more.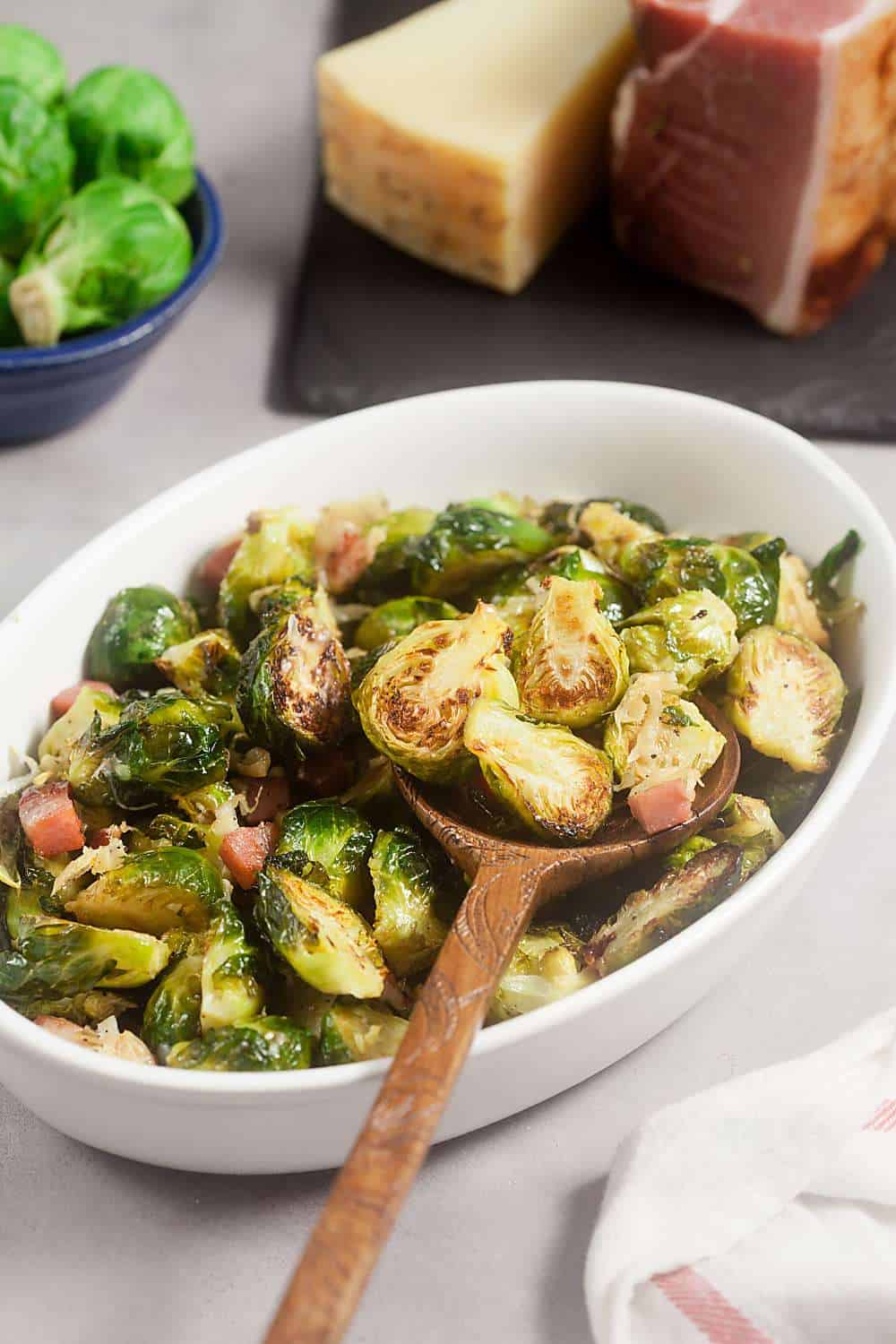 Since the ingredient list is so short, let's talk about each one individually:
1. Brussels sprouts, of course. Without them, there wouldn't even be a recipe here. For the best flavor, look for small, compact sprouts. Cut them in half though the stem, and roast them in a hot oven for just a few minutes. The cut edge wil get nice and golden brown, but the rest of the sprouts should still be bright green. If the color fades, that means they're starting to overcook and might start to taste more cabbage-y.
2. Speck Alto Adige. Speck Alto Adige is preserved ham, similar to prosciutto but smokier and with a drier, meaty texture. It's made by rubbing pork leg with spices like garlic, juniper seeds, and rosemary and then cold smoking it for a week before aging it for several months. The result is an amazing ham with a deep savory and smoky flavor. It's often seen on charcuterie boards, but it's also a delicious way to add a punch of flavor to vegetable recipes like these roast Brussels sprouts. Authentic Speck always comes from the Alto Adige region on Italy's northeast border, so be sure to look for the complete name on the package to ensure you're getting the real deal.
3. Salt and Pepper. Normally salt and pepper wouldn't be worth mentioning, but a generous smattering of cracked black pepper really adds a lot to this recipe. Don't skimp! The speck and asiago both add some salt to the sprouts, so you don't need to be as heavy handed with that. A generous pinch will do.
4. Asiago PDO. Asiago is one of my absolute favorite cheeses, and I love the nutty flavor it lends to these Brussels sprouts. There are two types of Asiago – Stagionato (aged) and Fresco (fresh). Fresh Asiago has a creamy texture and milky taste, and it melts really well. Aged Asiago is drier and has a more complex flavor ranging from sweet to nutty or even spicy, depending on how long it's been aged. You can use either type in this recipe, but I especially love it with a nutty, medium-aged Asiago. Authentic Asiago is produced in the mountainous region of Italy just south of Alto Adige. When you buy it, look for the word "Asiago" to be pressed into the rind (you can see an example in the photo above.)
5. Balsamic Vinegar. A splash of balsamic vinegar added to the Brussels sprouts after they come out of the oven gives them a slightly sweet, bright flavor that balances out any bitterness they might have. It also complements the flavors of the Speck and Asiago perfectly.