Nutty farro and crispy chicken thighs pair perfectly with sweet and spicy roast tomatoes. So good, the tomato-hater in your house might even ask for seconds!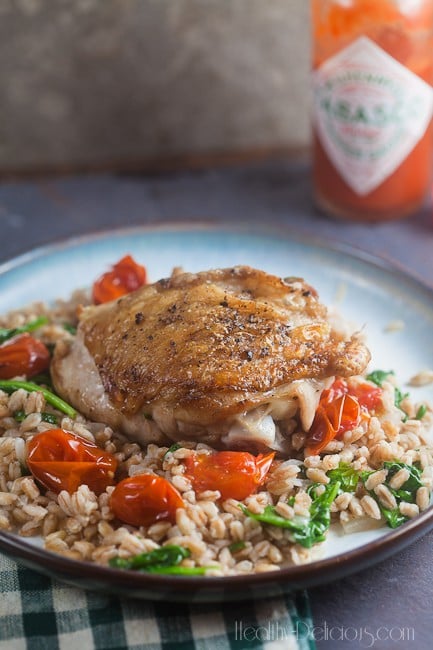 Are you ready to spice things up? For the next five days, I'll be sharing some awesome new recipes that I created for the Tabasco 10 Ingredient Challenge. For the challenge, I was asked to create five recipes using just 10 ingredients: Tabasco Original red sauce, chicken, onion, multi/whole grains, canned beans, tomatoes, leafy greens, bacon, cheese, and dried fruit.
With such a limited selection of ingredients to work with, it was definitely a challenge to come up with ideas that weren't all a variation on one theme, but I'm so, so, so excited about these recipes. They're all pretty awesome!
I'm especially excited about this chicken and faro with burst tomatoes though… because not only did Shawn willingly eat the tomatoes, he actually asked for seconds! I never thought I'd see the day. (He totally wasn't even going to try them either. I had to force him to try just one, like you would do with a little kid.)
Tossing the tomatoes with olive oil and Tobasco and roasting them until they burst makes them saucy, sweet, and just a touch spicy. The flavors get really concentrated so they're pretty intense on their own, but they're perfect with nutty farro and crispy roast chicken thighs.


Disclosure: I received monetary compensation to develop recipes as part of the Tabasco 10-Ingredient Challenge.