Chicken thighs, gnocchi, and broccoli rabe all bake together on one pan for a super easy weeknight dinner!
Be sure to check out my Healthy Eating One-Pot Cookbook for more easy, healthy recipes like this one.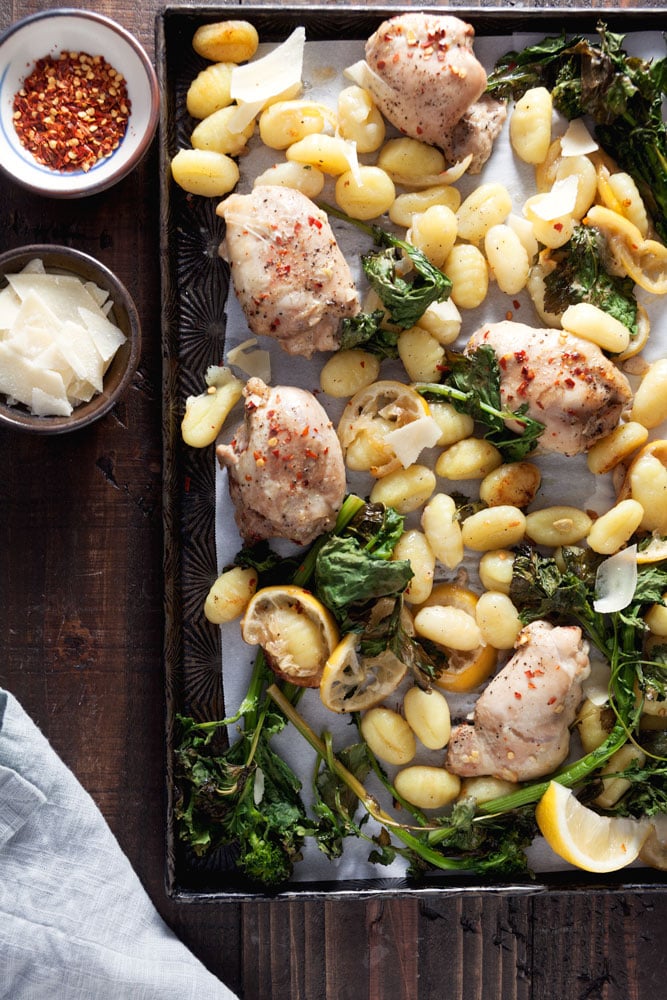 I can barely contain my excitement – I'm absolutely giddy over this recipe!
The other day, a few friends and I were talking about what we thought this year's recipe trends would be. (It's the kind of weird conversation that food bloggers have.)
I said I thought people would be looking for easy, hands-off recipes.
I don't know about you, but I haven't felt like spending a ton of time in the kitchen lately. Judging by the number of people I know who are suddenly all about their pressure cookers, I have a feeling I'm not the only one.
When it comes to easy dinner, it doesn't get much simpler than this sheet pan chicken and gnocchi. Everything cooks together on one pan – no sautéing, no browning, no boiling, no special equipment. No stress. Very little mess.
In just 30 minutes, you're rewarded with a meal of plump gnocchi, juicy chicken, and slightly charred broccoli rabe.
Sheet Pan Chicken and Gnocchi:
This recipe was inspired by one that I saw in last month's issue of Eating Well (one of my absolute favorite magazines!) I've never heard of cooking gnocchi in the oven before, and I had a hard time believing that they didn't need to be boiled first. I was still skeptical even as I pulled the pan out of the oven.
Then I tasted one, and my mind was completely blown.
The gnocchi were plump and tender, with crispy edges where they touched the pan and a mild lemon flavor. It's a weeknight game-changer.
I used the same technique for this sheet pan chicken and gnocchi recipe. I've always been a huge advocate for chicken thighs, but I've only started to appreciate the boneless, skinless ones recently.
They aren't the prettiest, but when you roast them in a hot oven, they come out really juicy and flavorful.
If you can afford them, splurge on organic thighs for this recipe – they're not as greasy as conventional chicken thighs and have a cleaner chicken flavor.
What kind of gnocchi should I use?
For this recipe, you'll want to use dried gnocchi. It's shelf stable and sold in a vacuum sealed packet, usually in the same aisle as pasta.
Do I need to boil the gnocchi first?
No! That's the beauty of this recipe. Use it straight from the packet. It will plump up and soften in the oven.
WOW! Do you have any other recipes like this one?