Lemon-parmesan gnocchi with mushrooms is an easy sheet pan dinner that's perfect for busy weeknights when you want a nourishing meal but don't feel like spending a lot of time or energy in the kitchen.
I created this recipe for my client, GO VEGGIE. As always, thank you for supporting the brands that keep me inspired in the kitchen.

The holidays are almost behind us and I don't know about you but I'm ready to take it easy. I dove into Christmas headfirst this year and the hustle and bustle of that plus all of the dark and gloomy days we've been having lately has left me completely exhausted. For me, January will be about slowing things way, way down and focusing on my word of the year – zen. (2017's word was adventure and I need something a little more chill for 2018…doesn't zen sound nice and calm?)
When it comes to zen in the kitchen, I love recipes that take a little bit of prep work – there's something so relaxing about slicing mushrooms or chopping an onion – but not a lot of time standing over the stove. Sheet pan dinners like this lemon-parmesan gnocchi with mushrooms and asparagus or one pan orange salmon with sweet potatoes are great for those nights where you just…can't.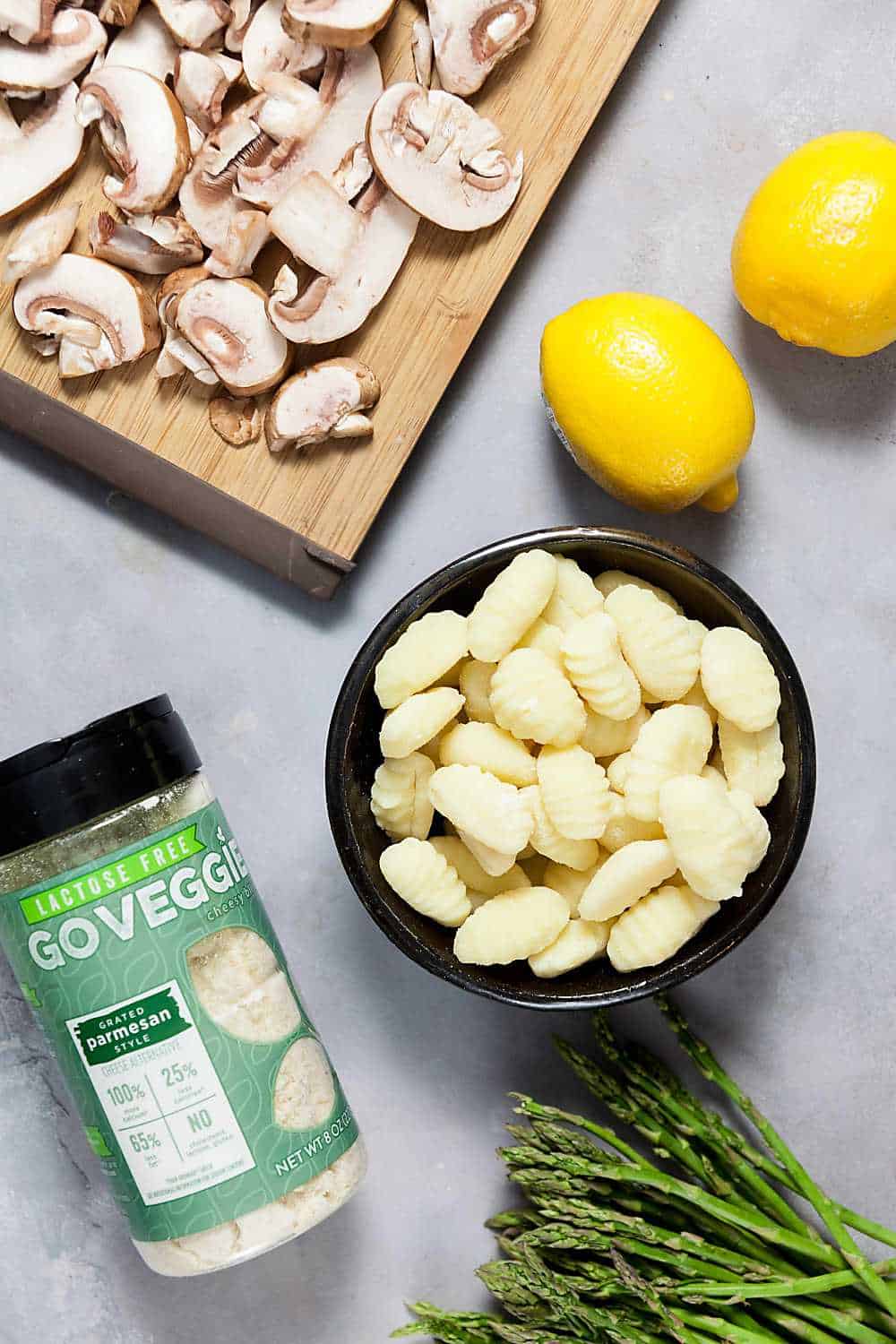 How to cook gnocchi in the oven
Cooking gnocchi on a sheet pan is one of my favorite kitchen tricks. Just toss the dry gnocchi in some oil and liquid – in this recipe I used lemon juice – and it magically plumps and softens in the oven. Not only do you not need to wait for a giant pot of water to boil, but the edges of the gnocchi get slightly crispy and all sorts of delicious. I love gnocchi any way it's cooked, but I definitely prefer this baked version to boiled.
As an added bonus, you can take advantage of the already hot oven and throw the rest of your ingredients right on the same sheet pan so everything can cook together. In this case, I added mushrooms, asparagus, and GO VEGGIE's lactose-free parmesan for a simple, nourishing vegetarian meal that couldn't be easier to make. (If you use their vegan parmesan, this easy sheet pan meal would also be vegan. I always have one version or the other in my fridge – I buy whatever the store happens to have because they're both delicious.)
If you don't like asparagus or are looking for an alternative, you can swap it our for green beans. Stirring a cup of frozen peas in at the end is also a nice option.
This lemon-parmesan gnocchi recipe serves four as a main course, or six to eight as a side dish.