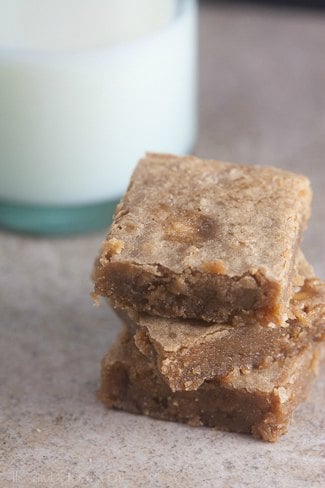 I have a love-hate relationship with blondies. I want to love them, but they never seem to hold up to their promise of being a butterscotch version of a brownie. The best brownies are soft and chewy; blondies, not matter how delicious they might look, always seem to be disappointingly dry and cookie-like. This week I decided I've had enough and set out to create a blondie recipe that actually has the texture of a chocolate brownie. And to make thing more difficult, I wanted to make them with whole wheat flour.
You guys, I did it! These brown butter banana blondies full of rich, butterscotch-y flavor, with toasted notes from browned butter and just a hint of banana and they're every bit as fudgey and chewy as the best box-mix brownies. They even have that thin, crackly top layer that the best brownies have! Total success.
Your kitchen will smell a-mazing while these bake. The timer will go off just when the scent is almost unbearable… then you'll have to wait for them to cool. It's kind of a huge tease, but it's well worth it.
I can't keep my hands off of these, so it's a good thing that half the batch is headed off to Roxana from Roxana's Home Baking as part of this month's Leftovers Club exchange. I met Roxana earlier this month and she's super nice. She's also an expert baker and took home first prize in the Amazing Apps recipe contest at Eat, Write, Retreat! I hope she likes these blondies as much as I do!