This jalapeno popper macaroni and cheese is probably the best thing that's ever come out of my kitchen.
There's not much more to say about it than that. I mean, I could go on about how how rich and creamy and cheesy it is. How the thick sauce that clings to each piece of pasta tastes like someone just squeezed the guts out of your favorite bar poppers and called it "sauce." How I kept running back to the kitchen as I waited for the pasta to finish cooking because I couldn't stop sneaking tastes.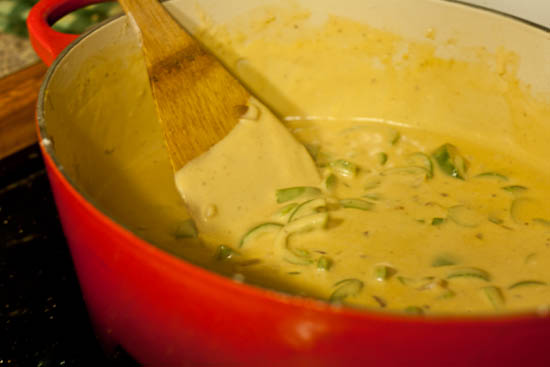 Or I could tell you how even though I lightened it up by using vegetable stock instead of cream and reduced fat cheese* instead of full fat cheese, it's still some of the richest macaroni and cheese I've ever tasted. While I certainly wouldn't call it health food, it's healthier than most homemade macaroni and cheese. And definitely healthier than eating a plate full of fried jalapeno poppers for dinner.
Seriously, I might as well just stop cooking, because I don't know if I'll ever top this one. So I'll just say this: make this ASAP. You can thank me later.
*Repeat after me: fat free cheese is evil. If you try to use that instead of reduced fat, I take no responsibility in your results. If you want to use full-fat cheese be my guest, but Cabot makes a very nice 50% reduced fat cheddar and pepper jack that melts beautifully and tastes like the real deal.