I've been a little obsessed with pepper jack cheese lately. After basically forgetting that it even existed for a long time, I've gone through three bricks of it in about a month. What can I say? It's delicious on burgers, in grilled cheese, and in eggs. It turns out that it's also the key to a fantastically creamy, comforting macaroni and cheese with just the slightest bit of extra oomph.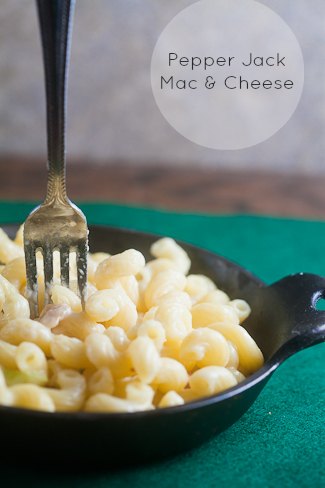 This recipe for pepper jack mac and cheese comes from Nicole at Colie's Kitchen. I was paired up with her for this month's Secret Recipe Club. It's been a while since I've done a secret recipe club post, so if you don't remember what it's all about it's a cooking club where bloggers are paired up with another blog and are tasted with testing out one of their recipes. I've had a few big projects going on that have been sopping up all of my creative energy, so it seemed like a good time to give myself a break and try out someone else's food. I'm really glad that I was assigned to Colie's blog – it's great and I had a hard time picking just one recipe to try!
This mac and cheese, which is a riff on her jalapeño monterey jack chicken penne is super creamy, and monterey jack gives it a classic, mild flavor. I opted to leave the chicken out of the pasta itself and served it with homemade baked chicken tenders instead. All in all, it was the perfect comfort food for a rainy Friday night!
Be sure to check out everyone else's recipes too!