These chicken, bacon, and scallion dumplings with spicy garlic dipping sauce are my entry into round one of the Saucy Mama "Sliced" recipe contest. For this contest, participants are tasked with creating unique recipes using Saucy Mama mustard and a secret ingredient that changes from round to round. I really hope that I make it to the dessert round, because I already have some fun ideas, but I need to make it though the appetizer and entree rounds first. For this round, we were asked to make an appetizer that uses bacon and if I didn't know better, I'd think that I really outdid myself with these chicken potstickers. The flavor is bold with big flavor from the bacon, mustard, and lots of garlic, yet they're still light and fresh. The filling has a fine texture that reminds me of a meatball and the wrapper is the perfect combination on chewy and crisp.
These potstickers may look (and taste!) fancy, but they're incredibly easy to make. With the exception of the dumpling wrappers and sauce, all you need to make these are common panty staples and a half hour. They're perfect as an appetizer or even as a light meal. If only I had known that making potstickers were so easy, I would make them all them time!
The technique for these is really easy once you get the hang of it: Cook the potstickers for a minute in a little oil – just long enough to crisp up the bottom. Then, pour in some water and cover them to allow them to steam and let the filling cook. At this point, they'll be pretty stuck to the pan, but once you uncover them and let the water evaporate off, they'll unstick and pop right off. It's like magic! It does take a few tried to get the hang of it. Since they cook so quickly anyway, I recommend cooking one at a time the first try or two until you have the technique down. Of course, they'll still taste delicious even if the wrapper tears!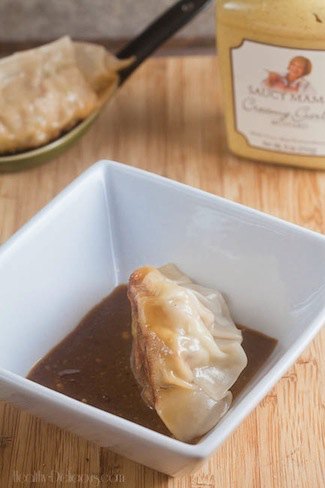 Disclosure: I was provided with samples of mustard to use in the recipes that I develop for the "Sliced" contest but was not compensated in any other way.