These chicken, bacon, and scallion dumplings with spicy garlic dipping sauce are my entry into round one of the Saucy Mama "Sliced" recipe contest. For this contest, participants are tasked with creating unique recipes using Saucy Mama mustard and a secret ingredient that changes from round to round. I really hope that I make it to the dessert round, because I already have some fun ideas, but I need to make it though the appetizer and entree rounds first. For this round, we were asked to make an appetizer that uses bacon and if I didn't know better, I'd think that I really outdid myself with these chicken potstickers. The flavor is bold with big flavor from the bacon, mustard, and lots of garlic, yet they're still light and fresh. The filling has a fine texture that reminds me of a meatball and the wrapper is the perfect combination on chewy and crisp.
These potstickers may look (and taste!) fancy, but they're incredibly easy to make. With the exception of the dumpling wrappers and sauce, all you need to make these are common panty staples and a half hour. They're perfect as an appetizer or even as a light meal. If only I had known that making potstickers were so easy, I would make them all them time!
The technique for these is really easy once you get the hang of it: Cook the potstickers for a minute in a little oil – just long enough to crisp up the bottom. Then, pour in some water and cover them to allow them to steam and let the filling cook. At this point, they'll be pretty stuck to the pan, but once you uncover them and let the water evaporate off, they'll unstick and pop right off. It's like magic! It does take a few tried to get the hang of it. Since they cook so quickly anyway, I recommend cooking one at a time the first try or two until you have the technique down. Of course, they'll still taste delicious even if the wrapper tears!
Chicken Bacon Scallion Potstickers
Dumpling wrappers can be found in the produce section of most grocery stores, but if there's an Asian market near you they'll be much cheaper. I bought a package of 100 wrappers for $1.29. Dumpling sauce is a little harder to find in a conventional grocery store, but you can also make your own by mixing equal parts soy sauce and rice wine vinegar.
Print
Pin
Rate
Ingredients
1

pound

boneless

skinless chicken breasts

4

ounces

bacon

cooked crisp and crumbled

4

scallions

whites and greens chopped

1

tablespoon

freshly grated ginger

1

tablespoon

Saucy Mama creamy garlic mustard

1

teaspoon

low sodium soy sauce

24

dumpling wrappers

2

tablespoons

olive oil

¼

cup

water
For the Dipping Sauce
3

tablespoons

dumpling sauce

1

tablespoon

chili garlic sauce

1

tablespoon

Saucy Mama creamy garlic mustard

1

teaspoon

sesame oil
Instructions
Cut the chicken breast into small pieces, approximately 2 inches long. Add to a food processor and process until finely ground, about 20 seconds. Stir in bacon, scallions, ginger, mustard, and soy sauce.

Place one dumpling wrapper in the palm of your hand. Scoop a teaspoon of chicken onto the center of the wrapper. Using your other hand, dampen the outer edge of half the wrapper with a little water. Fold the wrapper over the filling and press to seal. (If you want, you can fold little pleats into the seam.) Repeat with remaining wrappers.

Heat the oil in a large skillet set over medium heat. When the oil is hot, add the potstickers, seam-side up. Cook 1 minute, or until the bottom is golden brown. Pour in the water. Cover and cook 3 minutes. Remove cover and cook until water evaporates, about 2 minutes. Gently remove from pan.

Prepare the dipping sauce by whisking together dumpling sauce, chili garlic sauce, mustard, and sesame oil.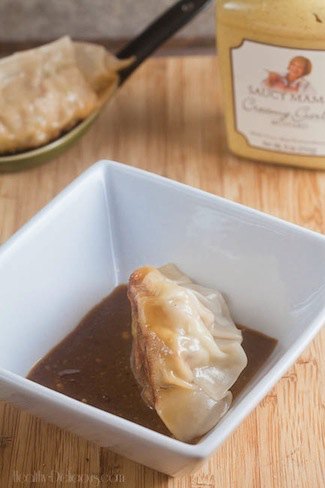 Disclosure: I was provided with samples of mustard to use in the recipes that I develop for the "Sliced" contest but was not compensated in any other way.

By