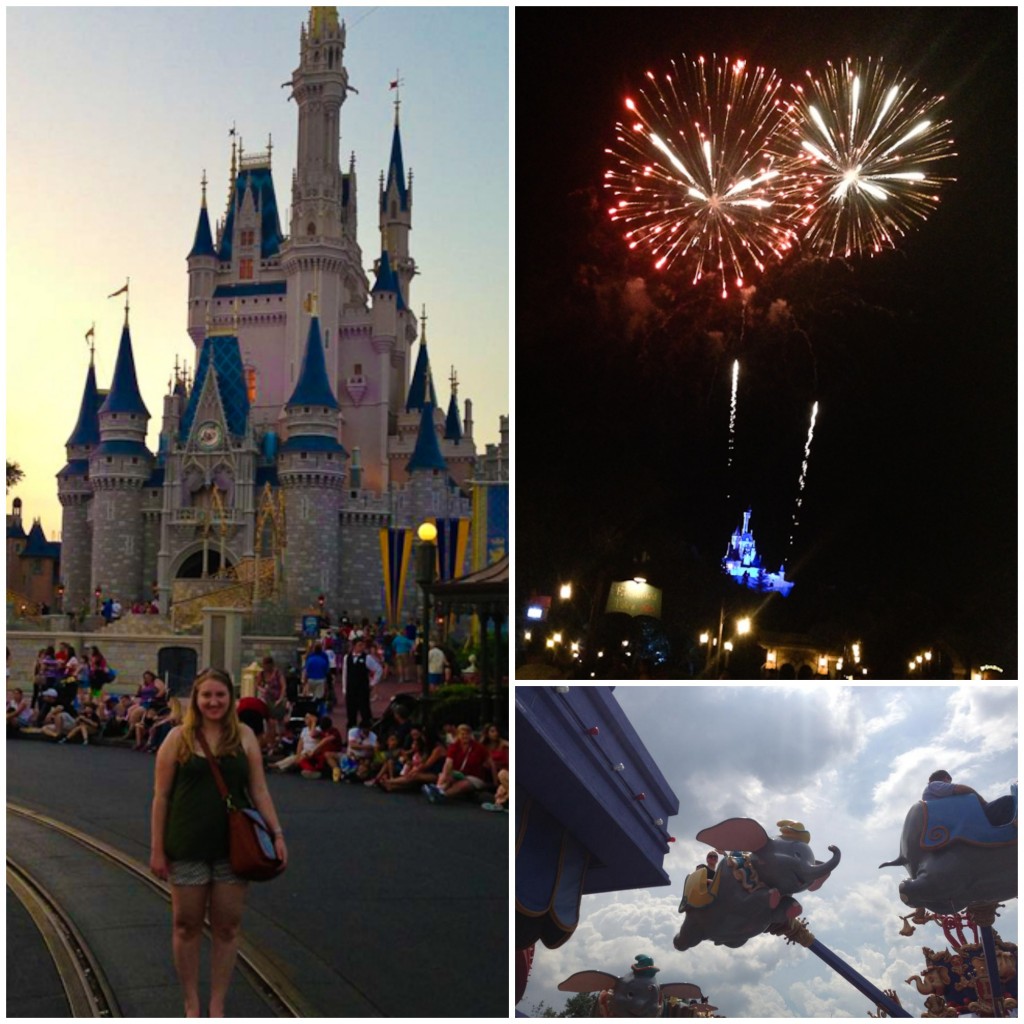 Sometimes being a food blogger is pretty awesome.
Scratch that. Being a food blogger is ALWAYS pretty awesome, but sometimes it's more awesome than others. Like this past weekend, which I spent hanging out with Shawn and 150 of my closest food blogging friends at the Food Blog Forum. In Disney World! (There's a reason that this conference sold out in 3 minutes!)
It was my first time at Disney and OMG I love it!!! It was a million times nicer than I ever imagined it would be. I may or may not have squealed like a 7 year old and set off running upon seeing the Cinderella castle…. and then proceeded to take a million pictures every time I saw it. Also? I might have cried while watching the fireworks. Just a little. (Yes, I'm a huge dork.)
So I have a million photos (taken with my phone, so please forgive the quality) and a million things to talk about so this post is going to be all over the place. Bear with me.
Day 1: Epcot
We got to Orlando early, early, early on Friday morning (I had to wake up at 4:14 am. If you know me at all, you know this is unheard of!). After checking into our hotel we headed to Epcot! We were starving, so we immediately went in search of lunch. We ended up having a fabulous meal at Marrakesh (in Morocco). Up until this point, I was very hesitant about "Disney Food." I was expecting it to be kind of gross and cafeteria-ish; I was so wrong. I was also surprised by how easy it was to find good, healthy options (more on the later!)
I had the lemon chicken, which was absolutely wonderful. The chicken literally fell off the bone, the preserved lemon sauce has the perfect amount of tang, and the potatoes were wonderfully creamy. It was a little pricey, but worth every cent. (Our appetizer for 2 unfortunately wasn't.)
After lunch, we wandered around the other countries before grabbing a Dole Whip with Spiced Rum on the way to ride Soarin. (This isn't normally available; it was a special during the Flower and Garden show. It was good, but I thought the rum was a little overpowering.) Soarin was awesome! It really messed with my head – I was convinced that my shoe was going to fall off and I was going to lose it in the ocean. We also rode The Seas with Nemo & Friends, which ended up being one of my favorite rides of the weekend. It wasn't much in terms of a "ride" but the special effects were so cool!
After meeting up with the other bloggers back at the hotel for quick cocktail reception, we headed off to the Magic Kingdom to watch the light parade and the fireworks.
Day 2: Success, Videos, and Imagineering
I spent almost all day on Saturday at the conference. I'll be honest: as far as blogging conferences go, I don't think I took as much away from this one as I normally do. I don't know if it was because I was distracted by the fact that I was at Disney or what (um, my fruit salad was GLOWING!).
Of course, I did write down a few things….
The morning started off with a session on redefining success that was led by Scott Hair. It was about setting goals and figuring out your priorities, but my takeaway was probably pretty different than most people's: it was that I didn't need this session! I love my life and, while more money is always nice, I have pretty much everything I want. I'd consider that to be pretty successful!
I also really enjoyed the session on photography and videography that was led by Todd and Diane from White on Rice Couple. Their photography is stunning, so I was really looking forward to learning from them. Surprisingly, I found the portions about video to be the most inspiring! I've alway shied away from doing video because I'm not interested (at all) in being on camera. I thought the only way to do a cooking video was to how someone standing there and cooking. Or, at the very least, to have a voice over. Their poached egg video proved me wrong. It's gorgeous and a style that I'm personally much more comfortable with. I look forward to experimenting with adding some video to the site!
There was also a session with a Disney "imagineer." It really didn't have much to do with blogging, but hearing about the process of how Disney develops their new attractions was fascinating. They really put a ton of thought into every little detail (for example, he explained that the baskets hanging on the wall at Sanaa are all antiques sourced from Africa) and they try to make you feel like you've really gone someplace different with every attraction. After hearing him talk, I definitely started noticing all of the little details. They were especially evident in the line for Expedition Everest and in the Beast's Castle.
Eating Healthy at Disney
Lunch was all about the different children's menu options around the parks and resorts. I had already noticed the variety of healthy options that were available, but I was excited to hear about "Mickey check meals." These were introduced earlier this year as a way to identify healthy kid's meal – meals marked with the "Mickey check" symbol contain less than 600 calories and adhere to minimums on fat, added sugar, and sodium. They're also minimally processed, contain at least 1 serving of fruit or vegetables, and contain items from at least 3 food groups.
Some of the items that we got to sample included gluten-free turkey pot pie, "not so hidden Mickey" pineapple pops, cheddar soup with pretzel bread, pork tenderloin with apple marmalade and broccolini, and (not pictured) baked fish sticks with whole-grain rice pilaf and vegetables, and oven-roasted shrimp with brown basmati rice, garlicky green beans, and grapes. Some of the items were pretty bland (I blame that low salt guideline, but a squeeze of lemon might have helped) but I was pretty impressed!
It would be great if they expanded this system to adult meals, although there are plenty healthy options to be found. I grabbed a delicious quinoa and coucous roast salmon salad for dinner at Hollywood Studios that was so hearty I couldn't finish it (and so good that I wanted to!) and had a great Nicoise salad for lunch at the Be Our Guest restaurant on Sunday.
Of course, there are plenty of not-so-healthy options too. That chocolate-peanut butter Darth Vader cupcake that was worth every calorie.
Day 3: Lunch at the Beast's Castle
Whole Foods sponsored what looked like a fabulous brunch on Sunday morning, but Shawn and I skipped it in favor of spending more time in the parks. When we were checking in to the hotel on Friday, we lucked out and were given a card for a "beta test" at the new Be Our Guest restaurant. The restaurant is booked solid through November and doesn't normally take lunch reservations, but with this card we would be able to check it out! Beauty and the Beast is my FAVORITE Disney movie, so we rearranged our plans so could take advantage of it. (Getting the card was totally random and had nothing to do with the conference.) We headed off to Animal Kingdom bright and early and then went back to the Magic Kingdom.
This restaurant is insane! You really feel like you've been transported to the Beast's castle – every little detail is just right. You walk though a hallway full of whispering knights before placing your order, then choose to eat in the ballroom (gorgeous, with giant chandeliers and a window that makes it look like it's snowing), the West Wing (super scary , with a rose that drops its petals and a portrait that slowly transforms from being of the Prince to being the Beast), or the Library (nice, but not as spectacular as the others).
The food was great, and moderately priced. Shawn had a French onion soup that was rich and cheesy followed by the croque monseur, which was really rich (and we were surprised that it was on whole grain bread!). I didn't notice it on the menu, but instead of getting fired with the sandwich you could choose green bean salad. The girl sitting at the table next to us had gone with that option and it looked great! I had the nicoise salad that I mentioned before. It had seared tuna and a hard-poached egg and it definitely surpassed my expectations. I ended the meal with a lemon meringue cupcake that was perfect: light and airy, tart, and just the right size. This meal was definitely the highlight of my trip.
After lunch, we wandered around the park and rode some more ride (Space Mountain was the scariest thing I've done in my entire life!)
Thank you!
So, that's basically the longest post ever but we packed so much into three short days! It was one of the best weekends of my life!
Thank you to Julie, Lindsay, Jaden and Scott, and Todd and Diane for organizing such a fantastic conference! And thank you to all of the sponsors (including Disney, Kitchen Aid, OXO, Whole Foods, Florida Dairy Farmers, Cabot Cheese, Goo Goo Clusters, Le Crueset, and America's Test Kitchen) for keeping the cost of attendance down and sending us all home with some great goodies!
Here's the happy group!
(photo credit: Jennifer Holt of Walt Disney World)

By