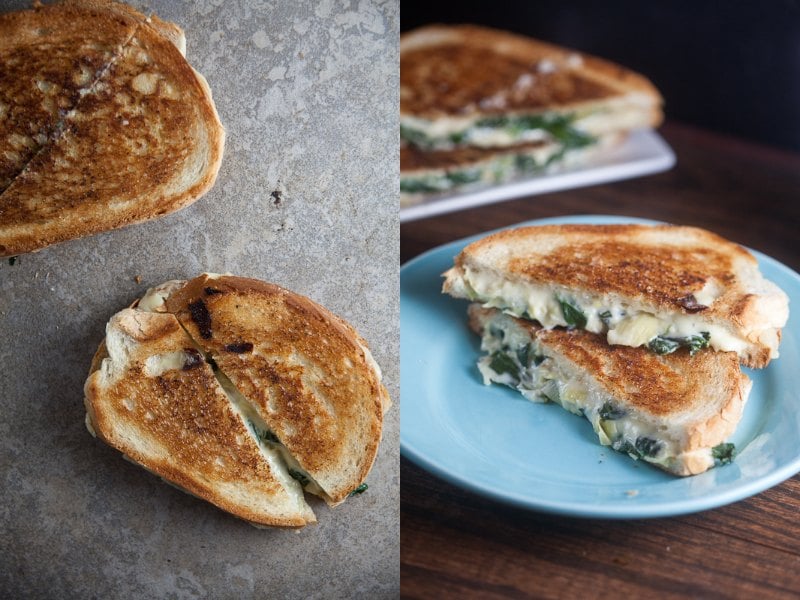 Is spinach and artichoke dip still a thing? I feel like it was all the rage when I was in college (*cough* ten years ago *cough*) but it's since taken a back seat to other, less indulgent dips… like hummus. Please tell me that I've just been living under a healthy-eating rock for the last few years and spinach and artichoke dip is still around? If not, let's make a vow to bring it back. In the form of grilled cheese.
As you may know, April is National Grilled Cheese Month. Land O'Lakes and Kitchen PLAY joined together to celebrate with an event they're calling "30 Days of Grilled Cheese." And the asked me to play along! Yay!
It took me forever to figure out what I wanted to make for the event. Obviously, I wanted something unique. I also wanted something super gooey and cheesy. And –making things even more difficult – I wanted to healthy it up by incorporating a good amount of fruit or vegetables. Tall order, right? I was stumped for days when all of a sudden I was sitting at my desk at work and it dawned on me: Spinach and Artichoke Grilled Cheese. On garlic toast.
I was so excited about the idea that I texted it to Shawn right away.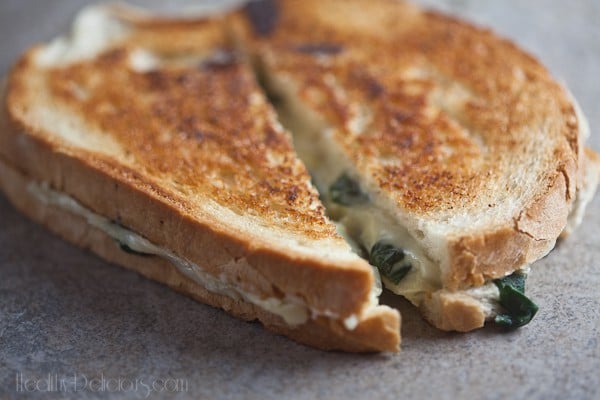 Man, oh man, this grilled cheese is GOOD. It's super cheesy and rich, with buttery-delicious artichoke hearts scattered throughout it. And the addition of garlic to the bread? Kind of genius, if I do say so myself.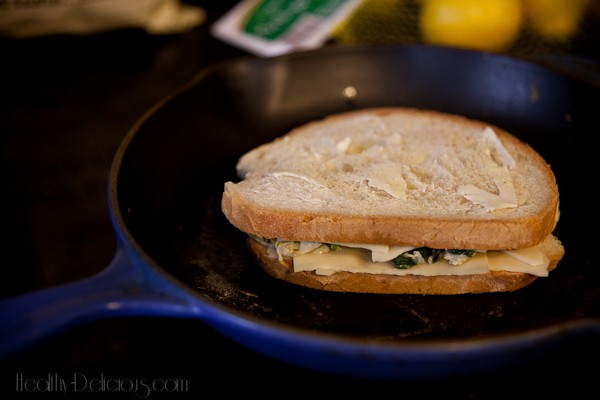 Ingredients
2

cups

loosely packed baby spinach

½

cup

water

½

cup

quartered artichoke hearts

⅓

pound

Land O'Lakes 4 Cheese Italian Blend

4

slices

Italian sandwich bread

1

Tablespoon

butter

garlic powder
Instructions
Add spinach and water to a skillet set over medium heat. Cook, stirring occasionally, until the spinach is completely wilted. Drain excess water. Add the artichoke hearts, using a fork to break them up a little bit. Stir in a slice or two of cheese – just enough to melt into the vegetables and help bind them together.

Butter 4 slices of bread and sprinkle them with garlic powder. Flip two slices of bread over (so the non-buttered side is up) and top each with a few slices of cheese and half of the spinach and artichoke mixture. Cover with remaining cheese and top with a second piece of bread (buttered side up).

Cook sandwiches over low heat for 3 minutes on each side, or until bread is golden brown and cheese is melted.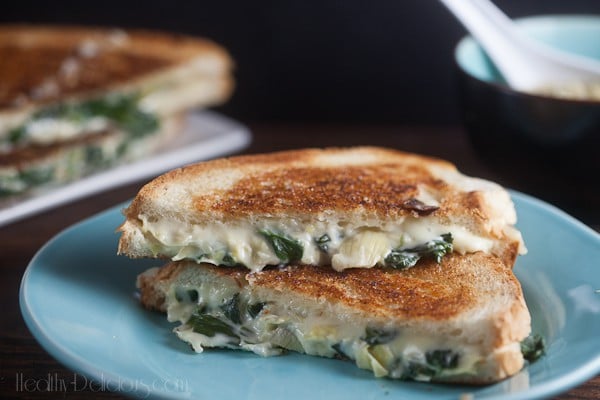 Disclosure: This post was sponsored by Land O'Lakes as part of the Kitchen PLAY Sidecar series. All opinions given are my own.

By