Steamed clams with chorizo oil, served over spaghetti, is a delicious weeknight meal that's perfect for these last days of summer. If you've never made clams at home before, don't worry – it's easy!
When I came across a recipe for chorizo oil in an old issue of Food + Wine, I'm pretty sure I squealed out lout. I adore chorizo, and infusing it in oil seemed like an awesome way to stretch its flavor and really make the most of a small amount of sausage.
The magazine paired the oil with scallops and yogurt, but I decided to use it over steamed clams and spaghetti. The chorizo oil flavors every last bite of pasta and it all comes together quickly on a weeknight. Paired with a green salad and a cold beer, it's perfect for a late summer dinner.
If you've never made clams before, don't worry. It really couldn't be easier! First things first, you really want to make sure they're fresh – cook them the same day you buy them, and buy them from a reputable seafood monger.
Next, make sure you clean them really well. The last thing you want is to end up with a mouth full of grit (ew). Tap on any shells that are open. If they don't close, or if they have chipped shells, discard them. I usually end up with a few duds, but if you're clams are fresh you shouldn't have to toss more than two or three. Put the clams into a large bowl filled with cold water and let them sit for 20 minutes; they'll spit out any sand that's trapped inside their shells (you'll see it in the bottom of the bowl). Lift the clams out of the water and scrub off any sand or grit from the outside of the shells.
One the clams are clean, you can grill them or steam them. I love steaming them in a little beer – it gives them a great flavor – but you can also use white wine or water.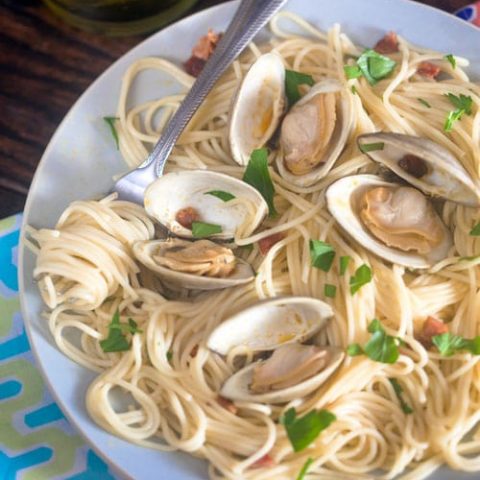 Ingredients
3

ounces

dry chorizo

cut into a small dice

¼

cup

olive oil

48

littleneck clams

scrubbed well

12

ounces

lager-style beer

or water

¼

cup

fresh parsley

chopped

1

box

13.25 ounces high fiber spaghetti
Instructions
Bring a large pot of salted water to a boil

Combine the chorizo and oil in a small saucepan. Cook over medium heat until the chorizo is crisp and the oil is deep red, about 8 minutes.

Arrange the clams in a single layer in a large, deep skillet. Pour the beer over them. Cover and steam until the shells open, about 5 minutes. Add the open clams to the chorizo oil (discard any unopened clams.)

Add the spaghetti to the pot of boiling water and cook to al dente. Drain, reserving 1/4 cup of cooking liquid.

Stir the reserved cooking liquid into the clams and sprinkle with chopped parsley. Serve over the spaghetti.