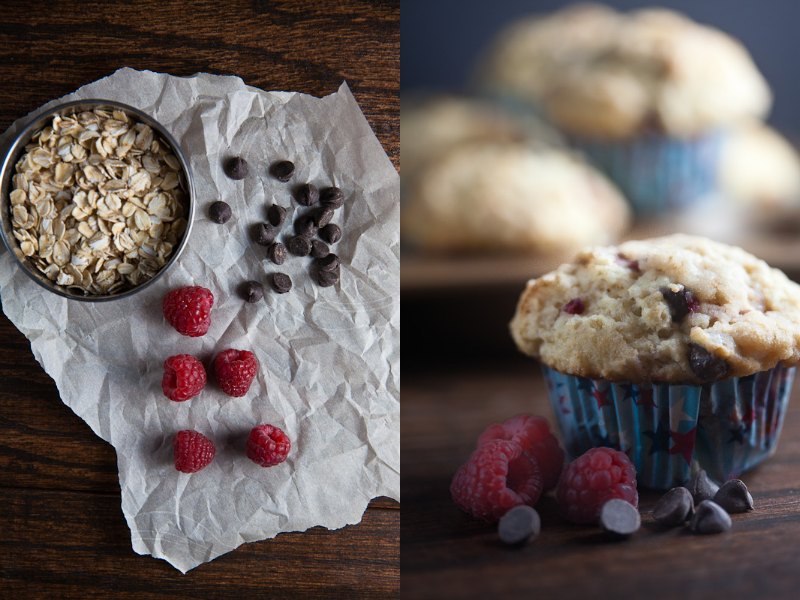 I've had it with puny little homemade muffins that barely fill their liners and take 2 bites to eat. I want an oversized bakery-style muffin that's soft and fluffy with a big, golden brown top – and I want to eat it for breakfast without feeling guilty.
These raspberry-chocolate chip muffins definitely fit the bill. They're stuffed with all sorts of good stuff like fresh berries, dark chocolate, oats, and tangy Greek yogurt, and crowned with delicious streusel.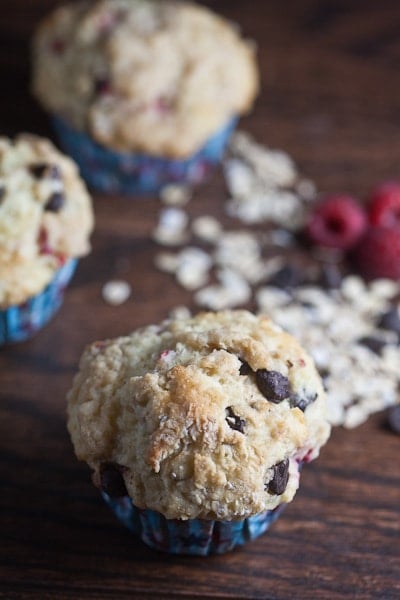 In order to perfect these treats, I had to do a lot of research on muffins – baking is a science, after all, and even tiny tweaks can results in an end products that's dense, flat, or a flat out disaster. I found that the best muffins had a few things in common: lots of leavener, thick batter, and a very hot oven.
With those guidelines in mind, I set out experimenting with ways to reduce the fat (subbing out some butter for plain, nonfat greek yogurt which also had the added bonus of giving them a pleasant cheesecake-like tang), add protein and fiber without sacrificing flavor (I didn't want whole wheat muffins; freshly ground oats made a great supplement to all-purpose flour), and make them practically fool-proof (make sure to grease the tops of the muffin tins – those overflowing tops have a tendency to stick!)