Once I got it into my head that I wanted to make apple butter blondies, there was no stopping me. What can I say? I'm really stubborn. It's both a blessing and a curse.
Anyway, this weekend I went through an entire box of brown sugar, a pound and a half of butter, a dozen eggs, and the better part of a jar of apple butter in my quest. The first batch was too soft (it ended up being a delicious apple cake, but that's not what I wanted), the second batch wasn't apple-y enough and tasted way too healthy, the third batch was delicious and buttery, but just a little bit too greasy. The fourth batch? Perfection.
These blondies are soft and chewy in the middle, crispy around the edges, and swirled with plenty of apple butter throughout. They're also speckled with chocolate chips – just enough to give the blondies a little extra sweetness, but not enough to distract from the flavor of the apples.
So, why the obsession with getting these blondies perfect rightthissecond? Well aside from the fact that I want to eat them and was frustrated by the fact that the didn't come out right the first time, I wanted to make them as part of OXO's Be a Good Cookie campaign and time was running out.
I've been using OXO products for forever and am kind of a die-hard fan. Buying a huge set of OXO POP containers was basically the best thing I ever did for my kitchen, and I gave Shawn a death stare when he considered buying a different brand of broom. I don't think a day goes by without me using at least 3 OXO products.
Anyway, in addition to making good stuff, they also do good stuff. Cookies for Kids Cancer /Be a Good Cookie was started by two OXO employees who got some terrible news about their sweet 2-year old son. With OXO's support, their mission to find a cure for pediatric cancer. Bake sales are held across the country in support of the effort, with proceeds being matched by their parent company. They'll also donate 25-cents for every specially marked "Be a Good Cookie" product that they sell (you can see a list of products here. I have a lot of them and they're great. I especially recommend the egg beater.) They're also donating $100 for every blog post written in September and dedicated to the campaign.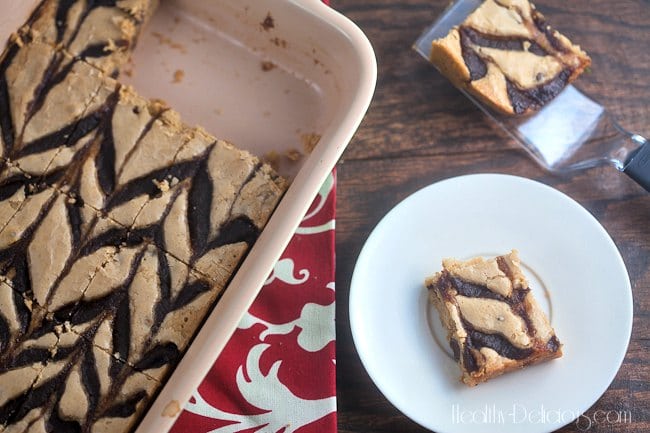 Ingredients
6

tablespoons

3/4 stick butter

1

cup

packed dark brown sugar

1

egg

lightly beaten

1

teaspoon

vanilla

pinch

salt

½

cup

Gold Medal whole white wheat flour

½

cup

Gold Medal all purpose flour

¼

cup

chocolate chips

⅓

cup

apple butter
Instructions
Heat oven to 350ºF Butter a 10.5"x7" baking dish.

In a small saucepan set over medium heat, melt the butter. Add the brown sugar and stir until dissolved. Remove from heat and let cool slightly. Beat in the egg and vanilla. Stir in the salt, flours, and chocolate chips.

Pour the batter into the prepared pan. Spoon the apple butter into four strips, across the short edge of the pan. Drag your spoon through the batter the long way to drag the apple butter along and create the pretty marbled effect.

Bake 40-45 minutes or until set in the middle.

Let cool completely, then cut into 15 blondies.
Nutrition Facts

Apple Butter Blondies

Amount Per Serving

Calories 135

Calories from Fat 52

% Daily Value*

Fat 5.8g9%

Protein 1.6g3%

* Percent Daily Values are based on a 2000 calorie diet.

By