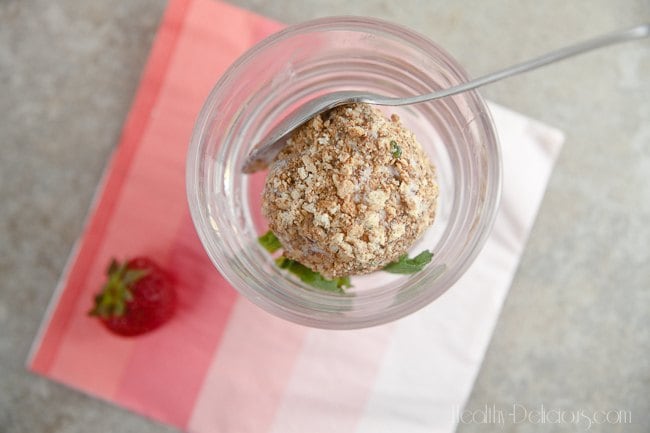 Have you ever had fried ice cream? You can sometimes find it at Mexican or Chinese restaurants and it's a real treat, with a cool, creamy core of ice cream surrounded by a crispy cornflake crust. Until about a month ago I had no idea that fried ice cream was actually fried. I always figured they just toasted up the outside with a torch or something. Anyway, I was doing some research after being asked to create a healthy new dessert recipe featuring Yoplait's new frozen yogurt and, well, what do you know? Fried.
Ultimately, I decided that frozen yogurt + hot oil didn't sound like the safest idea but I was set on the idea of creating a fried frozen yogurt treat. I started by mixing strawberry frozen yogurt with pistachios and mint. Then, instead of frying it in sugary cereal, I rolled it in graham cracker crumbs that I toasted on top of the stove. The result is a light, fresh dessert that's perfect on a warm summer night.
Since you can make a bunch of these at once and keep them in the freezer until you're ready to serve them, they're perfect for entertaining. Of course, you can also be like me and keep them all to yourself. I won't judge.
In order to keep them pretty, freeze each serving in the cup of a muffin tin. Once they're frozen solid, you can transfer them to a zip top bag for long-term storage.
As the recipe is written, these are the perfect size for when you need a little something extra after dinner. You could also make smaller, bite-sized servings for afternoon snacking.



This post was brought to you in partnership with Yoplait. I was compensated for my time creating the recipe for strawberry mojito "fried" frozen yogurt.