Smoothie freezer packs are a game-changer for busy mornings. Make them ahead, then just dump, blend, and go! These strawberry-peach smoothies are my current favorite.
It's finally starting to feel like summer here in Upstate New York, which means I'm getting excited about smoothies again! It's well documented that I'm not a morning person AT ALL, which means simple grab-and-go breakfast options are a must.
Smoothies are pretty easy to make as it is, but these smoothie freezer packs make them completely foolproof. With these packs, all you have to do in the morning is grab one, add some liquid, and blend. No peeling, chopping, or real measuring required.
I have a few different versions of smoothie packs in my freezer right now, but these strawberry-peach smoothies are my current favorite.
During the week, I pour my smoothie into a travel cup so I can drink it on the go. I love this mug, because the lid screws on super tightly and it comes with two straws – plus they're super cute!
On the weekends or on mornings when I have more time, I add less liquid for a thicker smoothie bowl topped with whatever goodies I happen to have around the kitchen.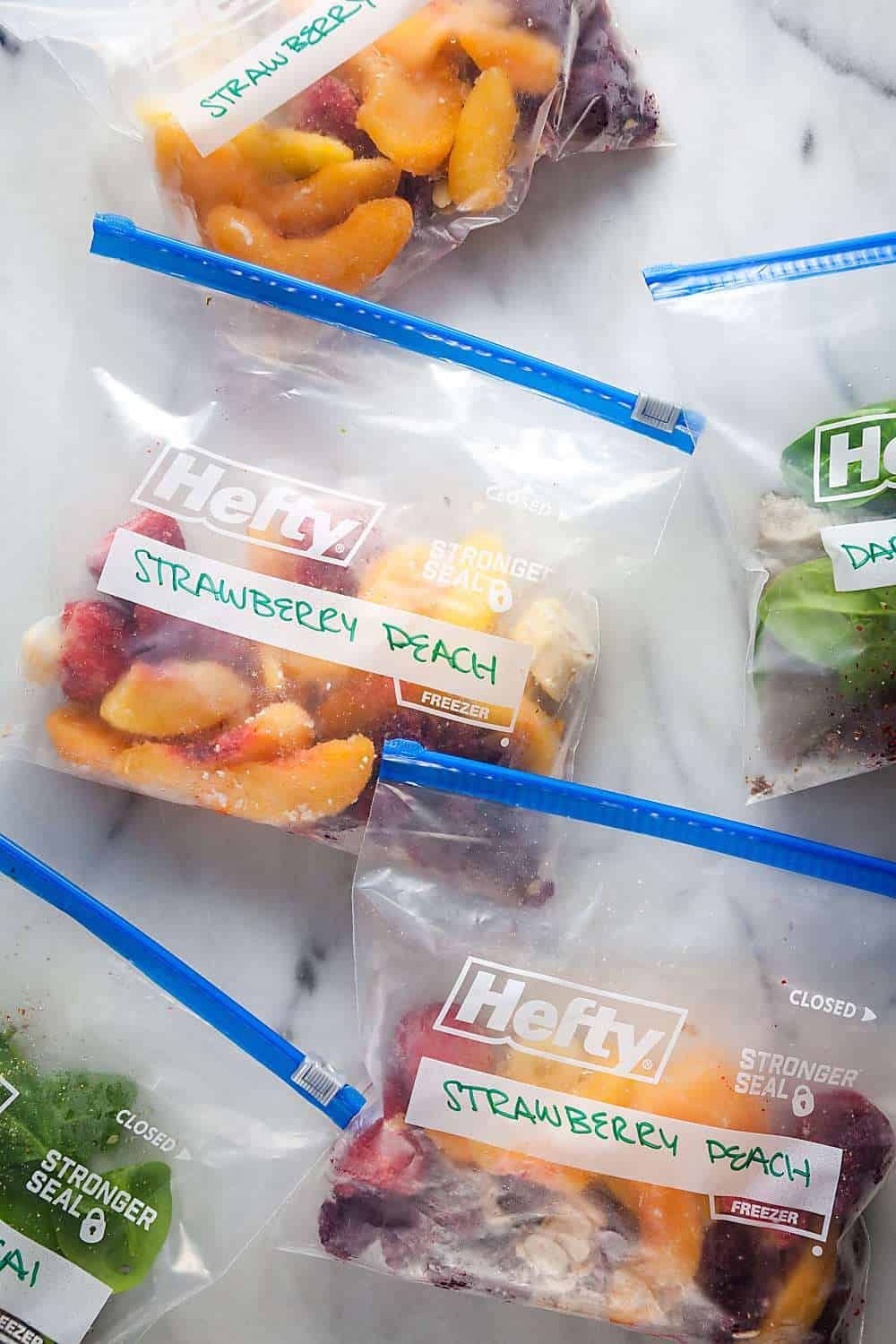 How to make smoothie freezer packs
Making smoothie freezer packs is easy!
First, you'll need some freezer bags. I like quart sized bags with a zip-top seal – they're the perfect size for an individual smoothie and I don't have to worry about them popping open and spilling in my freezer.
To each bag, you'll want to add 1 1/2 to 2 cups of fresh or frozen fruit. Or, if you like vegetables in your smoothie, you can use 1 1/4 cup of fruit and 1/2 cup of leafy greens like baby spinach or 1/4 cup of bulkier vegetables like cauliflower or diced zucchini (both of which are surprisingly tasty when blended with fruit!) You can use fresh fruit or buy bags of frozen fruit for these smoothies. I use fresh in the summer when it's at peak ripeness and on sale, and frozen the rest of the year.
In addition to the fruit/veggies, you can add up to 3 tablespoons of nutrient boosts, like nuts or seeds. I also like to add some rolled oats to help thicken my smoothies.
Fill the bags with whatever combination of ingredients you want, then seal them and put them in the freezer until you're ready for a smoothie.
Add the contents of the smoothie freezer pack to your blender along with 1 cup of liquid – I like coconut water or almond milk – and blend until smooth. For an added protein boost, you can also add a scoop of collagen before blending.