Disclosure: I was asked to participate in the McCormick Gluten-Free Recipe Mixes Launch as a member of the Healthy Aperture Blogger Network. I was compensated for my time creating this recipe.
These taco veggie burgers are a fun dinner that the whole family can enjoy – and they're gluten free!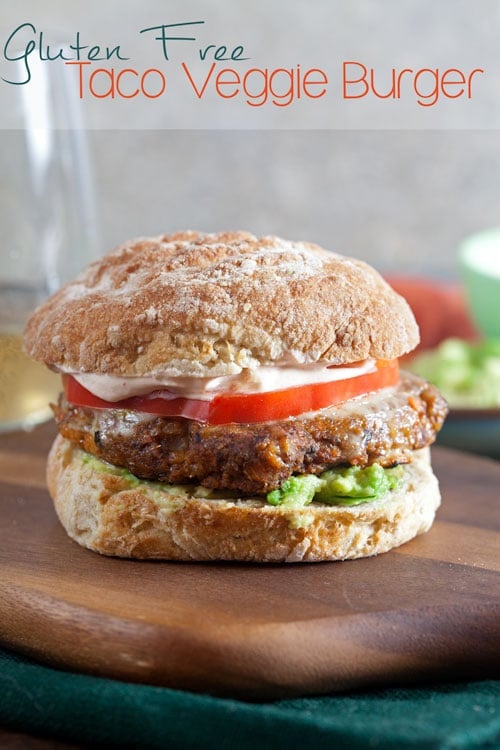 I really love making my own veggie burgers. Once you get the hang of it, they're super easy and so much tastier than anything you can buy at the store. Plus, the flavor options are practically limitless!
For these taco burgers, I made patties out of brown rice and black beans, with a little onion and carrot for flavor. I seasoned them with McCormick's new gluten free taco seasoning mix and then piled them high with my favorite taco toppings – a gorgeous slice of heirloom tomato, mashed avocado, and "secret sauce" made out of sour cream and taco sauce. I melted some cheddar cheese onto Shawn's burger for good measure but, honestly, you can't even taste it once everything else is on there.
I served them with a side of root vegetable chips for an easy dinner that was out-of-this-world good!
McCormick's new gluten free seasonings are brand-new and can be a little hard to find (I had to go to a few different stores before I found them) but they're really good. The gluten free taco seasoning has all of the taco flavor you'd expect but without any MSG, artificial colors, or artificial flavors. They're certified gluten free by the National Association for Celiac Awareness, so if you or your friends can't eat gluten you can feel confident serving them (just be careful to avoid cross contamination with anything else that might be in your kitchen.) Even better, they're the gluten free seasoning is the same price as the regular version!
To go along with the gluten free theme, I picked up some gluten free rolls from a local bakery to serve my burgers on. It was my first time trying gluten free bread, and I was pleasantly surprised! They were a little dryer than the wheat rolls I'm used to, but they weren't bad at all. The flavor of the taco burgers is so bold that there didn't seem to be anything "off" about them either.
Where or not you're gluten free, you should definitely give these a try! And don't forget the "secret sauce" – it totally makes the burgers and adds a creamy kick to them (the extra moisture also balanced out the dryness of the rolls nicely.)