Reuben Chowder combines all the flavors of the classic sandwich into a creamy soup. You'll want to lick your bowl clean!
A few years ago, we went to an Oktoberfest party at a local brewery. Since we were there around lunchtime, we bought some food to go along with our beer. I don't remember everything we had, but the Reuben chowder really stands out in my mind. I remember thinking it sounded kind of weird – and I wasn't convinced that sauerkraut in soup could possibly be good ­– but it was freezing out and the soup was cheap so I gave it a shot. After one spoonful, I was sold. It was one of the most delicious soups I've ever eaten!
Like a Rueben sandwich, this Reuben chowder is full of salty corned beef, tangy sauerkraut, and creamy Swiss cheese. It's delicious year-round, but it's especially perfect for the week after St. Patrick's Day when you might have leftover corned beef that needs to get used up. If you don't have leftovers or if you want to make this soup at another point in the year, don't worry: this soup is just as delicious made with corned beef from the deli counter – just ask them to slice it thickly, so it doesn't fall apart while it cooks.
Since the corned beef and Swiss cheese are both salty, be sure to use low sodium chicken stock to keep the flavors in balance.
Serve your Reuben soup with a side of colcannon cakes or homemade rye bread.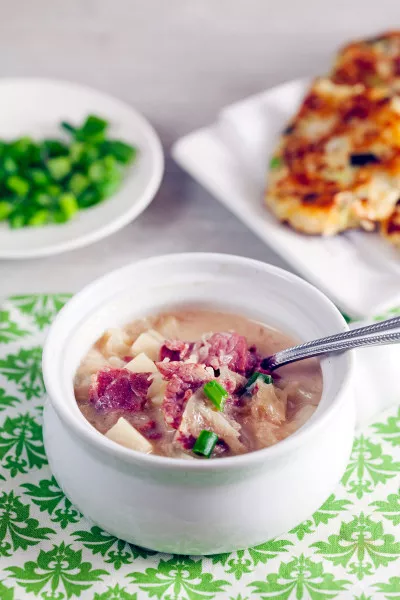 You can also find my Reuben Soup recipe on Food Fanatic, where I share soup recipes every month!