This easy caprese pasta recipe features ripe summer tomatoes, fresh basil, and lactose-free mozzarella to highlight the best the season has to offer.
I created this recipe for my client, GO VEGGIE. Thank you for supporting the brands that keep me inspired in the kitchen.
I wasn't joking when I wrote that I've been completely obsessed with tomatoes lately. I think 3 of the last 4 things I've cooked have featured them prominently.
I love that you can find beautiful local and heirloom tomatoes at almost any neighborhood grocery store this time of year!
Besides Greek-inspired tomato and cucumber salads, I've practically been living off of caprese salad. It really doesn't get much better than ripe tomatoes, creamy mozzarella, and fresh basil – especially when you can use GO VEGGIE's lactose-free mozzarella.
I could probably make a whole meal out of caprese salad, but serving it over a tangle of gluten-free pasta and zucchini noodles really takes it to the next level. That's what I call a meal!
For this caprese pasta recipe, I lightly salted the tomatoes and let them sit while the pasta cooked. It helps draw the moisture out of them. I'd never tried that before, but it really makes a huge difference in the texture of the tomatoes!
To cut carbs and add nutrients, I used half gluten-free pasta and half zucchini noodles.
If you place the zucchini noodles in the bottom of your colander before you strain your pasta, the residual heat will cook them the perfect amount.
I used the angel hair setting on my spiralizer, but thicker, store-bought zucchini noodles also work perfectly fine.
When I was dreaming up this recipe, the biggest thing I kept going back and forth on was if I should use the cheese to make a creamy sauce or if I should keep it cold and mix it into the tomato topping.
GO VEGGIE melts so beautifully that keeping it all cold seemed like a shame, so I decided to do both.
More is more, right?
I ended up with a creamy, garlic-cheese situation that lightly clings to each strand of pasta. It was definitely the right call.
I really love GO VEGGIE's shredded lactose-free cheeses, but they've been more difficult to find lately. Here's a link to their store locator so you can find your favorite variety at a store near you!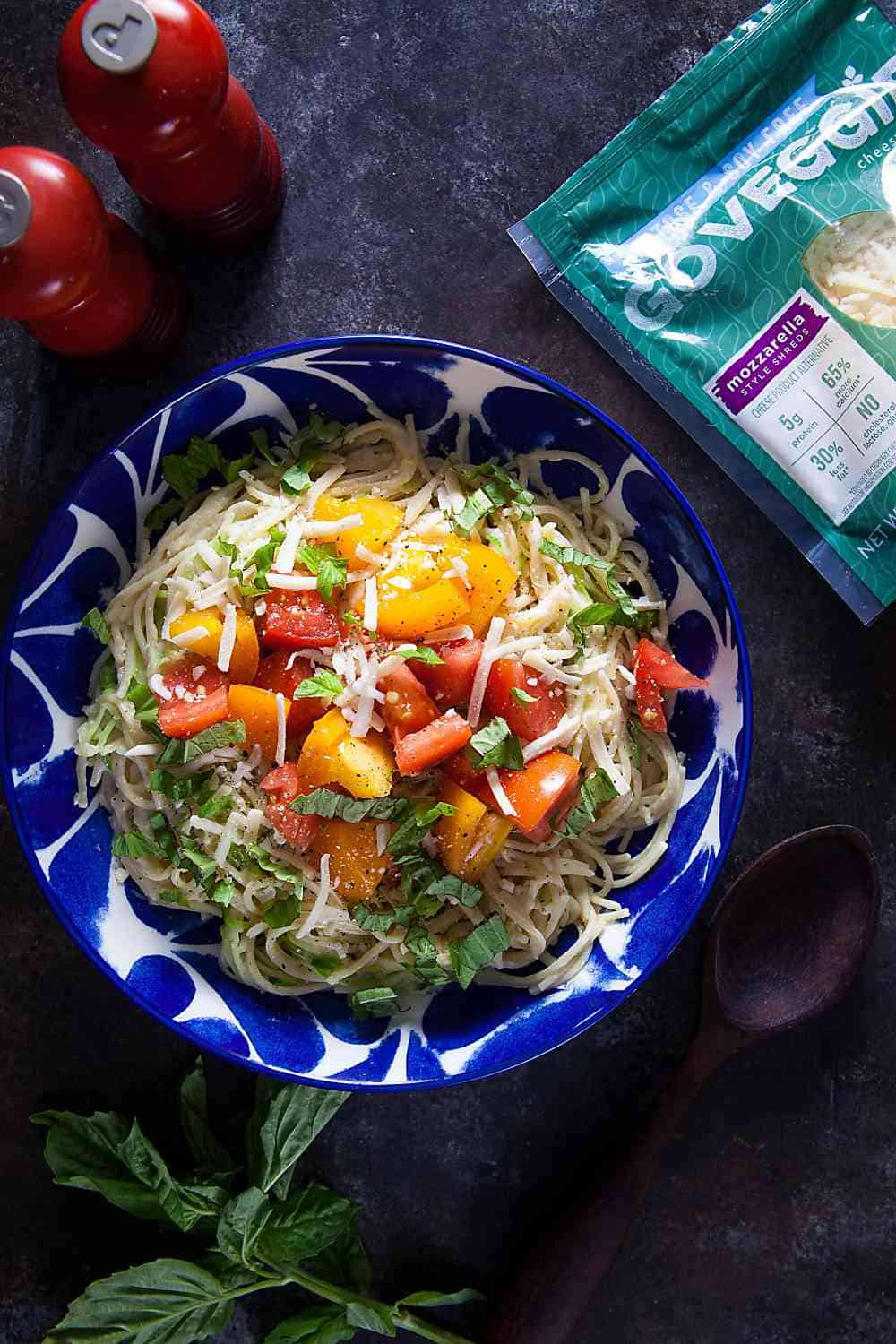 Ingredients
½

pound

gluten-free thin spaghetti

1

medium zucchini

2-3

large

ripe tomatoes

2

tablespoons

olive oil

4

garlic cloves

thinly sliced

1

tablespoon

gluten-free flour

1-1/4

cup

GO VEGGIE lactose-free mozzarella shreds

divided

¼

cup

fresh basil

thinly sliced
Instructions
Bring a large pot of heavily salted water to a boil. Follow the directions on the pasta box for al dente pasta. 

Meanwhile, use the thinnest setting of your spiralizer to spiralize the zucchini. Place the zucchini in your colander. 

Roughly chop the tomatoes. Sprinkle with a generous pinch of salt. 

Reserve 1 cup of pasta water. Pout the rest, along with the pasta, into the colander with the zucchini. 

Return the pot to the stove and set to medium heat. Add the garlic and cook 2-3 minutes, or until the garlic is fragrant but not brown. Stir in the flour to form a thick paste. Whisk in half of the reserved pasta water. Slowly sprinkle in 1 cup of the mozzarella, allowing it to melt completely. If needed, add the remaining pasta water to thin the cheese to a sauce-like consistency. 

Return the pasta and zucchini the to pot and stir to coat with the cheese sauce. Top with the tomatoes, basil, and remaining cheese. Season to taste with cracked black pepper. 
By