Meet your new favorite weeknight dinner: gemelli pasta mixed with earthy mushrooms and peppery arugula. If you're like me, you'll find yourself making it over and over again.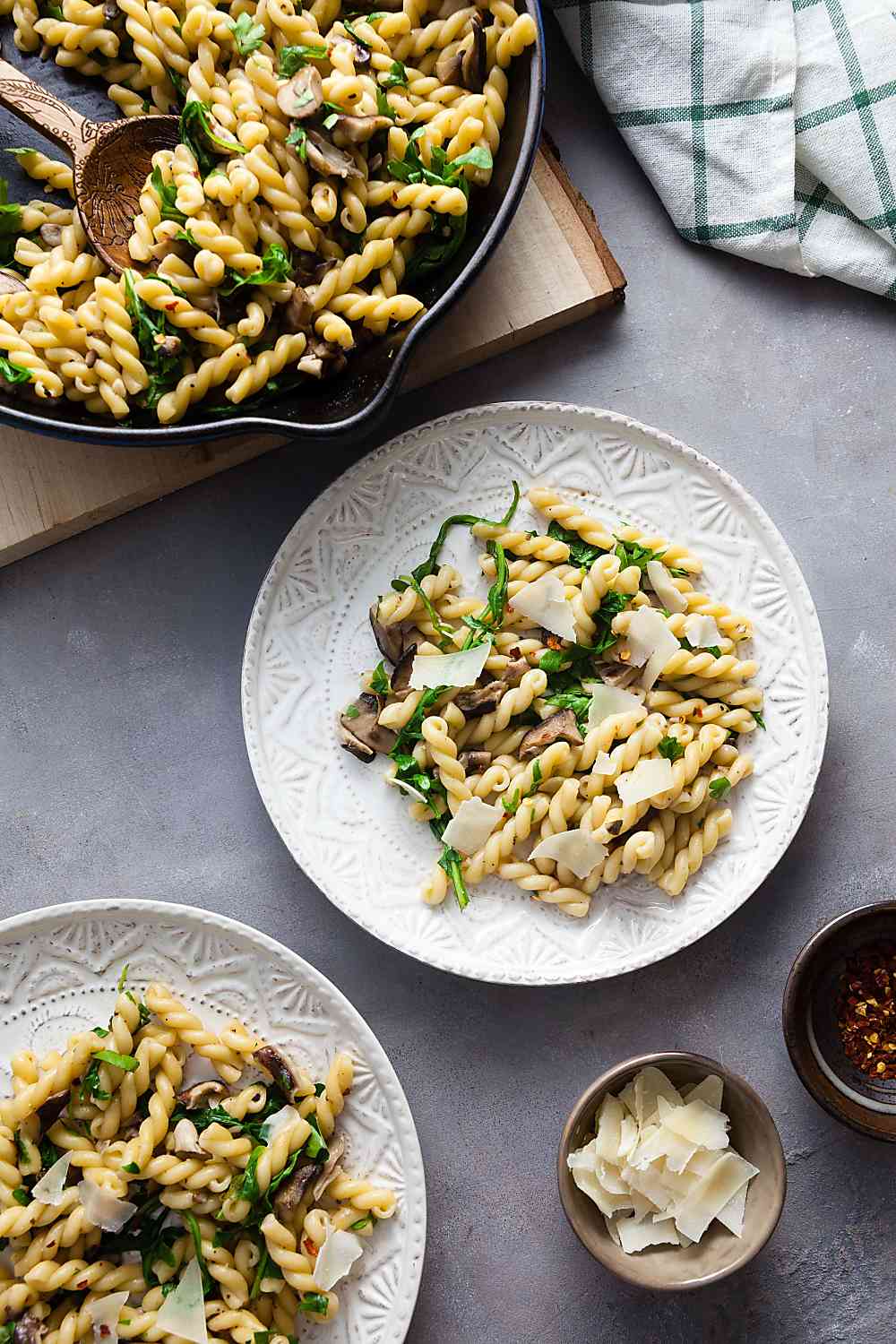 Gemelli with Mushrooms and Arugula is the kind of pasta recipe that really has no business being as good as it given how simple it is. It comes together quickly with just 7 ingredients (including the option parmesan on top!), and is incredibly forgiving.
Pasta is the perfect neutral backdrop for earthy mushrooms sauteed with plenty of garlic. Peppery arugula adds a dose of freshness to your plate and crushed red pepper and freshly cracked black pepper add heat and dimension.
In short, it's the kind of recipe that's perfect for a weeknight.
Mushrooms are the stars of this recipe
Fresh mushrooms are the star of this recipe, so it's important to choose a variety that you'll enjoy. I personally love using a wild mushroom blend with lots of chanterelles, but I mix it up based on what's available at the store. This time, I picked up two packages of mixed cremini, shitake, and oyster mushrooms.
The pasta is important, too
The second most important ingredient is the pasta. I adore gemelli for this pasta dish. It's small enough to mix well with the mushrooms, but it still has a nice, chewy texture. You can also use bowties (farfalle), fusilli, or campanelle. You can also use gluten-free rotini to keep this entire recipe gluten-free.
The Technique
In terms of technique, this pasta dish is very similar to pasta aglio e olio. Bring a large pot of heavily salted water to a boil, then cook the pasta until just shy of al dente.
While the pasta cooks, saute the garlic and mushrooms in olive oil until they're soft. Next, stir in the cooked pasta and some reserved pasta cooking water to create a luscious sauce. Finally, stir in a ton of baby arugula and season the dish generously with crushed red pepper flakes, salt, and freshly cracked black pepper.
If you're feeling extra indulgent, you can stir in another tablespoon of olive oil and top the pasta with shaved parmesan.
Leftovers are great reheated gently or served cold, like a pasta salad.