Crispy colcannon cakes – made from mashed potatoes, cabbage and cheddar cheese – will be your new favorite side dish! They're perfect for St. Patrick's Day!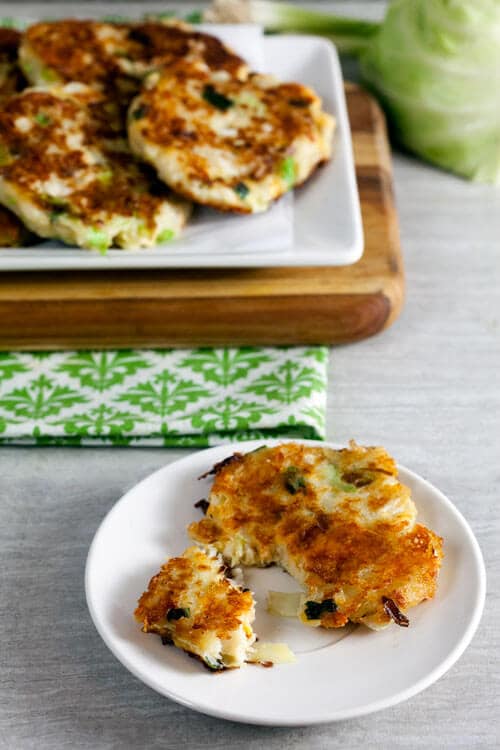 As much as I love to experiment with new recipes, I'm super traditional when it comes to holiday meals. This year I thought I'd try to break out of my corned beef and cabbage in the crockpot rut and try some new recipes for St. Patrick's Day – starting with these cheesy colcannon cakes and some Reuben soup.
Colcannon is a traditional Irish recipe made from potatoes that are mashed with cabbage or kale. It's one of those recipes that's way more delicious than you would ever expect it to be – the cabbage is subtle but adds a great texture that really makes the potatoes special. I decided to take some colcannon to the next level by using it to make potato pancakes. I also added some GO Veggie! lactose-free cheddar shreds, since I've never met a potato dish that isn't better with a little cheese.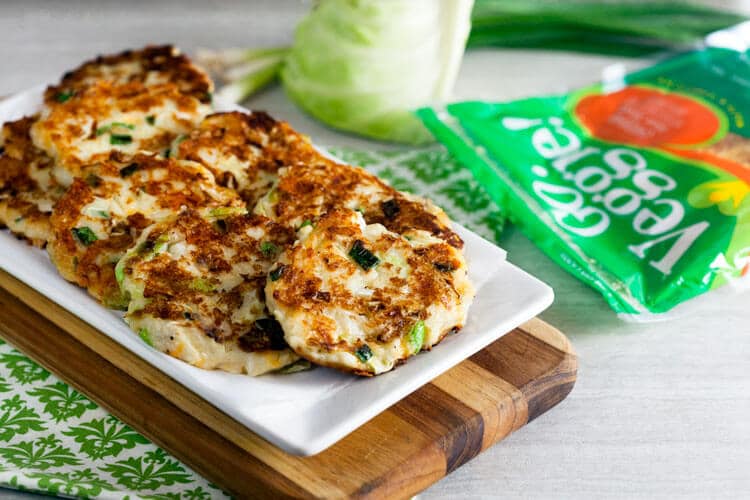 These cheesy colcannon cakes were an instant hit! They're crispy and salty on the outside, with creamy, cheesy mashed potatoes in the middle. If you're planning to celebrate the holiday with a beer or two, these potato cakes are the perfect accompaniment.
There are a few things to keep in mind when making these colcannon cakes. You can use whatever nondairy milk you'd like. You only need a splash to make the potatoes creamy, so the flavor doesn't really come through. I used almond milk since that's what I have in my fridge at the moment, but soy milk or even unsweetened coconut milk would be fine. If you don't need them to be lactose-free, you can also use skim. (The Go Veggie! cheddar that I used is lactose-free, but I also love that it has fewer calories and half the fat of regular cheese, which makes me feel less guilty about frying them.)
Be sure to chill the potatoes for at least 15 minutes before forming the patties. It will help them firm up a little, making them easier to shape. They'll also hold up better while they're cooking. 15 minutes is just the minimum though – you can make them a full day ahead if you want to!
These colcannon cakes are best served hot, but you do to let them cool for a few minutes when you pull them from the pan. In order to keep the nice a crisp, cool them on a rack set on a rimmed baking sheet. This will allow any excess oil to drain away and will let air circulate around the cakes so the bottoms don't steam and get soggy.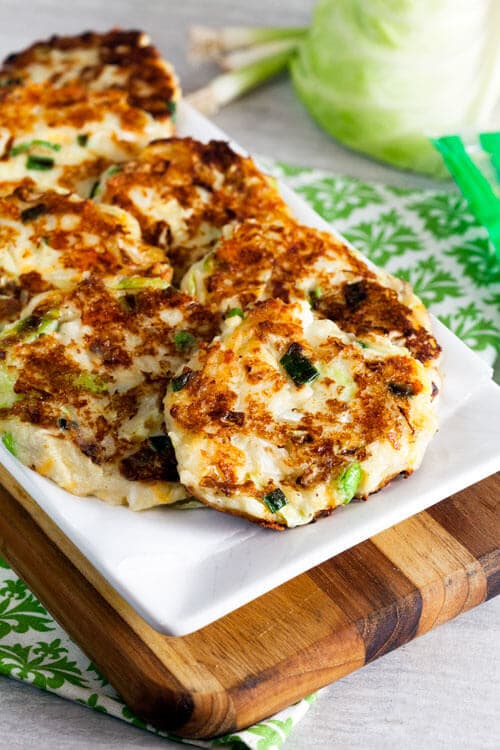 I created this recipe for my client, GO Veggie! Thank you for supporting the brands that keep me inspired in the kitchen.