Winter is hanging on for dear life (it snowed again this morning) but my body seems to know that it's spring anyway. We did a major spring cleaning last weekend and I've been craving green vegetables like you wouldn't believe. I need a break from cauliflower and winter squash! I ate almost an entire pound of grilled asparagus the other night – and I would have eaten more if there was any. It was that good.
Here, I gathered a collection of 16 recipes for farm-to-table spring vegetable recipes to help chase away the winter blues and add a little color to your diet. From creamy soups to hearty salads, they're all cozy enough to enjoy even when you're in the mood for spring but the weather isn't cooperating.
Spring vegetables are still hard to find (I went to four stores looking for rhubarb), so these focus on the basics. Asparagus. Peas. Radishes. Carrots. And, of course, there are plenty of vegan, vegetarian, and paleo options so there should be a new favorite for just about anyone.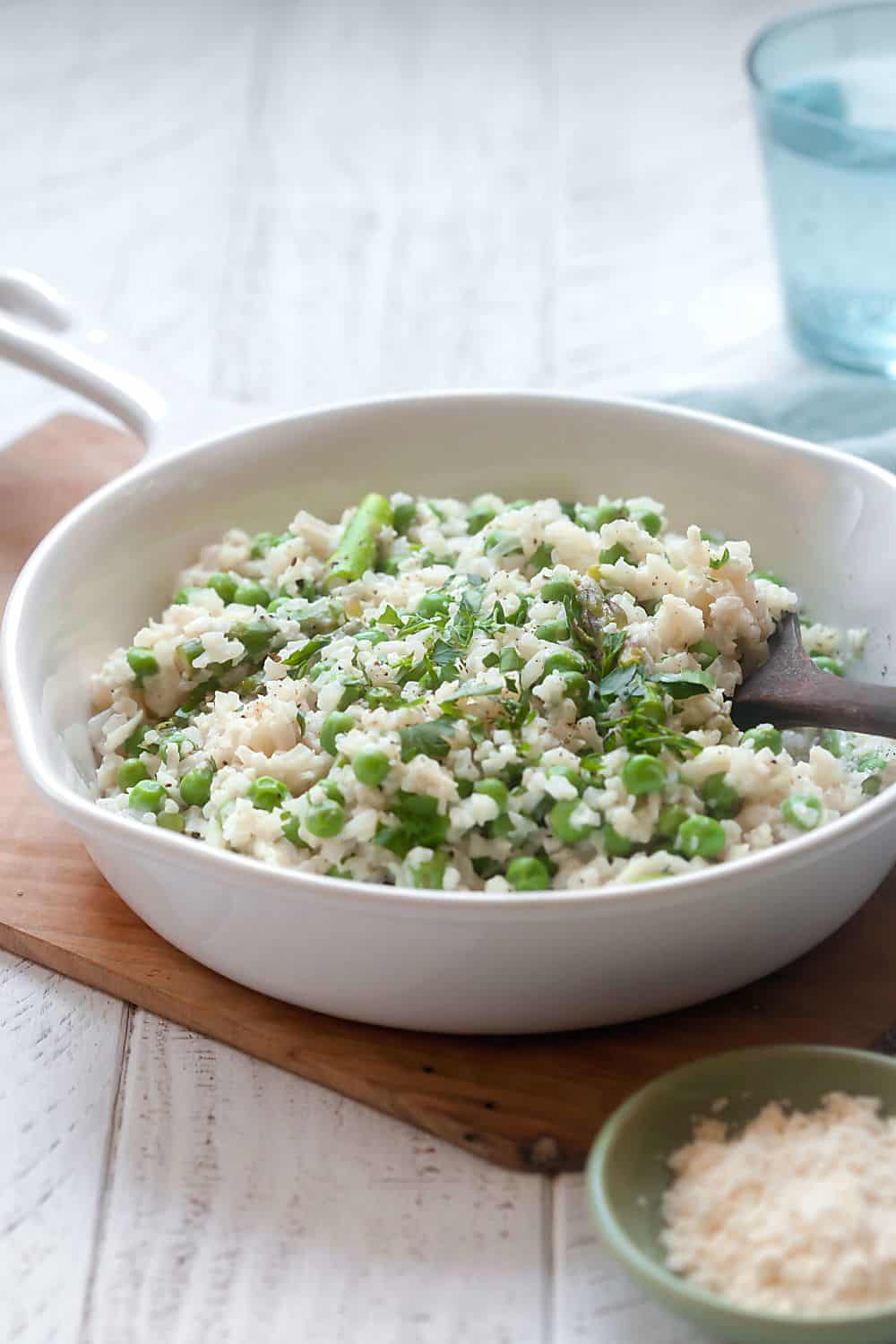 1) Cauliflower Rice "Risotto" with Peas and Asparagus by Healthy Delicious
This fresh take on risotto gets tons of springtime flavor from asparagus and peas. gluten free//vegan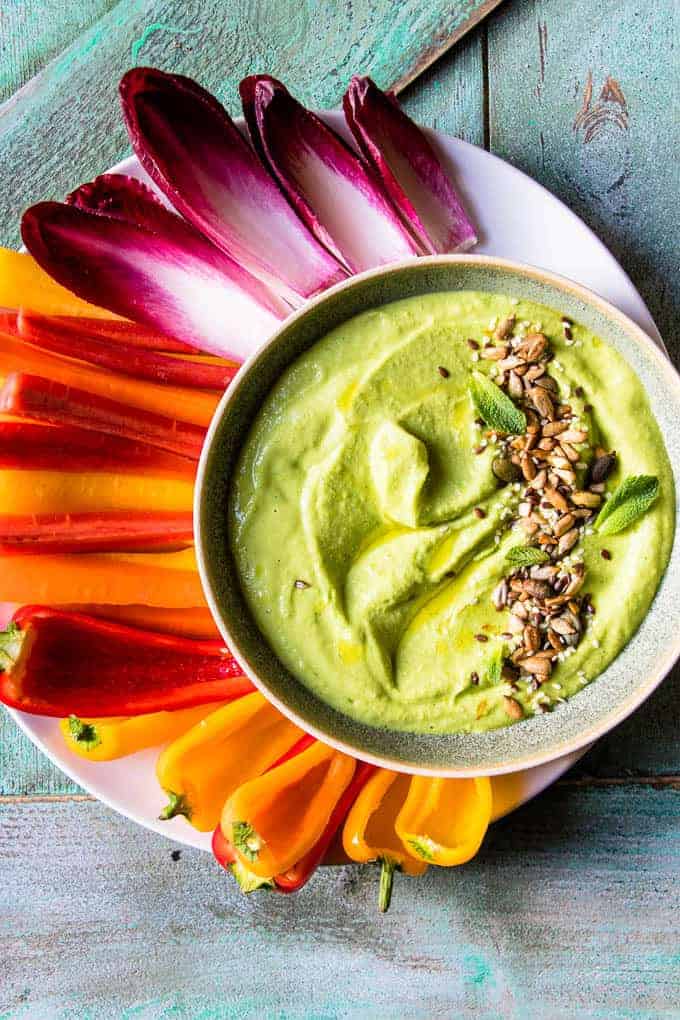 2) Green Pea and Mint Hummus by Salted Mint
This hummus is as beautiful as it is delicious. gluten free //vegan

3) Mediterranean Zucchini Noodles by April Go Lightly
You can never go wrong with Greek-inspired zoodles! gluten free//paleo//vegan

4) Roasted Spring Vegetable Grain Bowls with Pistachio Pesto by Healthy Delicious
It's like Spring in a bowl! vegetarian

5) Cauliflower Leek Soup by Salt and Lavender
The creamy soup is dairy free! gluten free//paleo//vegetarian option

6) Cucumber Tomato Avocado Salad (Paleo Low Carb) by Wholesome Yum
It's like a super chunky guacamole that can pass as a meal. gluten free//paleo//vegan

7) Crispy Roasted Garlic Radishes by Take Two Tapas
If you haven't tried roasted radishes yet, you have no idea what you're missing! paleo//gluten free//vegan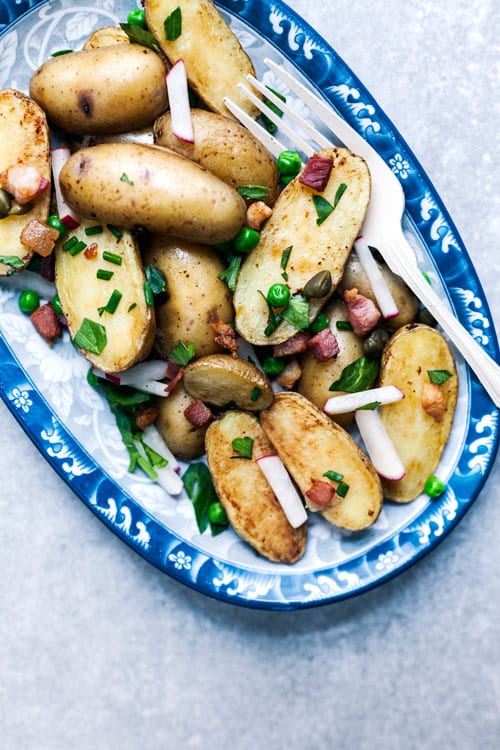 8) Warm Fingerling Potato Salad with Sherry Vinaigrette by Healthy Delicious
These easy potatoes make a great lunch or an elegant side!

9) Spring Salad with Asparagus, Goat Cheese, Lemon and Hazelnuts by Proud Italian Cook
A light and fresh salad option with hazelnuts and lemon… gluten free//vegetarian

10) Farmhouse Salad with Citrus Vinaigrette by Healthy Delicious
…Or a more rustic version with soy nuts and cheddar. gluten free

11) Springtime Avocado and Radish Toasts by Blissful Basil
Who can ay no to avocado toast? Radishes are right at home this time of year. vegan

12) Thai Celery Salad by Little Chef Big Appetite
Celery is the surprising star of this flavorful salad! vegetarian

13) Green Goddess Pasta by Healthy Delicious
A tangle of pasta with asparagus, peas, and fresh herbs. vegetarian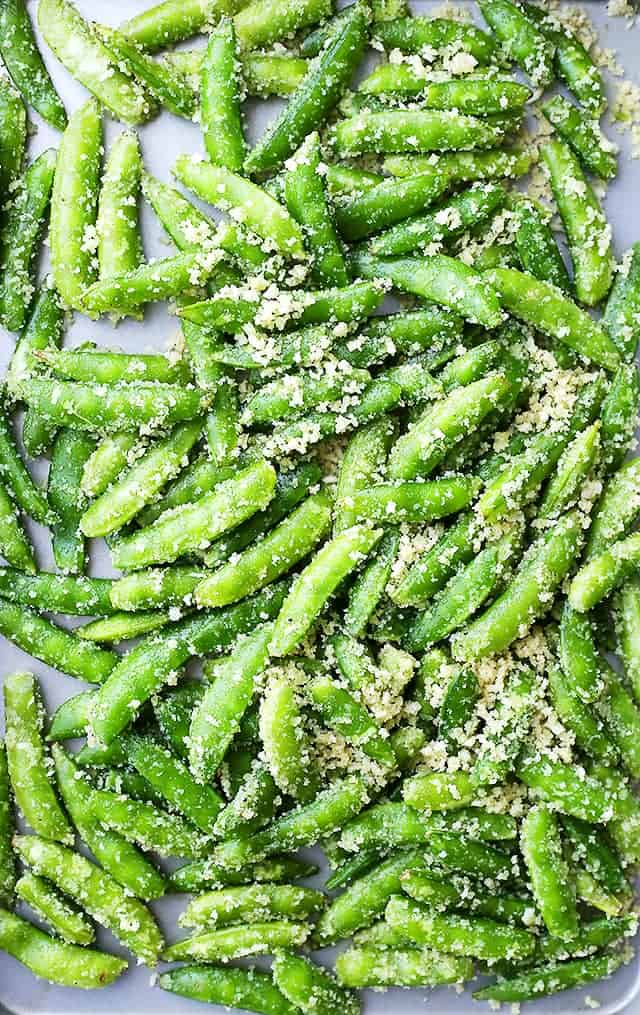 13) Garlic Parmesan Sugar Snap Peas by Diethood
I could eat these snap peas by the pan full! vegetarian

14) Spring Asparagus Quinoa Salad by Garlic and Zest
This quinoa salad would make a great lunch. vegetarian//gluten free
15) Chilled Carrot Soup with Scape-Pistachio Pesto by Healthy Delicious
Scape season is fleeting. Scoop them up when you have the chance and make this garlicky pesto! vegan

16) Asparagus Salad by Homespun Capers
And one last asparagus salad, because I can't get enough. vegetarian