High fiber pasta tossed with spring vegetables and luxuriously creamy green goddess sauce is perfect for Meatless Monday – or any night of the week!
I'm officially ready for spring, and it seems like a lot of you are too. Let's help usher it in with some delicious pasta loaded with spring vegetables!
A month or so ago, Dreamfields asked me to create a recipe for their virtual dinner party in celebration of Healthy Pasta Month. Since they're my favorite pasta company, I of course had to say yes! I was torn over what direction I wanted to take it though, so I asked my followers on facebook if I should do something with a rich, tomato-based sauce, or something lighter with white wine. The latter option got overwhelming support… but then someone suggested avocado and the rest was history.
I'd never had avocado with pasta before, but inspiration struck and I blended it into a rich, creamy sauce based on green goddess dressing. The avocado makes the sauce luxuriously creamy, while the fresh herbs and citrus juices make it perfect for spring. To keep the "green" theme going, I tossed the pasta with asparagus, peas, and arugula. The result is fresh, vegetal, and downright delicious. This green goddess pasta will definitely be my go-to pasta this spring!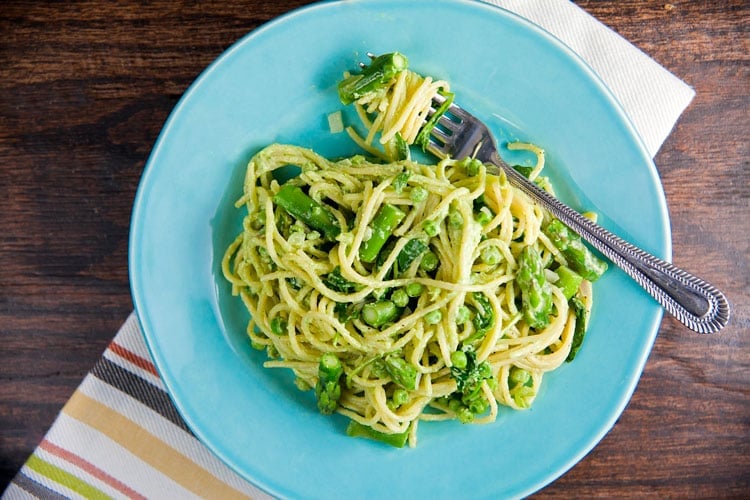 My first formal introduction to Dreamfields pasta was two years ago at Mixed. They were one of the main sponsors of the conference, and I spent a good amount of time chatting with them about their healthy, high fiber pasta. I loved how excited they were about their product and their enthusiasm rubbed off on me – I made a point to seek it out the very next time I went to the grocery store.
After quickly scanning the shelf, I immediately started laughing. Why? I had bought their pasta countless times without even realizing it! I'm sure that I picked it up the first time because of the higher fiber content, but I had gotten into the habit of grabbing the brand and completely forgot that it was a healthier option. I just kept buying it because it was good! It's still the pasta I buy about 8 times out of 10 (the exceptions being when I want a specific shape that they don't make or if I'm looking for fresh pasta), and I love that I can feel good about it.
This post was sponsored by Dreamfields, a brand I use frequently in my own kitchen. Thank you for supporting the brands that keep me inspired!