Crispy on the outside and tender on the inside, sweet potato and quinoa patties with curry dipping sauce will be a fabulous addition to your dinner table. Bonus – they're vegetarian!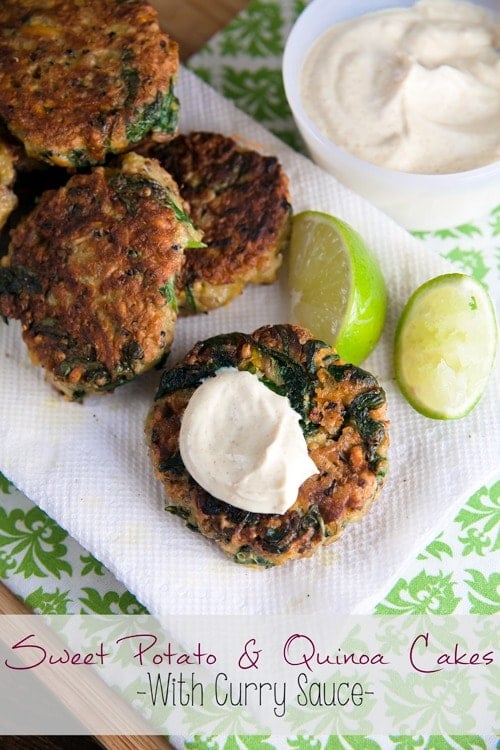 Do you ever see a recipe that you really want to make, even though you don't actually think you'll like it? Way back in January, I saw these tuna and broccoli quinoa fritters and my stomach immediately growled – despite the fact that the only way I'll eat warm tuna is in tomato sauce and I'm not the biggest fan of broccoli. Anyway, they've been tugging at the back of my mind ever since.
Then I saw that the theme of this month's Recipe ReDux was patties and I knew I wanted to put my own spin on them. My sweet potato and quinoa patties basically ended up nothing like the other patties at all, but they were definitely inspired by them. I left out the tuna, added farro for texture and sweet potato for flavor, and swapped the broccoli for spinach and cilantro. Then I made a to die for creamy curry dipping sauce to go along with them. They were so perfect – exactly the kind of wholesome, nourishing food that I love so much, but don't make nearly often enough.
If you have leftover curry powder, try this corn salad with curry vinaigrette!
So, what's this Recipe ReDux thing? It's a monthly blogging group event focused on healthy food that was founded a while back by two dietitians. The groups slogan is "because every healthy recipe deserves to be delicious." Um, how was I not a part of this already?! That's my philosophy to a T so after following the monthly posts for over a year, I finally decided to dip my toe in. I'm so excited to be participating for the first time this month, and I'm definitely looking forward to the healthy inspiration throughout the year.