It's no secret that I love fennel, but I've been absolutely obsessed with the thought of making caramelized fennel ever since I first read about it over on The Tipsy Baker's blog months ago. I requested a copy of Ad Hoc at Home from the library and patiently waited for what seemed like forever to get the recipe. And then I had no idea what to make with it. I mean, I'm not exactly a meat and potatoes kind of girl. I don't do side dishes. And as presented in the book, caramelized fennel was most definitely a side dish. But then I had an idea: pasta. When I'm short on recipe inspiration I always turn to pasta, throwing in a combination of whatever looks good at the grocery store and whatever I have in the fridge. Caramelized fennel seemed like it would be a great jumping-off point for a summery vegetable pasta. And it was.
In addition to the fennel, I used a combination of eggplant, summer squash, red onions, and peas. I tasted the vegetables on their own and they were so delicate and fresh that it seemed like a shame to cove them up with a heavy sauce so I decided not to, and instead dressed the pasta with a little bit of ricotta and a touch of pesto (I had originally planned to use garlic and olive oil). It was perfect! I really liked the creaminess that the ricotta added — when you stir it into the hot pasta it melts and creates a light coating that reminds me a little of mac and cheese. The pesto perked the dish up without taking it over; you could tell it was there, but it certainly isn't a "pesto" dish by any means. Really it's just… good. Good when you first make it. Good the next day. Good hot. Good cold. I don't think I'll ever get tired of this one!
.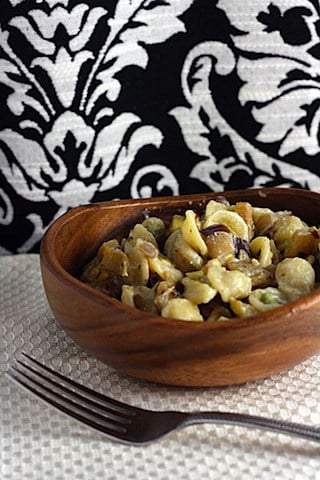 Orichette with Caramelized Fennel and Summer Vegetables
The trick to this dish is getting the pasta and vegetables in balance — you should have roughly the same volume of vegetables as cooked pasta. You'll also want to cut the vegetables into pieces that are roughly the same size as the individual pieces of pasta.
8 oz dry orichette (or other small pasta such as mini shells)
2 Tbs olive oil
1 bulb fennel, chopped
1/4 cup red onion, diced
2 cloves garlic, minced
1/2 summer squash, chopped
1/2 small eggplant (about the same size as the squash), chopped
1 generous pinch crushed red pepper
1/2 cup fresh peas
1/4 cup reduced fat ricotta
2 Tbs prepared pesto sauce
2 Tbs grated parmesan cheese
salt and pepper
Bring a large pot of generously salted water to a boil. Boil the pasta according to the directions on the package. Drain.
Meanwhile, heat the olive oil in a large skillet set over medium-high heat. Add fennel in one layer and cook without stirring for 5 minutes — if it starts sizzling and making lots of noise, you're doing it right. Give it a good stir and coo another 3 minutes — it will have caramelized and turned light golden brown. Add the onion and garlic to the pan and cook for 3 minutes to allow it to begin to soften. Sir in the squash, eggplant, and crushed red pepper. Cook, stirring frequently, for about 5 minutes or until the squash is cooked through.
Bring a small pot of water to a boil and add the peas. Cook for 5 minutes, or until they turn bright green and are no longer crunchy.
Return the pasta to the large pot. Add the ricotta and pesto and stir vigorously to combine and break up the ricotta — it should form a thin coat on the pasta. Stir in the fennel and squash mixture, peas, and parmesan cheese. Season to taste with salt and pepper.
Serves 4. Approx. 362 calories, 12 grams fat, 4 grams fiber, 12 grams protein
****
Have leftover fennel, squash, and eggplant? The same vegetable mixture is also great in mini-frittatas! Just prepare as described above, then combine with 4 beaten eggs, 1/4 cup skim milk, 1 tsp pesto and 2 ounces grated gruyere. Spoon the mixture into a mini muffin tin and bake at 375 for 10 minutes. You'll get 20 mini frittatas. I recently brought these to a potluck brunch with some other local food bloggers and they were fabulous! Healthy, delicious and super easy to make.
Here are a few photos from the brunch: